Il compositore, multistrumentista e co-fondatore di RareNoise Records Eraldo Bernocchi firma l'evocativa colonna sonora del film documentario dedicato alla figura dell'artista americano Cy Twombly. Ideato e prodotto da Michele Buongiorno, scritto e diretto da Andrea Bettinetti, "Cy Dear" è stato presentato privatamente al Museum of Modern Art di New York City nella primavera del 2018 e debutterà ai festival questo autunno.
La colonna sonora di Bernocchi crea un'atmosfera perfetta per sottolineare i passaggi della vita dello scultore, pittore e fotografo americano, il cui lavoro ha influenzato una generazione di giovani artisti tra cui Jean-Michel Basquiat, Anselm Kiefer, Francesco Clemente e Julian Schnabel. "Mi è stata data totale libertà" spiega il chitarrista e maestro dell'elettronica italiano "Abbiamo lavorato come un team per creare il miglior film possibile, ma nessuno mi ha mai chiesto di cambiare qualcosa, dato che la mia visione rifletteva in modo naturale quella del regista e della produzione e abbiamo collaborato in modo fluido, come se ci conoscessimo da sempre. Il risultato è un incredibile documentario e questo disco". La colonna sonora di "Cy Dear" potrebbe ricordare un precedente lavoro di Bernocchi pubblicato su RareNoise nel 2005, "Winter Garden", ma il tocco di Bernocchi in questo "Like a Fire That Consumes All Before It" genera un nuovo personale incantesimo sull'ascoltatore, frutto degli anni passati e della storia del musicista. L'80% dei suoni di questo disco sono creati con la chitarra, lo strumento principale di Bernocchi, ma questi suoni sono abilmente camuffati con l'utilizzo sapiente di echo, delay e riverberi. "Ho usato la chitarra come un strumento per cantare il tema per poi trasformare il suo suono con un metodo orchestrale, creando diversi livelli e strati per dare forza emotiva".
Questa colonna sonora ha richiesto quattro mesi di intenso lavoro creativo, in cui Bernocchi è stato ispirato dalla storia di questo gigante dell'arte contemporanea, dai suoi dipinti, dalle sue memorie e dalla vita che visse con Nicola dal Roscio. "In certi momenti mi sono chiesto come avrebbe lavorato su questo progetto il mio compositore preferito, Ennio Morricone. Probabilmente avrebbe ridotto il numero di strumenti per concentrarsi sull'essenza dei temi e delle emozioni e così ho cercato di fare io. Bernocchi cita il brano "Like I Wasn't There" come esempio per spiegare il metodo di lavoro utilizzato e la tecnica con cui in studio si è cercato di potenziare la forza evocativa della musica: "E' uno dei pezzi più toccanti della colonna sonora, dedicata alla relazione tra padre e figlio, l'onnipresenza dell'arte, i ricordi che uno dopo l'altro costruiscono una storia la cui forza comunicativa è stata forgiata dal tempo e dagli eventi." L'ultima traccia, "Near By Distance", è l'unica caratterizzata da una pulsazione ritmica più alta e Bernocchi la dedica all'amico musicista e produttore Robert Miles, scomparso lo scorso anno: "Il tema di piano mi ha fatto tornare in mente le melodie create da Robert e mi capita spesso di pensare quanto mi piacerebbe fargliela ascoltare".
La sfida in un disco come questo, in cui l'autore ha suonato da solo tutti gli strumenti, era quella di gestire la grande mole di idee e di non eccedere con la produzione. "I brani troppo saturi di layer mi innervosiscono, io mi affido ad una singola nota, a un riff che può dire più di una intera orchestra. Ho dovuto quindi tenere a bada una parte di me stesso ed essere spietato nella selezione degli spunti creativi. Perché alla fine il protagonista della storia doveva essere Cy Twombly, non io."
I titoli dei brani non derivano da nessuno dei singoli dipinti di Twombly ma da momenti del film, dall'esperienza personale di Bernocchi o da figure importanti nella vita dell'artista americano e da frasi da lui pronunciate nel film, in uno scambio di elementi personali del compositore della colonna sonora e del protagonista del film. Riguardo al titolo del disco, Bernocchi spiega "E' una frase potente e ricca di significato, che descrive perfettamente l'approccio alla vita che ho avuto fin da quando ero un ragazzo: la passione come un fuoco che alla fine consuma tutto intorno a noi. Twombly lo ha espresso nei suoi dipinti dedicati all'Iliade e quando ho visto quelle opere ho sentito che queste parole erano perfette per questo disco".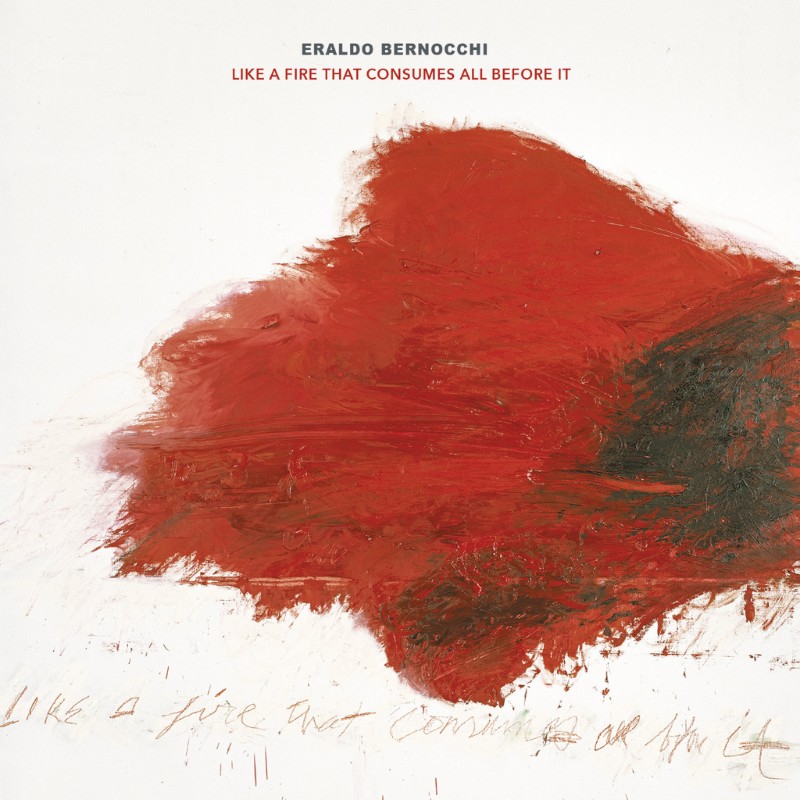 01 - Meet me where you know
02 - To make things float
03 - From a distance
04 – White
05 - The silver laugh
06 - A child and a pencil
07 - The gold house
08 - Like I wasn't there
09 - A letter and a place
10 - The never ending pier
11 - 1-10" of happiness
12 - Swirling colours
13 - We had a good time
14 - A crack in time
15 - The space between
16 - Out in the blue
17 - Like I wasn't there (reprise)
18 - Near by distance