Jess e Holly, le due inconfondibili frontwoman dei Lucius, annunciano una serie di concerti in streaming per beneficienza.
Jess Wolfe e Holly Leasing, fondatrici e frontwomen della band indie-pop statunitense Lucius, oltre che coriste di giganti della musica come Roger Waters, Jackson Browne, John Legend, Jeff Tweedy, Mavis Staples e tanti altri, hanno annunciato "Turning It Around - A Community-Rebuilding Concert Series", una serie di concerti in streaming trasmessi ogni giovedì del mese di luglio per supportare le piccole imprese di Los Angeles colpite dal Coronavirus.
Ciascuno dei quattro appuntamenti ha un programma ben specifico ed è accompagnato da un ospite speciale: durante il primo, tenutosi il 9 luglio, le due musiciste hanno suonato per intero Wildewoman, il loro secondo e apprezzatissimo album, accompagnate dalla presenza della cantautrice e produttrice discografica Brandi Carlile.

Il secondo di questi appuntamenti si terrà il 16 luglio alle 6PM PT / 3AM CET e rimarrà accessibile per 72 ore a partire dalla trasmissione live. Questa volta la performance di Jess e Holly non si concentrerà sul loro repertorio di brani originali bensì sulle numerose cover che hanno contribuito ad accrescere la loro fama presso il grande pubblico. La band sarà arricchita dalla straordinaria presenza di Sheryl Crow, una delle stelle più luminose della storia della musica mondiale, che condivide con le due musiciste una collaborazione di lunga data.

Il prossimo appuntamento sarà dedicato ai brani di Songs From The Bromley House, album del 2009, mentre durante il quarto e ultimo appuntamento potremo ascoltare per la prima volta nuova musica in esclusiva.
GIOVEDÍ 16 LUGLIO - 6 PM PT / 3 AM CET
Performing Covers
Special Guest: SHERYL CROW

GIOVEDÍ 23 LUGLIO
Performing Songs From The Bromley House

GIOVEDÍ 30 LUGLIO
Debuting New Music


BIGLIETTI:
3-Days Pass 31,57€ + d.p.
Regular Ticket 13,15€ + d.p

In vendita su: https://events.seated.com/lucius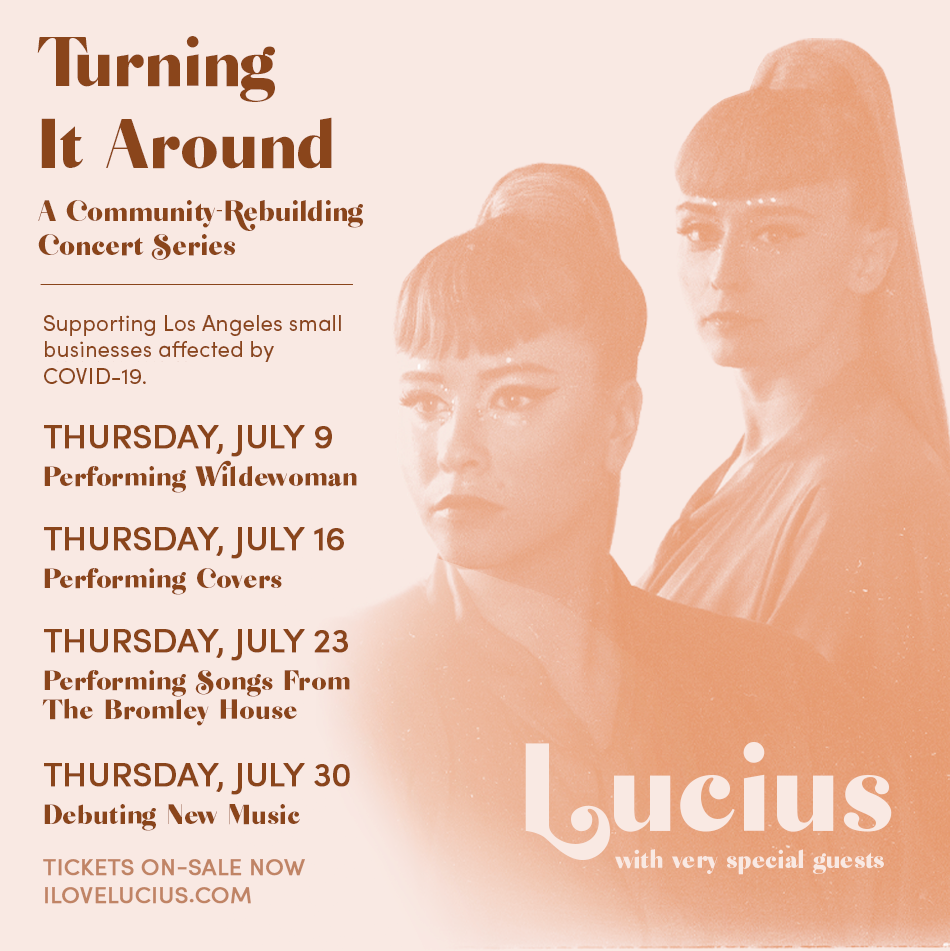 I LUCIUS sono una band indie-pop nata a Brooklyn nel 2007 che si è stabilita definitivamente a Los Angeles nel 2015. Il gruppo è attualmente composto dalle cantanti Jess Wolfe e Holly Laessig, dal batterista e produttore Dan Molad e dal chitarrista Peter Lalish.
La band ha pubblicato tre album in studio: Wildewoman (2013), Good Grief (2016) e Nudes (2018). Tutti e tre hanno ricevuto un accoglienza molto positiva da parte della critica, con ottime recensioni su New York Times, Rolling Stone, NPR e Village Voice. La rivista Paste Magazine nel 2015 ha parlato di loro come uno dei migliori spettacoli da vedere dal vivo. Sempre nello stesso anno, i Lucius hanno composto anche la colonna sonora del film "Band Aid", il film d'esordio alla regia dell'attrice Zoe Lister-Jones.
Le due frontwomen Jess Wolfe and Holly Laessig hanno collaborato come coriste con alcuni tra i nomi più importanti della storia della musica contemporanea tra cui Roger Waters (accompagnato da Jonathan Wilson), Jeff Tweedy dei Wilco, Jackson Browne, John Legend, Mavis Staples, Sheryl Crow e Lukas Nelson & Promise of the Real.
TAGS: