ARLO PARKS condivide il video di "Caroline". L'album di debutto COLLAPSED IN SUNBEAMS sarà disponibile del 29 gennaio su Transgressive.
Oggi Arlo Parks condivide il video di "Caroline," ultimo singolo tratto dall'attesissimo album di debutto, Collapsed In Sunbeams in uscita il 29 gennaio su Trasgressive Records. Il video, diretto da Brock Neal-Roberts, si immerge in un'emozionante ed ardente storia d'amore inframezzata da intense inquadrature della stessa Parks. Il video del nuovo singolo "Caroline", anticipato da un lyric video, sarà l'ultimo tratto dall'album Collapsed In Sunbeams dopo "Eugene," "Black Dog," "Hurt" e "Green Eyes."

Parlando del video, Arlo Parks dice: "realizzare questo video con Brock è stato estremamente naturale ed emozionante. Volevamo realizzare qualcosa di delicato e compassionevole. Sono molto orgogliosa di questo video e di come rispecchi la storia che c'è in Caroline".
Il video di "Caroline" precede la partecipazione di Arlo Parks al programma della BBC 6 Music's Artist In Residence in onda dal 20 gennaio. Il programma è un viaggio nell'anima musicale di un artista, in ogni puntata Arlo condividerà la musica che ha influenzato particolari momenti della sua vita. Gli episodi saranno disponibili per un mese dopo la loro trasmissione su BBC Sounds. Arlo si esibirà per lo Speciale di Capodanno del mitico programma televisivo Top Of The Pops.
Arlo ha anche annunciato il live stream con Rough Trade giovedì 21 gennaio. La vendita dei biglietti è disponibile al link https://link.dice.fm/arlo-parks
"Caroline" segue la pubblicazione di "Green Eyes" e dei recenti singoli "Hurt" e "Black Dog", entrambi trasmessi da BBC Radio 1 e BBC 6 Music A-list e che si sono guadagnati milioni di stream in tutto il mondo. Arlo ha prestato la sua voce nel singolo dei Glass Animals "Tangerine" e nel nuovo brano di Fraser T. Smith "Strangers In The Night" - i due si sono recentemente esibiti con il brano al Later… with Jools Holland.
Il 2020 continua a vedere l'ascesa di Arlo recentemente protagonista, insieme ad artisti del calibro di Billie Eillish, Harry Styles, Florence Welch, di un episodio della miniserie co-diretta da Gus Van Sant per la campagna Gucci. Durante l'arco dell'anno si è già fatta notare anche per la sua presenza nella Dazed 100 List e sulle copertine di Evening Standard Magazine, Rollacoaster Magazine, NME e Dork Magazine. Arlo è stata nominata ambasciatrice dell'organizzazione benefica inglese CALM, che si occupa di salute mentale, e vincitricite del BBC Introducing Artist Of The Year.
La sua musica e il suo cantautorato le hanno fatto guadagnare fan del calibro di Billie Eilish, Florence Welch, Michelle Obama, Angel Olsen, Phoebe Bridgers eWyclef Jean, tra gli altri ed oltre ad essere stata una dei tre artisti ad esibirsi al Glastonbury quest'anno, Arlo si è esibita per COLORS e NPR's Tiny Desk.
Riguardo all'album di debutto, Arlo afferma, "Questo album rappresenta una serie di vignette e ritratti intimi che hanno circondato la mia adolescenza e le persone che l'hanno influenzata. Si basa sullo storytelling e sulla nostalgia – volevo che suonasse sia universale che iper-specifico." Collapsed In Sunbeams uscirà il 29 gennaio 2021 su Transgressive Records ed è disponibile QUI per il pre-ordine su vinile edizione limitata, CD e cassetta.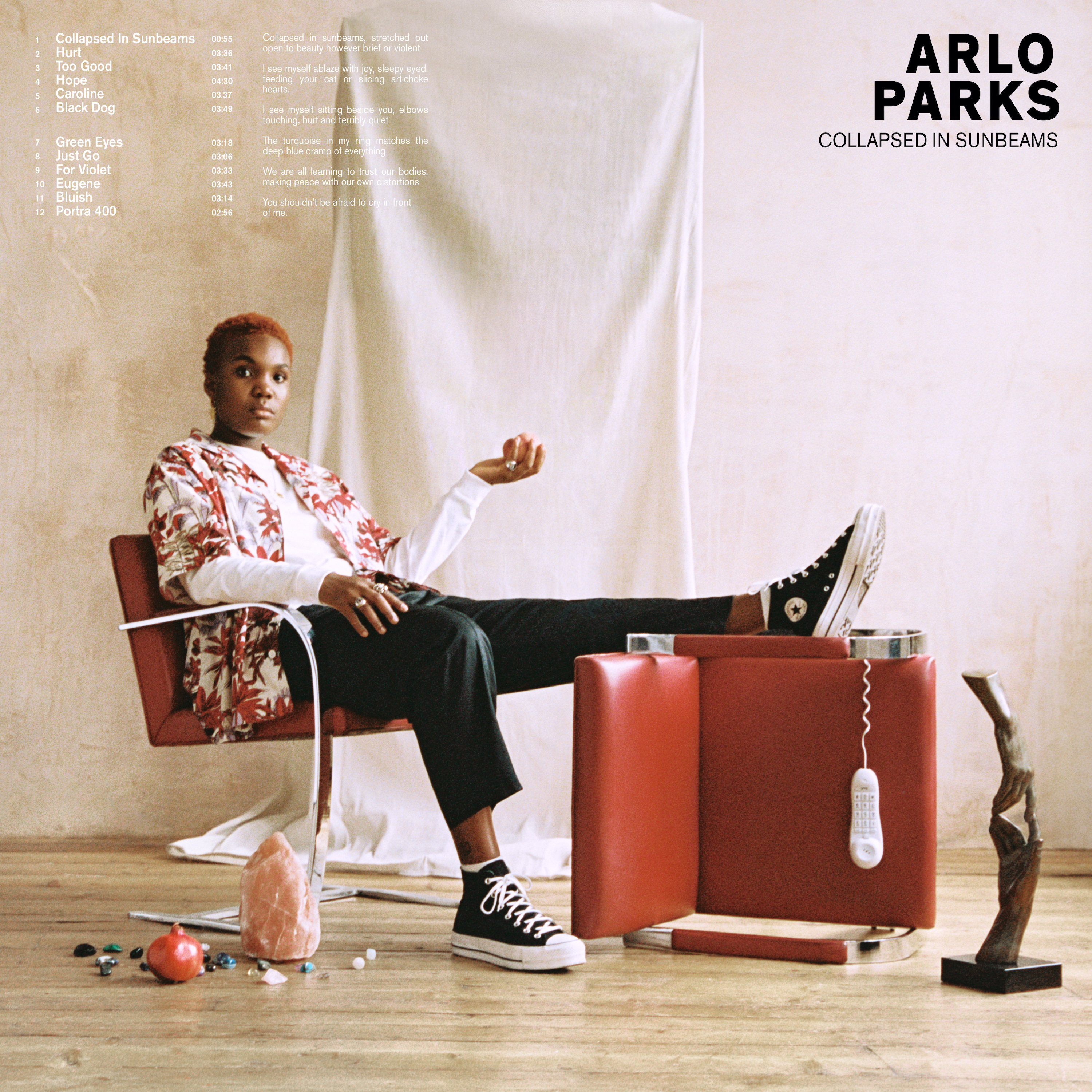 1.Collapsed In Sunbeams
2.Hurt
3.Too Good
4.Hope
5. Caroline
6.Black Dog
7.Green Eyes
8.Just Go
9.For Violet
10.Eugene
11.Bluish
12.Portra 400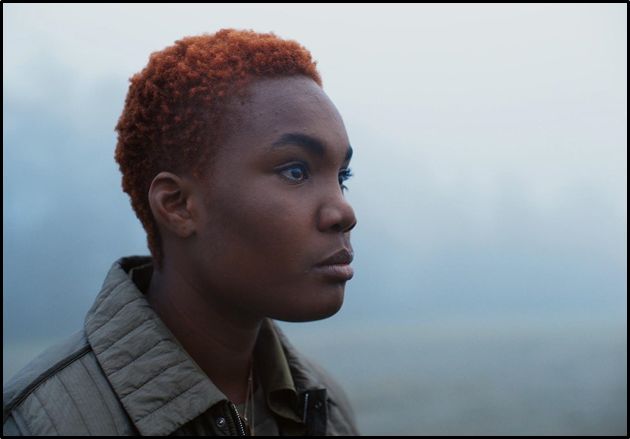 Sul piano personale Parks crescendo ha lottato con la sua identità; un maschiaccio dichiarato, super sensibile e "sfigato". Lei stessa afferma "sono una ragazzina di colore che non sa ballare, ascolto musica emo e ho una cotta per una ragazza del mio corso di spagnolo". A 17 anni si rasò la testa, capì di essere bisessuale e scrisse e produsse un album pieno di materiale valido.
Cresciuta a South West London, mezza nigeriana, un quarto ciadiana e un quarto francese, Arlo Parks imparò a parlare francese prima dell'inglese. Bambina tranquilla, scriveva brevi storie e creava mondi fantastici, appassionandosi alla poesia spoken word, leggendo poeti americani come Ginsberg e Jim Morrison e guardando le performance di Chet Baker su YouTube. Oggi tra i suoi poeti preferiti troviamo Nayyirah Waheed, Hanif Abdurraqib e Iain S. Thomas ed è chiaro che i loro lavori influenzano la sua scrittura. Anche i libri sono un'ispirazione importante, come The Bell Jar di Sylvia Plath e Norwegian Wood di Haruki Murakami. Parks afferma, "Aspiro a scrivere i miei brani nello stesso modo in cui Murakami ha scritto quel libro: realistico, sensibile e umano."
Water di Fela Kuti e Sittin On The Dock Of The Bay di Otis Redding hanno fatto da colonna sonora all'infanzia di Arlo Parks, ma è stato a 13 anni che scoprì King Krule; artista che tuttora influenza molto la musica che Arlo scrive. Più tardi iniziò ad ascoltare hip-hop (Kendrick Lamar, MF Doom, Earl Sweatshirt e Loyle Carner) e rock (Jimi Hendrix, Shilpa Ray e David Bowie), ma anche il sound doloroso e introspettivo di Keaton Henson, Sufjan Stevens e Julien Baker. Parks spiega, "Scrivevo storie così dettagliate che potevi assaggiarle, mantenendo comunque l'energia e la vita dell'hip-hop che amavo " C'è un aspetto cinematografico e visuale nella sua scrittura, nato dall'amore per i film horror, per lo streetwear e per l'arte astratta.
TAGS: