The War on Drugs annunciano "I Don't Live Here Anymore", il nuovo album in uscita il 29 ottobre su etichetta Atlantic Records. Guarda il video del nuovo brano "Living Proof".
The War on Drugs annunciano dopo quattro anni il loro nuovo album in studio dal titolo "I Don't Live Here Anymore" in uscita il 29 ottobre su etichetta Atlantic Records e annunciano anche il tour in Nord America e in Europa nel 2022. Inoltre la band presenta anche il primo brano (con il video) dal titolo "Living Proof." Negli ultimi 15 anni The War on Drugs sono costantemente cresciuti e sono diventati una delle più grandi band rock di questo secolo, eliminando il divario tra l'underground e il mainstream. The War on Drugs non hanno mai fatto così bene come in questo quinto album in studio dal titolo "I Don't live Here Anymore" , un album rock non comune sul tema della resilienza di fronte alla disperazione.
Appena un mese dopo che l'album della band "A Deeper Understanding" ha ricevuto il Grammy come "Best Rock album" nel 2018, il bassista Dave Hartley e il polistrumentista Anthony LaMarca si sono ritirati a nord dello stato di New York per lavorare a nuovi demo, uscendo dai ruoli che ogni membro ha durante i set live. Queste sessioni sono state molto produttive, creando già le prime versioni di alcuni brani contenuti in I Don't Live Here Anymore. E' stata la prima di una dozzina e più di session che sono durate tre anni in sette studi di registrazione diversi, compresi alcuni dei più grandi studi per il rock come l'Electric Lady a New York e il Sound City a Los Angeles. Il leader della band Adam Granduciel e il co-producer e ingegnere Shawn Everett hanno passato tantissime ore a studiare ogni elemento di questi brani e a modificarli.
Una delle session più memorabili è stata quella nel maggio 2019 all' Electro-Vox nella quale l'intera band, a cui si è aggiunto il tastierista Robbie Bennett, il batterista Charlie Hall e il sassofonista Jon Natchez, si è riunita per registrare il brano di apertura dell'album "Living Proof. Normalmente Granduciel assembla gli album di The War On Drugs come fossero una specie di puzzle rock 'n' roll. "Living Proof" invece è nata in tempo reale, i musicisti hanno attinto alla loro chimica, come quando suonano dal vivo, per evocare un po' di magia estemporanea. L'immediatezza della performance è stata appropriata per uno dei brani più personali che Granduciel abbia mai scritto.
Il video di "Living Proof", diretto dal regista Emmett Malloy e girato in 16mm, cattura Granduciel nello storico Panoramic studio a Stinson Beach in California
La particolare combinazione di complessità e immaginazione dei War On Drugs anima i dieci brani di I Don't Live Here Anymore, rafforzando i sentimenti della personale odissea di Granduciel . E' un'espressione di forza rock n' roll trasportare la nostra esperienza personale in brani che possiamo condividere e parole che dirigono il nostro sguardo verso la possibilità di ciò che verrà
Il tour del 2022 porta la band in alcune delle venue più grandi in cui abbia mai suonato prima d'ora incluso il primo show da headliner al Madison Square Garden, il Shrine Auditorium a Los Angeles , il Bill Graham Civic Center a San Francisco , il Ryman Auditorium a Nashville, due serate al Chicago Theatre, al Metropolitan di Philadelphia, all' House of Blues a Boston. La band sarà live anche in Italia il 5 aprile all'Alcatraz di Milano per un unico ed imperdibile show. Per tutte le date del tour in Nord America e Europa vai su http://www.thewarondrugs.net/tour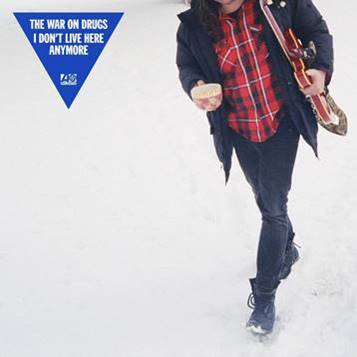 Living Proof
Harmonia's Dream
Change
I Don't Wanna Wait
Victim
I Don't Live Here Anymore
Old Skin
Wasted
Rings Around My Father's Eyes
Occasional Rain
TAGS: