RYLEY WALKER sarà in Italia a febbraio 2020 con AN EVENING WITH RYLEY WALKER con tre imperdibili date in acustico.
Ryley Walker è considerato uno dei nomi di punta del cantautorato americano contemporaneo. Originario dell'Illinois ma musicalmente cresciuto a Chicago, sa "suonare l'America" e, nonostante vengano fatti continuamente (e facilmente) parallelismi con i più grandi mostri sacri della tradizione musicale a stelle e strisce (ricordiamo tra tutti John Martyn, Nick Drake, Tim Buckley, Van Morrison, Bert Jansch), non è possibile ascoltare un solo brano senza individuare almeno due o tre generi, influenze o suggestioni che vanno a fondersi meravigliosamente tra loro. La ricercatezza compositiva di Ryley Walker viene spesso (e frettolosamente) descritta come "cantautorato folk-rock" di derivazione anni '70 e '80, ma a un ascolto più attento ed erudito non sfuggirà la presenza di elementi free jazz, blues e country, l'onnipresente psichedelia e, specialmente se oltre agli album consideriamo la dimensione del live e la pregevole componente di improvvisazione, a testimonianza del gran numero di influenze stilistiche difficili da separare.
Il 12 settembre ha annunciato l'uscita di un nuovo disco scritto a quattro mani con il batterista jazz Charles Rumback e intitolato "Little Common Twist". Uscirà il prossimo 8 novembre per Thrill Jockey e anticipato dal singolo "Half Joking".
Cresciuto sulle rive del vecchio fiume Rock nel nord dell'Illinois, Ryley ha avuto un'adolescenza tranquilla prima di trasferirsi a Chicago nel 2007 per iscriversi al college. Qui inizia a frequentare con assiduità la scena dei club locali, confrontandosi con il lascito del post-rock e le più nerborute e decadenti manifestazioni noise. Nel 2011, poco più che ventenne, Ryley si insinua adeguatamente nella tradizione del fingerpicking, osservando con dedizione la dottrina dei vari John Fahey, Robbie Basho e Leo Kottke e pubblicando su nastro il suo primo EP "The Evidence of Things Unseen". Lo scenario sarebbe presto cambiato negli anni a venire, quando il gusto anglofono avrebbe preso il sopravvento, spostando l'asse degli interessi sul folk inglese, e avvicinandolo allo stile di Bert Jansch e John Renbourn. Nel 2014 Ryley pubblica "All Kinds Of You" per Tompkins Square, un album che ne rivela il talento e che attira su di lui una grande attenzione, permettendogli di intraprendere un lungo tour e comparire nei credits di diversi dischi. Nell'autunno di quell'anno firma con la Dead Ocean con la quale pubblicherà tutti i suoi album successivi a partire da "Primrose Green" del 2015 che lo conferma definitivamente come una delle stelle più lucenti del cantautorato statunitense. Al termine del tour di Primrose Green, durato circa un anno, torna a Chicago per iniziare la stesura del suo terzo album "Golden Sings That Have Been Sung", pubblicato nell'agosto del 2016. Ispirato in parte proprio alla "città del vento" e in parte a band locali leggendarie come i Tortoise e i Gastr del Sol, segna un'ulteriore evoluzione a livello compositivo. Nel frattempo si intensifica la collaborazione con il chitarrista jazz Bill Mackay con il quale pubblicherà due album: "Land of Plenty" e "SpiderBeetleBee". Nel 2018 pubblica "Deafman Glance" il suo quarto album co-prodotto da Leroy Bach a cui seguì "The Lillywhite Sessions" in cui reinterpreta in trio il famoso bootleg album della Dave Matthews Band.
A settembre, con la pubblicazione del brano "Half Joking", annuncia l'uscita di un nuovo album con il batterista jazz Charles Rumback e seguito da un tour europeo in acustico, "An Evening With Ryley Walker" che farà tre tappe in Italia a febbraio.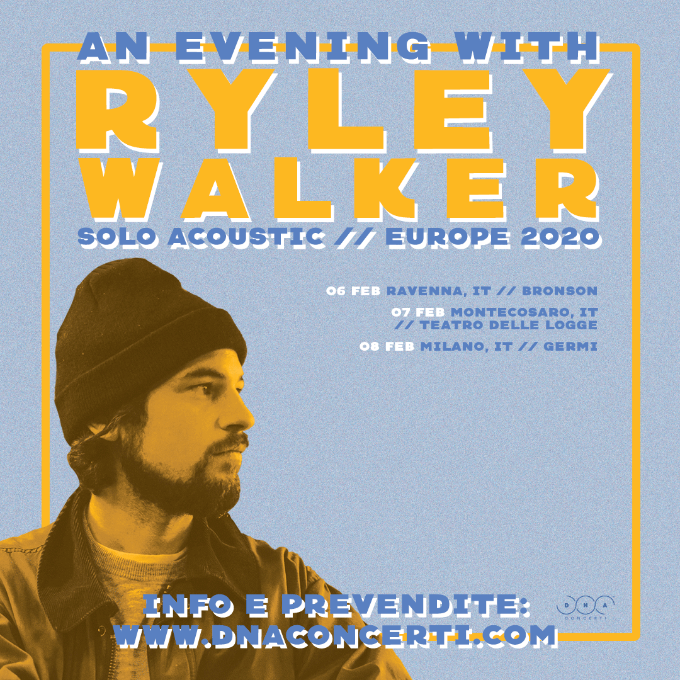 6 febbraio 2020 - Ravenna - Bronson
Prevendite 12€ + d.p. - www.vivaticket.it
Biglietto al botteghino 15€
Inizio concerto: 21:00
Info: www.bronsonproduzioni.it

7 febbraio 2020 - Montecosaro (AP) - Teatro delle Logge
Prevendite 15€ + d.p. - www.vivaticket.it
Info: www.facebook.com/teatrodellelogge


8 febbraio 2020 - Milano - Germi
Prevendite 12€ + d.p. - www.ticketone.it
Biglietto al botteghino 15€ + d.p.
Info: www.dnaconcerti.com
TAGS: