Hate Moss: il duo in tour in Italia a novembre e dicembre. Tutte le date.
Gli Hate Moss sono un duo post-punk/electroclash di stanza a Londra, formato da Tina (electronica e voce) e Ian (batteria e voce). I loro pezzi sono influenzati dalla musica brasiliana e italiana e i testi sono un mix di diverse lingue. Dopo aver pubblicato un primo singolo, intitolato "Honey", nel giugno 2018, hanno suonato live in UK, Brasile e Italia partecipando a festival e condividendo i palchi con band come Rakta, Odradek, Menores Atos and Boogarins. "Live Twothousandhatein", il loro primo album, è uscito lo scorso maggio per Stock-a Arts and Records - collettivo con il quale gli Hate Moss si stanno impegnando a diffondere non solo la loro musica ma anche quella di altri validi progetti del panorama alternativo italiano e brasiliano - in collaborazione con Discos Rebeldes, etichetta argentino/messicana.
La band finalmente suonerà a lungo anche in Italia nei mesi di novembre e dicembre, con una prima data di assaggio sabato 9 novembre al Beat Cafè di San Salvo (CH). Ecco le date:
09 novembre: Beat Cafe, San Salvo
22 novembre: Morgana Music Club, Benevento
23 novembre: Klang Roma, Roma
29 novembre: Free Ride, Perugia
30 novembre: Viabuonfanti42 , Pistoia
05 dicembre: Lighthouse Pub, Noale
06 dicembre: Laboratorioccupato Morion, Venezia
07 dicembre: Astoria, Torino
11 dicembre: Apollo, Milano
13 dicembre: Circolo Libero Pensiero, Lecco
15 dicembre: Circolo Arci Chinaski, Sermide
20 dicembre: Wip Workinprogress, Terranuova Bracciolini
21 dicembre: Scumm, Pescara
27 dicembre: Birreria Fez, Guardiagrele
28 dicembre: Caffetteria Fenaroli, Lanciano
Nato come primo disco solista di Ian e poi trasformato, attraverso i riarrangiamenti in chiave electroclash, nel disco di esordio del duo, "Live Twothousandhatein" è il perfetto mix tra la cultura italo-brasiliana della band e le influenze musicali risultato della loro vita londinese. Le registrazioni sono avvenute in un unico take presso il Relaxo Studio a Firenze, dove la band ha registrato anche i video dei brani "Londres" e "Honey". La scelta di registrare con un unico take è dovuta al voler trasmettere nella maniera più veritiera possibile le sensazioni di un concerto in cui gli strumenti e le voci si fondono in maniera naturale e allo stesso tempo unica. La registrazione degli altri strumenti (chitarre, basso, therevox etc), mixati da Tina, è stata affidata a musicisti vicini alla band, amici, colleghi, ex compagni di band sparsi tra Italia, Inghilterra e Brasile. Anche questo contribuisce a mantenere costante il volersi identificare come un mix di culture e non etichettarsi come una band specificamente italiana, brasiliana o inglese.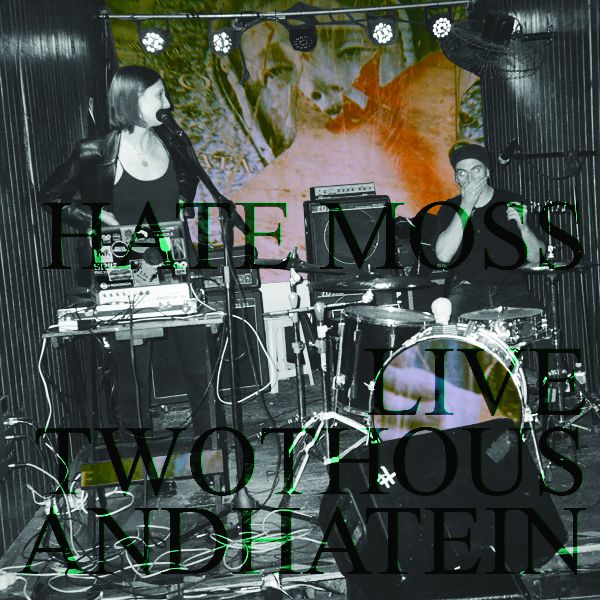 01. Hanged man
02. Funerale
03. Evil
04. Dis Pater
05. The time you remake
06. Mirror
07. Londres
08. Like me
09. Honey
TAGS: