Music To Draw To. Music To Draw To: Io
KID KOALA annuncia il nuovo album MUSIC TO DRAW TO: IO Featuring Trixie Whitley in uscita il 25 gennaio su Arts & Crafts.
Il visionario DJ e produttore Kid Koala (aka Eric San) annuncia il secondo volume della serie Music To Draw To. Music To Draw To: Io, che vede la collaborazione di Trixie Whitley in sei degli otto brani presenti nell'album. Oltre al nuovo doppio LP, Kid Koala condivide il primo singolo "All For You" featuring Trixie Whitley.
Riguardo alla nuova collaborazione, San ha affermato: "Trixie Whitley è un fenomeno, una vera forza della natura. È in grado di immergersi incanalando qualcosa di veramente profondo e personale. Ho assistito a questo processo sul palco, ma non sapevo cosa sarebbe successo in studio, specialmente in questo scenario musicale. Abbiamo parlato brevemente delle tematiche dell'album prima di registrare. È stata in grado di fare suo ogni personaggio dell'album, dando loro una voce ad un livello che non avrei mai immaginato. Il suo modo di cantare può essere dolce e premuroso, audace e potente, spaventoso e sinistro, ma è sempre Trixie Whitley. La gamma di emozioni che raggiunge in questi brani è sbalorditiva."
Io è una costellazione di meditazioni elettroniche che risplendono grazie al blues di Whitley. La cantante e polistrumentista, descrive la collaborazione con Kid Koala come "un incontro, come innamorarsi tra collaboratori." Personificati trascendentalmente da Whitley, i testi strazianti di Kid Koala incanalano l'agitazione provocata dalla psiche moderna, utilizzando la storia della mitologia greca di Io, un'amante mortale e riluttante del dio greco Zeus. Composto interamente da Koala utilizzando vari tipi di synth e una serie di strumenti rari del National Music Centre di Calgary, Io riflette l'immaginazione infinita di Kid Koala e la sua capacità di ispirare gli altri ad essere parte della creazione.
Whitley afferma: "Lavorando a Io, ho scoperto la profondità di Kid Koala in quanto pensatore, creatore e artista – un termine da cui mi tengo alla larga - con l'incredibile capacità di inventare dimensioni artistiche piene di misteriosi personaggi. Ha la mente di un regista con la visione di un architetto e grazie a ciò ha creato un bellissimo spazio sonoro per queste meravigliose e vulnerabili emozioni."
Ispirato dalla musica che lascia spazio alle idee dell'ascoltatore, Music To Draw To è un universo di suoni in evoluzione e viaggi vocali affascinanti, ambientati in un contesto malinconico di viaggi spaziali e storie d'amore. Whitley ricorda di essere rimasta affascinata da Music To Draw To: Satellite del 2017, che vedeva la partecipazione di Emiliana Torrini.
Quets'anno Kid Koala ha pubblicato Floor Kids Original Video Game Soundtrack, una colonna sonora di 42 brani con 71 minuti di hip-hop originale e musica tratta dal videogioco Floor Kids. Kid Koala è stato in tour con artisti del calibro di Radiohead, Beastie Boys, Arcade Fire, A Tribe Called Quest, e DJ Shadow e ha contribuito alle colonne sonore per Baby Driver, Scott Pilgrim vs. The World, The Great Gatsby, Looper and Men, Women and Children. Ha inoltre composto le musiche per Adult Swim, Cartoon Network, Sesame Street, e la National Film Board of Canada. Quest'anno Kid Koala ha vinto il Polaris Music Heritage Prize per il suo album di debutto del 2001 Carpal Tunnel Syndrome.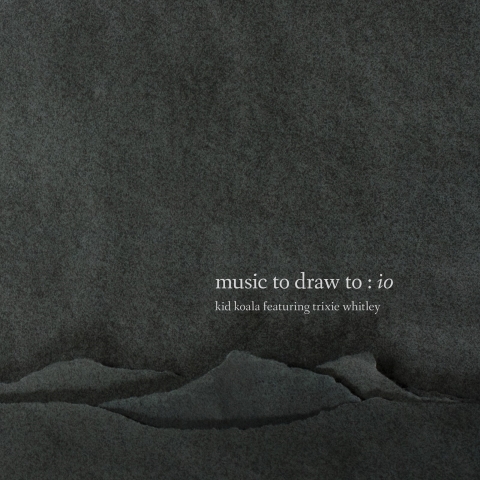 1. Circle of Clouds
2. All For You (Featuring Trixie Whitley)
3. Torus
4. Transmission 4
5. Lost at Sea (Featuring Trixie Whitley)
6. Shielded
7. Liminality
8. Transmission 5
9. Hera's Song (Featuring Trixie Whitley)
10. Transmission 6
11. Allotropic
12. Diamond Heart (Featuring Trixie Whitley)
13. Resonance
14. Escape of Io (Featuring Trixie Whitley)
15. Emuii
16. Aphelion
17. Look-Back Time (Featuring Trixie Whitley)
18. The Moons of Galileo