Pitchtorch, trio alt-folk formato da componenti di The Gutbuckets, Guano Padano e The Vickers, all'esordio omonimo il 20 settembre 2019: ascolta il primo singolo "Not On Sunday".
"Pitchtorch è la fusione ideale di due parole – pitchfork, ovvero il diapason, e pitch torch, che significa fiaccola o torcia – e rappresenta la musica come una luce che può fare da guida in questi tempi bui, non solo musicalmente parlando. Pitchtorch è un diapason ma è anche una fiaccola che segna il cammino da intraprendere".
Un diapason, una torcia che emana suoni radiosi. Questo è raffigurato nel logo di Pitchtorch, realizzato da Nazario Graziano. Pitchtorch è il nuovo progetto che "accorda" assieme, per la prima volta, tre musicisti – di base tra Firenze e Milano – dalle storie rilevanti e differenti già alle spalle: il chitarrista, compositore e session player Mario Evangelista (attivo in The Gutbuckets e altre formazioni, oltre che autore di musiche per cortometraggi e pubblicità), il bassista e contrabbassista Danilo Gallo (un terzo dei Guano Padano, in compagnia di Alessandro "Asso" Stefana e Zeno De Rossi) e il batterista Marco Biagiotti (nelle fila del quartetto indie psych-pop The Vickers).
"Desideravo allestire una band libera di suonare, in grado di gestire le influenze più disparate al di là dei generi-contenitore. Io ascolto praticamente di tutto, sia come studioso – essendomi laureato in Musicologia – sia come musicista onnivoro. Ho scelto Danilo e Marco al mio fianco proprio per questo motivo. Danilo è a suo agio tanto con il punk quanto con il free jazz: ecco perché è uno dei migliori bassisti in circolazione. Marco, parimenti, affronta varie situazioni musicali con grande pacatezza. Entrambi prestano poi molta attenzione al suono, per me una componente fondamentale" (Mario Evangelista).
Tre musicisti, dunque, che mettono al servizio i rispettivi background per una nuova creatura comune, al primo album omonimo, Pitchtorch, in uscita il 20 settembre 2019 – un'autoproduzione con distribuzione IRD – e anticipato dal confessionale singolo Not On Sunday, disponibile dal 28 giugno su tutte le piattaforme digitali. Corde acustiche ed elettriche, banjo, mandolino, pianoforte, harmonium, percussioni ed effetti elettronici contribuiscono a delineare un disegno dalle tinte calde, fatto di Americana, folk, psichedelia e improvvisazione. Fra i riferimenti principali, ci sono songwriter-modello come Bert Jansch, Nick Drake e Ry Cooder, il blues delle origini e la musica celtica, The Allman Brothers Band, Calexico e Wilco. Ma anche influenze classiche, jazz e post-rock, oppure il vintage pop dei Beatles.

In scaletta si susseguono otto brani inediti, suddivisi in tre episodi strumentali (il manifesto programmatico Pitchtorch, Seashore, Actually Is Fading) e cinque canzoni (Perfectly In Tune, la succitata Not On Sunday, l'estesa Pictures Are Goin' Wild, Dear Old Seagull e Between You And Me), per quanto la distinzione non sia netta: "Tutte le tracce sono concepite come canzoni, ma alcune sono semplicemente prive di testo perché non ne hanno bisogno. I testi a loro volta evocano delle immagini cinematografiche, in certi casi statiche, quasi come fossero dei temi strumentali".

I pezzi, scritti e prodotti da Evangelista, sono stati arrangiati dal gruppo con la collaborazione di Antonio Castiello, che ha anche registrato, mixato e masterizzato il lavoro con Aldo De Sanctis al Jambona Lab Studio di Cascina (Pisa), tra maggio e giugno del 2018.

Il disco è impreziosito dal curatissimo artwork targato Ver Eversum, in doppia versione: CD in digipack, comprensivo di booklet, o poster pieghevole con coupon per il download digitale. Un artwork accogliente e tradizionale, eppure prodigo di elementi indecifrabili: un'autentica wunderkammer, arricchita da alcune figure animali che – in mezzo a solidi inesistenti in natura, forze di gravità contrastanti e simboli pseudo-alchemici – scoprono l'energia luminosa di Pitchtorch!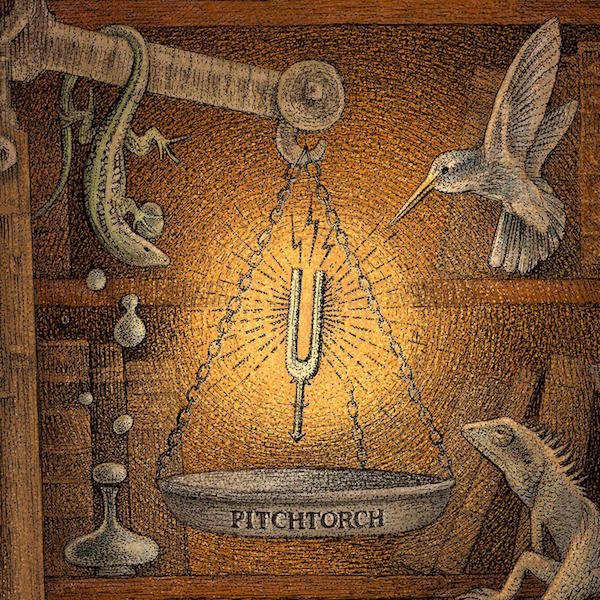 TAGS: