I Laibach hanno finalmente annunciato l'uscita del loro attesissimo nuovo album, THE SOUND OF MUSIC: 23 novembre su Mute.
The Sound Of Music è stato concepito quando il gruppo fu invitato a suonare nella Corea del Nord nel 2015. Eseguirono diversi brani della colonna sonora di 1965 al concerto di Pyongyang, scelta dai Laibach perché è un film molto amato nella Corea del Nord e spesso utilizzato nelle scuole per imparare l'inglese.
Nel disco i Laibach sono affiancati da Boris Benko (Silence) e Marina Mårtensson alla voce. Nonostante la maggior parte delle tracce provenga dal film, la band ha incluso anche "Arirang", interpretazione di una canzone folk tradizionale coreana considerata l'inno nazionale non ufficiale delle due Coree (e pubblicata di recente per celebrare lo storico vertice di Singapore tra Danald Trump e Kim Jong-un); viene suonato anche il Gayageum, un tradizionale strumento a corde coreano, a opera di alcuni studenti della Kum Song Music School di Pyongyang e c'è anche una registrazione del "discorso di benvenuto" da parte di Ryu del Comitato per le Relazioni Culturali della Repubblica Popolare Democratica della Corea.
La rivoluzionaria esibizione dei Laibach in Corea del Nord è stata documentata dall'artista, regista e diplomatico culturale Morten Traavik nel film Liberation Day (descritto da MOJO come "un'immersione umoristica, inquietante, illuminante e a tratti commovente in un anomalo mondo speculare comunista…"), che ora è disponibile su iTunes dopo la proiezione per Storyville alla BBC4.
L'album è stato registrato e prodotto a Lubiana e a Pyongyang e rappresenta un'altra riuscita collaborazione tra Laibach e Silence (Primož Hladnik and Boris Benko), che in precedenza avevano co-creato Volk, album dei Laibach del 2006.
La copertina è opera di Valnoir, che ha già collaborato col gruppo: "Laibach e NSK sono stati senza dubbio gli artisti più influenti per la mia carriera, e dal momento che ero responsabile della maggior parte degli aspetti visual per il progetto dei Laibach in Corea, è stato tanto logico quanto facile per me immergermi in questo nuovo monumentale lavoro."
La band aprirà il festival Steirischer Herbst in Austria con la premiere live di The Sound Of Music il 20 settembre. La performance sarà accompagnata da un sestetto d'archi e un coro di bambini, e, al termine del concerto, un membro dei Laibach si esibirà in un DJ set in club situato nel mezzo di una montagna nella città di Graz. Il 21 di settembre Ivo Salinger (aka Ivan Novak) parteciperà a un dibattito col direttore del festival e la band si esibirà a Lubiana con la Lviv Philharmonic Orchestra. Altre date sono già confermate per ottobre in Russia – qui i dettagli: http://www.laibach.org/future-events/
Dopo oltre 35 anni dalla loro genesi nella città industriale dell'allora Jugoslavia, Trbovlje, i Laibach rimangono la band più acclamata a livello internazionale tra quelle uscite dagli ex-paesi comunisti dell'Europa. Formatisi nell'anno della morte di Tito, e diventati famosi mentre la Jugoslavia correva verso l'autodistruzione, i Laibach vi faranno riflettere, ballare e marciare a tempo di musica.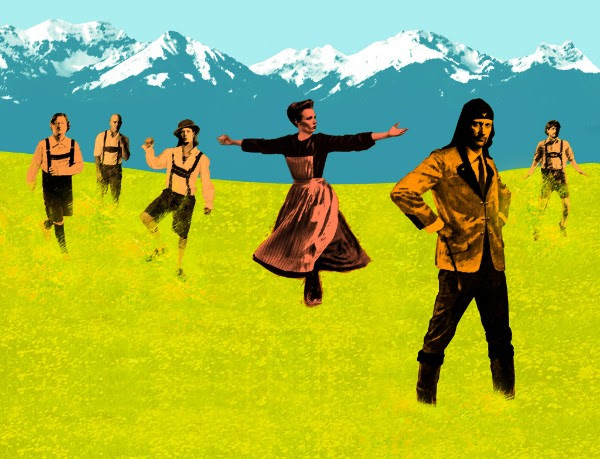 The Sound of Music
Climb Ev'ry Mountain
Do-Re-Mi
Edelweiss
Favorite Things
Lonely Goatherd
Sixteen Going On Seventeen
So Long, Farewell
Maria / Korea
Arirang
The Sound of Gayageum
Welcome Speech