La Williams, con Car Wheels On A Gravel Road, riesce a trovare il punto esatto di fusione di quel genere musicale che siamo soliti chiamare Americana, e cioè la sintesi fra sonorità roots (country, folk e blues) e rock
Quando nel 2002 il prestigioso periodico Time elegge Lucinda Williams miglior cantautrice d'America, nessuno si stupisce più di tanto. L'anno prima, infatti, la Williams si era portata a casa il Grammy per la miglior interpretazione vocale femminile in Get Right With God, terzo grande riconoscimento, dopo quello vinto nel 1993 per la miglior canzone country con Passionate Kisses (interpretata però da Mary Chaplin Carpenter) e soprattutto quello vinto nel 1998 per il miglior album di folk contemporaneo con Car Wheels On A Gravel Road. Ed è proprio da questo disco che la carriera della Williams inizia a impennarsi: non solo per vendite, statuette e plausi della critica, ma soprattutto per un'eccellenza compositiva che, nonostante il tempo trascorso, si è mantenuta altissima anche ai giorni d'oggi (dell'ultimo disco, The Ghosts Of Highway 20, scriveremo a breve). Insomma, se si può parlare in senso compiuto di un "disco della svolta" nella carriera della cantautrice della Louisiana, è d'obbligo tirar fuori dallo scaffale Car Wheels On A Gravel Road. In queste tredici canzoni, infatti, si racchiude il meglio di tutto il Williams pensiero. Cantautrice, da un lato, legata alla tradizione (Bob Dylan e Robert Johnson, il Texas e la frontiera rappresentano il suo abbecedario formativo), dall'altro, però, capace di dotarsi anche di una efficacissima strumentazione elettrica, la Williams, con Car Wheels On A Gravel Road riesce a trovare il punto esatto di fusione di quel genere musicale che siamo soliti chiamare Americana, e cioè la sintesi fra sonorità roots (country, folk e blues) e rock. Benedetto in fase di lavorazione da Steve Earle (che suona la chitarra anche in qualche brano) e co-prodotto da Roy Bittan, il quinto album in carriera di Lucinda è quello che si potrebbe definire apoditticamente un capolavoro: non c'è bisogno di spiegare nulla, basta ascoltare. Tredici canzoni che raccontano la storia del country rock a stelle e strisce, convogliando in sè decenni di musica con una consapevolezza e una chiarezza d'intenti che lascia di stucco.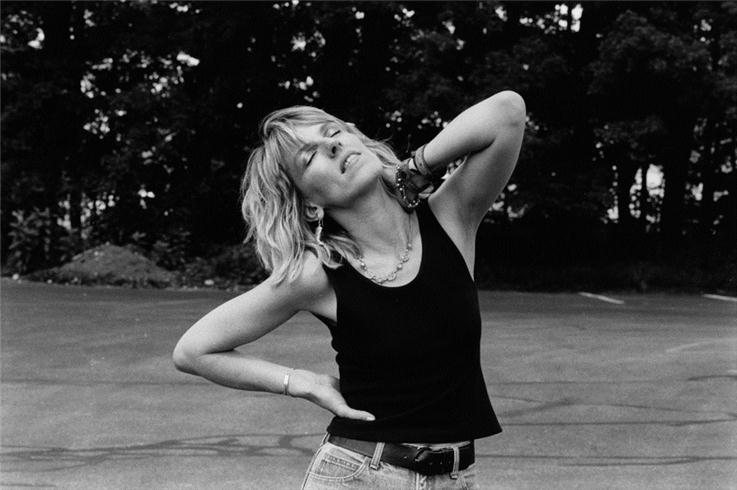 Si sente molto l'ispirazione di Steve Earle (di cui la Williams può essere considerata una sorta di controfigura al femminile), soprattutto per la tendenza a un suono all'apparenza distaccato, ma vibrante e profondo sottotraccia, e per il ricorrere al mood della ballata elettrica, in cui il rock colora le visioni roots dell'autrice, senza tuttavia che mai la ritmica e le chitarre oltrepassino le righe, esasperando così il pathos delle liriche (spesso dedicate alla nostalgia per la terra, l'infanzia e i tempi andati). A quello ci pensa la voce di Lucinda, una che canta con il cuore e si rivolge al cuore di chi l'ascolta, con uno stile inusuale e un timbro aspro, roco e tanto strascicato, da suggerire quasi un effetto "dopo sbronza", che il passare del tempo accentuerà ulteriormente. Car Wheels...è uno di quei dischi di cui si può affermare, senza passare per fan incarognito, che non include un solo filler: tutto suona, non solo coerente, ma anche essenziale, necessario, decisivo. Difficile, quindi, trovare una canzone che faccia battere il cuore più delle altre, sono tutte talmente belle che, anche volendo, è impossibile saltare fra un brano e l'altro, e ogni volta che ci si approccia all'ascolto, si finisce per metabolizzare l'opera intera. Ne scelgo tre a casaccio, allora, solo per non perdere l'esercizio alla citazione, tanto caro ai recensori seri. Drunken Angel, ad esempio, è dedicata a un giovane cantautore texano, la cui vita al limite ha avuto un tragico epilogo: è un country blues di un'amarezza profonda, che trova nella voce della Williams un irresistibile potere ammaliante. Oppure, Joy, un sabba blues circolare, che travolge l'ascoltatore con la potenza vorticosa di slide e distorsioni (eppure, non c'è una nota fuori posto né una sbavatura). E per finire, l'iniziale Right In Time, a mio modesto avviso, la pietra angolare del songwriting di Lucinda: un ballatone appassionato, elettrico, evocativo, in cui una melodia di facile presa trova il perfetto contrappunto nel timbro roco della cantante. Insomma, siamo di fronte a un disco così ben riuscito, che da solo basterebbe a nobilitare un'intera carriera e a farci parlare di un'artista straordinaria, anche se in seguito non avesse più toccato quei picchi. Invece, nonostante gli anni, la ghiaia e le sconnessioni del terreno, le ruote hanno tenuto bene, e la macchina della Williams continua a percorrere le strade dell'America con rinnovato incanto. E soprattutto, con grandi, imperdibili, dischi.