7 - L'Esattezza (Pt. 5) – Alla ricerca di Pitagora
Chiudiamo questo percorso alla ricerca dell'Esattezza ritornando indietro addirittura a Pitagora ed alla sua mistica scuola per iniziati parlando di un'altra moderna mistica scuola per iniziati – The Theatre of Eternal Music – e di un suo esponente in particolare: Tony Conrad.
Restio, come del resto i suoi colleghi, ad incidere e rendere replicabile e diffondibile la sua musica, il violinista del New Hampshire fuoriuscì dal suo territorio solo per rinchiudersi in un altro tipo di prigione: gli studi di Wumme, persi nelle campagne di Amburgo, in cui i Faust, l'esperimento "frankensteiniano" del produttore Uwe Nettelbeck, erano segregati da ormai un anno in uno stile di vita pressoché monastico. Qui, nell'autunno del 1972, con l'accompagnamento del basso intellettuale di Pèron e della trogloditica batteria di Werner Diermaier e l'apporto del prezioso tecnico del suono e tuttofare Kurt Graupner, Conrad incise su disco una delle grandi "evasioni" dai circuiti iniziatici del Teatro della Musica Eterna: Outside the Dream Syndacate. Quello che oggi è senza dubbio uno degli archetipi sia del minimalismo estremo, sia di certo post-rock à la Jim O'Rurke (che collaborò vent'anni dopo all'unica apparizione dal vivo del singolare terzetto), sia di certo Metal "sui generis" come quello Om e Earth.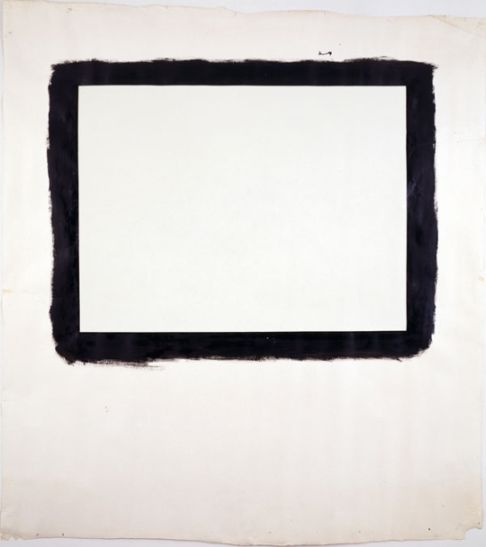 Tony Conrad - Yellow Movie (1973)

Nessun altro avanguardista è all'altezza di Conrad. È un fondamentalista assoluto, forse nell'ambito della musica Universale solo Sky Saxon dei Seeds potrebbe rivaleggiare con lui.
Nessuno è mai riuscito con la stessa dedizione di Saxon e Conrad a ripetersi senza sosta, alla ricerca di tratti nuovi nell'immagine della Verità già acquisita. "Outside the Dream Syndacate" è ideale da ascoltare a ripetizione, finché il disco non si impossessa della stanza e di fatto si trasforma in Te.
[Julian Cope – Krautrocksampler]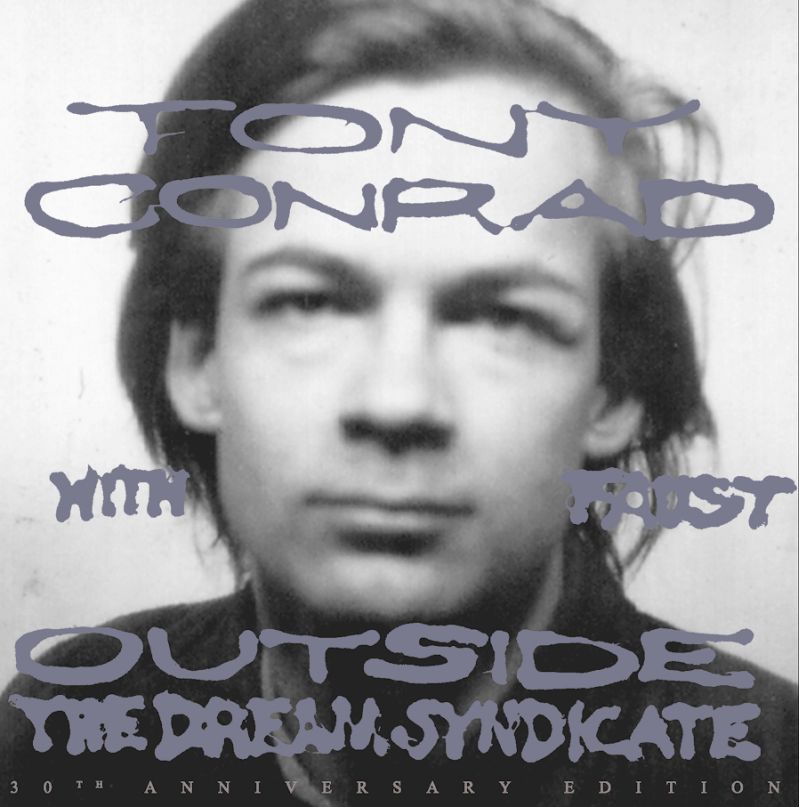 Alla base del lavoro c'è una rigorosa ricerca di Conrad non più solo sull'intonazione o sull'accordatura, ma addirittura sull'interferenza e sulla frequenza stessa delle onde sonore. Il livello di esattezza arriva non più solo alle sette note ma addirittura agli Hertz emessi dalle corde del violino. Apollo oltre Apollo.
Conrad prova a mettere in musica il concetto, purissimo, di idea platonica attraverso la sua incarnazione più elementare: l'accordo. E con esso il numero intero, perfetto, finito e definito univocamente. Questo solido ritorno a Pitagora pone la musica di Conrad come una delle espressioni più pure di matematica applicata, un'incarnazione in musica della scienza stessa dei numeri.
«The most careful listening (and playing) will reveal that "accurate" consonant intonation should not be regarded as identical with a "perfect" ratio of "whole" numbers - a Platonic ideal. Instead "in tune-ness" is ALWAYS the product of a self-correcting process of successive approximations, a homeostatic process.
One might apologize that this is necessary because of the chaotic nature of rational numbers – or, technically speaking, because the rationals are "dense." However, my preference is instead to dispense entirely with ideal "whole" numbers - to understand "whole" numbers themselves as processes, approximations, and self-corrective understandings. This way the experience of consonance becomes an erotic engagement with an imaginary, the cloud of processes that circulate (almost probabilistically) within "fixed" - frequency tones; and the thrill of consonance lies in hearing one interval as another.
ln my music these relationships touch down on some tones that will be familiar (unison, second) and others that are unusual (the 11th and 49th harmonics, for example). Of course, very few musicians are at first inclined to regard frequency ratios such as 49/48 or 28/27 (both of which occur here) as consonances...
The history of scales and intonation is a history of approximations.
Elsewhere, I have suggested - though not performed - more exotic approximations than have ever been heard
? 2 13 13 4
1 = 13 x 7 x (3/2) x ((7 /8) x x (3/2))»
[Tony Conrad – Note di Copertina a Outside the Dream Syndacate]
"From the Side of Man and Womankind", il pezzo che meglio di tutti incarna il volere musicale di Conrad, è un mantra di oltre 20 minuti: davanti all'uberbeat di Diermaier che picchia con la grazia di un capovoga in una galea romana e al pulsare metronomico di una-nota-una di basso, il violino produce un continuo, ininterrotto, bordone mono-tòno. Chi cambia è solo l'ascoltatore, mai il brano: prima stupore, poi noia, frustrazione, poi stanchezza, ipnosi, assuefazione; e alla fine vorresti che il disco non finisse mai; e in effetti forse è così. E il nostro respiro che si adatta al ritmo.
È il respiro stesso dei numeri interi.
«The music's rhythmic core has the siren persuasiveness of a heartbeat, its implacability heightened by the way that it is attuned to the rhythm implied by the modulating tones, an effect which further emphasizes the rhythm's blank, impersonal power. Somewhere inside the beat Conrad's violin wails like a bank of sirens. The effect can be magical in the sense, at least, of creating powerful illusions. Descriptions of minimalism can make it sound like a cerebral, mildly anaesthetic experience, which is true enough of much of it (though 'cerebral` may be too strong a word), but Conrad's strings build up mindboggling transformations and patterns of interference that are properly aesthetic in the sense of being physically active. The process of the music feels chaotic too, as the slightest microtonal wobble can send it spiraling off in new directions. There is a similarity to op art in terms of the essential materialism of the approach, where simple relations are used to create the illusion of motion and activity out of all proportion to the means employed. »
[Andy Wilson – Faust. Stretch Out Time 1970-1975]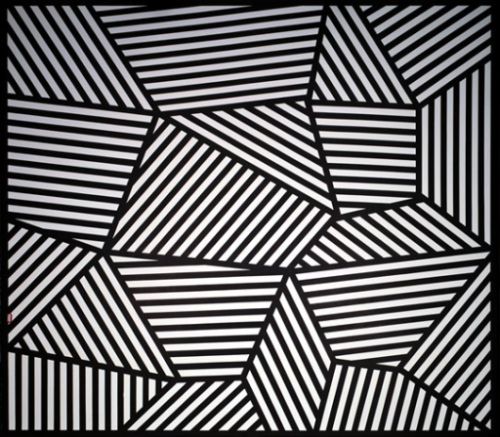 Sol LeWitt - Wall Drawing #565 (1988)
Certo, per giungere a tale rigorosa perfezione, Conrad compie un'operazione tremenda e dolorosissima: il tentativo di annullare l'aspetto emotivo della musica, asportando chirurgicamente il sentimento, il feeling, lasciando solamente il substrato tecnico-meccanico. Un'operazione faticosa, spossante e straziante.
Ma forse è questo il prezzo da pagare per l'esattezza. L'assenza di errore, o il controllo dello stesso, conducono anche all'assenza di sentimento e passione?
Cosa siamo disposti a sacrificare sull'altare di Apollo?
Magari è tempo di deporre il corpo di Marsia dal macabro patibolo a cui fu costretto; offrirgli una degna e pubblica sepoltura.
Che sia scomparso, ma non dimenticato. Che sia vinto ma non deriso; sconfitto ma mai umiliato.