AL DI MEOLA annuncia il nuovo album ACROSS THE UNIVERSE, il suo secondo album tributo ai Beatles, in uscita il 13 marzo su earMUSIC. Guarda il video di "Strawberry Fields Forever".
"I Beatles sono il motivo per cui suono la chitarra", dice Al Di Meola. "Mi hanno dato la spinta per iniziare a fare musica, quindi hanno avuto un impatto decisivo sulla mia vita".
Il chitarrista di fama mondiale Al Di Meola apre la nuova decade con un nuovo ambizioso lavoro che segue All Your Life: A Tribute to the Beatles pubblicato nel 2013: il secondo album tributo ai Beatles Across The Universe sarà disponibile dal 13 marzo su earMUSIC.
L'incredibile padronanza della tastiera dell'artista è pari solo alla sua ammirazione per l'eredità dei Beatles che hanno ispirato generazioni di musicisti e fan grazie al loro mitico repertorio. Across The Universe è il viaggio di uno dei più importanti chitarristi americani, in cui rivisita alcuni dei grandi classici e brani meno noti composti dai Fab Four. Brani che hanno reso Al Di Meola l'uomo che è oggi.
Across The Universe è un capolavoro che mostra ancora una volta l'attrazione per un ritmo sincopato complesso abbinato a testi provocatori e armonie intricate. I fan dei Beatles, delle chitarre e della musica in generale saranno trasportati nel meraviglioso mondo che l'artista ha creato. Inoltre, nell'artwork del nuovo lavoro, Al Di Meola ha deciso di celebrare la vita di John Lennon, richiamando la famosa cover del suo album solista Rock 'n' Roll pubblicato nel 1975.
Across The Universe si aggiunge ad una raccolta di oltre 30 album da solista e collaborazioni con artisti come Chick Corea, John McLaughlin, Stanley Clarke, Paco De Lucia e molti altri. Al Di Meola è una leggenda vivente riconosciuta per aver creato uno stile unico di impeccabile tecnica chitarristica unito ad un linguaggio musicale internazionale che è riuscito a conquistare i cuori di milioni di fan in tutto il mondo. Ha vinto un Grammy Award, tre dei suoi lavori sono stati certificati oro e ha venduto oltre 6 milioni di dischi. Le sue collaborazioni con artisti del calibro di Paul Simon, Phil Collins, Stevie Wonder, Jimmy Page, Santana, Steve Winwood, Herbie Hancock, Frank Zappa, Luciano Pavarotti, lo hanno reso ancora più celebre. Esplorando i più disparati generi tra cui flamenco, latino, jazz, fusion, rock e world music, Al Di Meola accompagna l'ascoltatore in un tour de force che ridefinisce continuamente i limiti di uno strumento come la chitarra. Across The Universe non si allontana dai suoi album più acclamati, grazie all'incredibile reinterpretazione di alcuni brani dei Beatles.
In Across The Universe, Al Di Meola unisce la velocità della chitarra elettrica ad arrangiamenti acustici sfarzosi e il primo singolo "Strawberry Fields Forever" ne è un esempio perfetto. Nell'album sono contenute epiche cover di brani simbolo del rock 'n' roll, tra cui Here Comes The Sun e un meraviglioso medley di Hey Jude e Golden Slumbers.
Across The Universe sarà disponibile su CD, doppio LP e in versione digitale il 13 marzo su earMUSIC.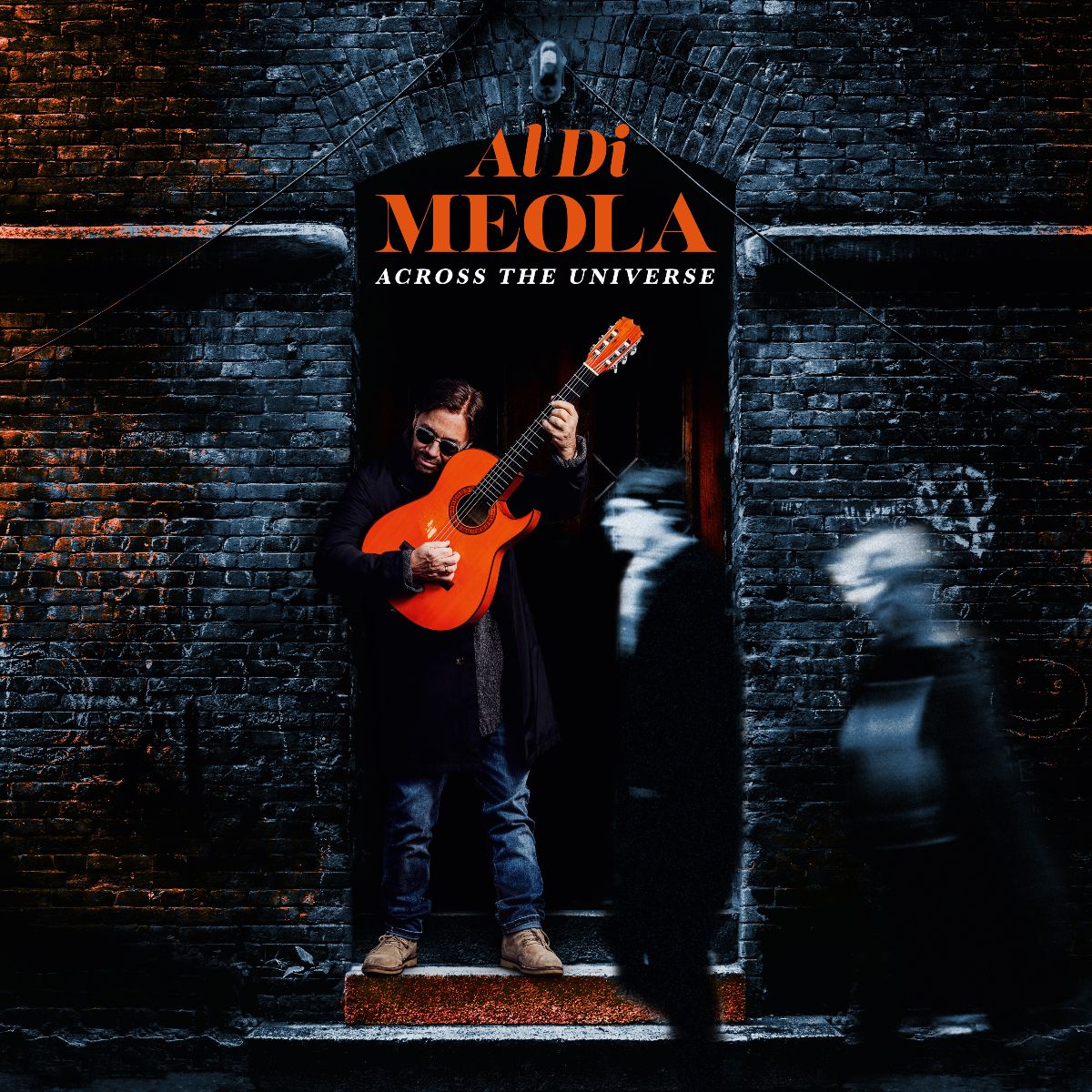 Here Comes The Sun
Golden Slumbers Medley
Dear Prudence
Norwegian Wood
Mother Nature's Son
Strawberry Fields Forever
Yesterday
Your Mother Should Know
Hey Jude
I'll Follow The Sun
Julia
Till There Was You
Here, There And Everywhere
Octopus's Garden
TAGS: