Volumi pazzeschi, tiro e groove a mille e Franklin James Fisher mattatore assoluto, tiene il palco con sicurezza e canta come se fosse questione di vita o di morte. Concerto breve (poco più di un'ora) ma da lasciare senza fiato. Gli Algiers sono un'esperienza live che va ripetuta periodicamente.
"Per chi non lo sapesse, siamo gli Algiers, veniamo da Atlanta, Georgia, e stiamo per pubblicare il miglior disco del 2022, uscirà il 7 ottobre, non perdetevelo". Franklin James Fisher è molto sicuro di sé e scherza fino ad un certo punto, seduto alla tastiera prima di attaccare la loro personale versione di "Liberation" degli OutKast.
Il Biko è pieno in maniera soddisfacente, la temperatura sta salendo da diversi minuti e ai presenti non sembra vero di potersi godere un brano un po' più tranquillo, dopo l'assalto sonoro della prima metà del set.
Ci si potrebbe trovare un significato simbolico, dietro a questa data milanese: il 27 febbraio di due anni fa il gruppo avrebbe dovuto suonare a Milano, in quell'Ohibò che stava diventando sempre di più un punto di riferimento per la musica dal vivo nel Nord Italia. Il giorno prima si erano esibiti a Roma, dove il Covid era ancora un concetto astratto, ma a Milano la data fu annullata. Fu la prima di una lunga serie (cinque giorni prima era toccato ai Big Thief, ma quella fu una decisione presa in autonomia dal gruppo) e, almeno per me, quel concerto a lungo atteso e mai realizzatosi, divenne una sorta di metafora dello iato che la musica dal vivo avrebbe attraversato da lì a qualche momento.
Finalmente ci siamo. L'Ohibò nel frattempo ha chiuso ma è rimasto il Biko, a garantire una continuità con il passato. Gli Algiers non hanno pubblicato un nuovo disco nel frattempo, sono rimasti a quel There is No Year che ha aggiunto, col senno di poi, un terribile significato profetico alle sue atmosfere già parecchio cupe e rabbiose.
Con loro ho una storia particolare: nel 2016 li vidi in azione al Primavera Sound, freschi di un debutto che aveva fatto impazzire un po' tutti. Tempo tre canzoni e me ne dovetti andare per seguire Julien Baker, altro esordio col botto di quell'anno.
Li persi da headliner l'anno successivo e riuscii a recuperarli solo in apertura ai Depeche Mode del tour di Spirits, a Milano e Bologna.
Si sa che su palchi di quelle dimensioni gli special guest sono spesso penalizzati e infatti è così: volumi ridicoli, una piccola porzione dello stage a disposizione, pubblico disinteressato. La bellezza di un disco come The Underside of Power non ebbe mai la possibilità di venire fuori.
Stasera finalmente mi rifaccio e stasera è diverso. I quattro di Atlanta (a questo giro in cinque, visto che c'è un membro esterno ad occuparsi di background vocal ed effettistica) ci mettono lo spazio di un brano, la terremotante "Void", per distruggere il piccolo stage del Biko. Volumi pazzeschi, tiro e groove a mille, la dimensione live accentua il lato ruvido del repertorio, le influenze Spiritual e l'elettronica scura sono sempre molto presenti ma declinate all'interno di un contesto maggiormente heavy.
Franklin James Fisher è un mattatore assoluto, tiene il palco con sicurezza, canta come se fosse questione di vita o di morte e si alterna con disinvoltura tra chitarra e tastiere. Accanto a lui, l'atteggiamento compassato del chitarrista Lee Tesche contrasta con quello dell'esagitato bassista Ryan Mahan, anche lui spesso impegnato alle tastiere, non sta fermo un secondo, esibendosi in pose scenografiche e divertenti mimiche facciali. Dietro di loro, la batteria di Matt Tong è precisa e implacabile, drumming secco, essenziale e inarrestabile.
Concerto breve (poco più di un'ora) ma da lasciare senza fiato, senza cali di tensione e con una scaletta che ha mantenuto quasi costantemente ritmi altissimi. Mostruose "Cleveland" e "Blood", liberatoria "The Underside of Power", la lenta e oscura processione funebre di "Night of the Furnaces" è stata una degli highlight della serata. Poi una straordinaria "Disposession" e una "Animals" pazzesca, tiratissima, grezza, quasi Punk, con le chitarre di Franklin e Tesche a far sanguinare i timpani.
È il preludio a "Death March", col cantante alle tastiere, ritmo cadenzato e crescendo graduale, fino all'esplosione finale.
Grande band, gli Algiers. Hanno perso un po' il treno, forse, l'hype che circondava il disco d'esordio si è parecchio sgonfiato ma non è certo colpa loro, i lavori successivi non hanno mai abbassato l'asticella della qualità. Attendiamo con fiducia il quarto capitolo e speriamo davvero di poterli rivedere presto, un loro live è un'esperienza che va ripetuta periodicamente.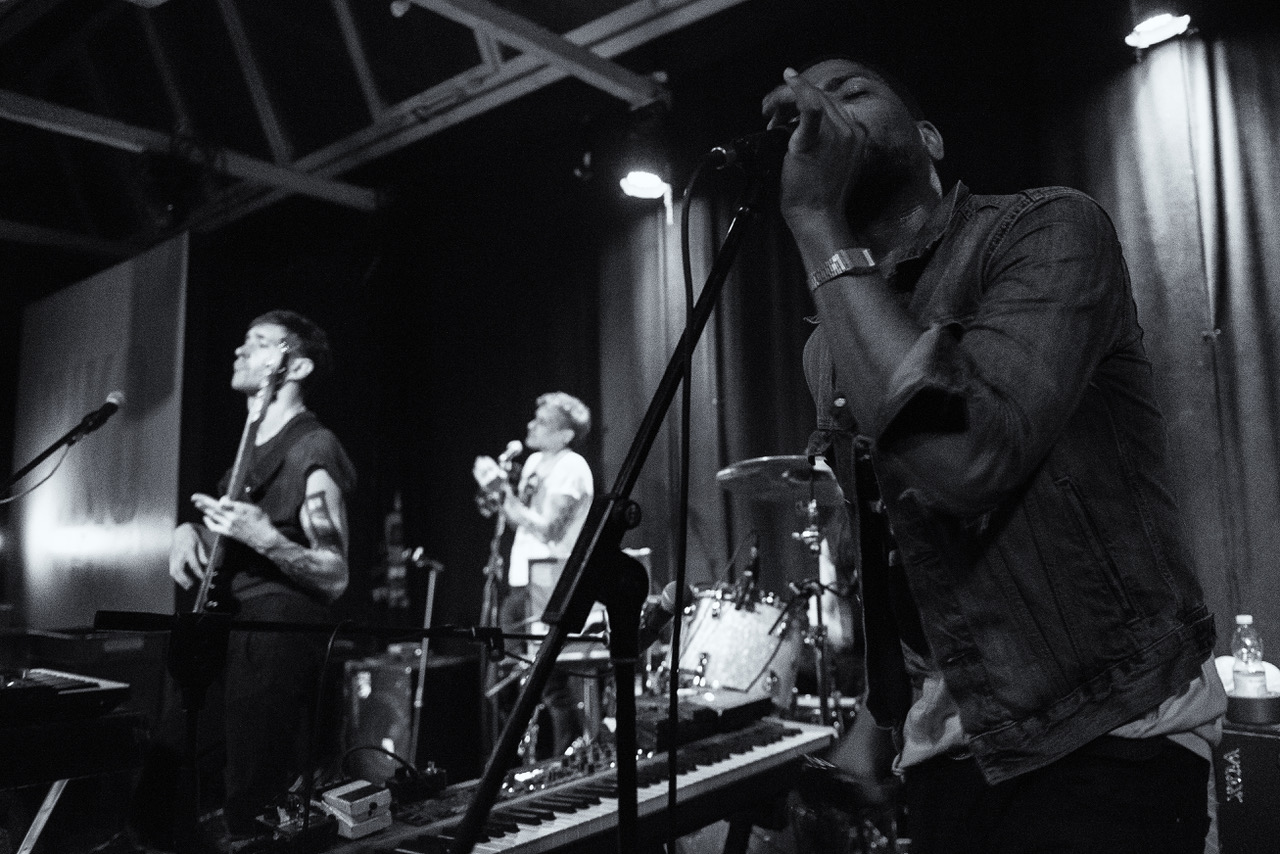 Photo courtesy: Lino Brunetti