nothing,nowhere.: il nuovo singolo "blood" feat. KennyHoopla & JUDGE. Guarda il video.
nothing,nowhere. unisce le forze con l'artista poliedrico KennyHoopla e l'astro nascente della produzione JUDGE e presenta il nuovo singolo "blood", fuori ora in digitale su etichetta DCD2 / Fueled By Ramen. Il video ufficiale, diretto da Mason Mercer, è disponibile sul canale YouTube di nothing,nowhere..
"'blood' ruota attorno all'essere un killer metaforico, all'uccidere le relazioni con le persone care e restare intrappolati in questo ciclo tossico", spiega nothing, nowhere.. "Ho registrato il brano con JUDGE e Kenny in 20 minuti. Io e Kenny abbiamo girato il video a Boston e abbiamo avuto la possibilità di entrare in contatto con un gruppo di animali salvati da un destino crudele. È stata un'esperienza incredibile, che mi ha permesso di unire il mio amore per gli animali, i film e la musica".
"Adoro il tono cupo di 'Blood' e il lavoro fatto da nothing,nowhere. sui beat mi ha impressionato fin da subito, sono felice di far parte di questo progetto", aggiunge KennyHoopla.
"blood" (Feat. KennyHoopla & JUDGE) segue i brani standalone "pretend" e "lights 4444", entrambi preceduti dall'EP digitale One Takes Vol. 1, album che raccoglie versioni rielaborate, minimali e one take dei brani preferiti dai fan. nothing,nowhere. ha affascinato il suo pubblico con una serie si sessioni One Take sul suo canale YouTube, e ora la collezione rimasterizzata è disponibile su tutte le piattaforme digitali.
Lo scorso aprile nothing,nowhere. ha presentato il nuovo singolo "DEATH", definito dal The New York Times come "immensamente appagante ed emozinante; i primi Beastie Boys incontrano i Rage Against the Machine in un rap-rock revival estremamente onesto". "DEATH" segue "nightmare", brano presentato a inizio anno.
"blood" (Feat. KennyHoopla & JUDGE), "pretend", "lights (4444)", "DEATH" e "nightmare" segnano il ritorno di nothing,nowhere. dopo "bloodlust", EP collaborativo realizzato con Travis Barker uscito lo scorso settembre e trainato dal singolo "destruction".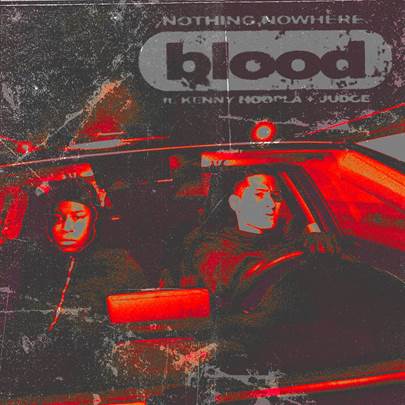 TAGS: