Cultura, dancefloor e rivoluzioni: un dj racconta la notte.
Il 12 luglio 1979, per sponsorizzare una partita di baseball al Comiskey Park di Chicago, una radio locale offrì biglietti omaggio in cambio di dischi da bruciare su un palco al grido «Death to Disco!». Accorsero in migliaia. Da pochi anni la musica dance aveva cominciato a ritagliarsi uno spazio nel mondo discografico, e nelle metropoli impazzava la moda dei club. Quarant'anni dopo, i dj riempiono stadi, suonano davanti a migliaia di persone nei festival, scalano le classifiche dei dischi più venduti, sono in radio, tv... Quelli che un tempo erano fanatici ricercatori di vinili, o tutt'al più nerd ultratecnologici, sono diventati delle star osannate in tutto il mondo.
Lele Sacchi questa trasformazione l'ha vissuta in prima linea, dagli esordi in radio ai lavori per le etichette discografiche, fino all'organizzazione dei più grandi party di musica elettronica di Milano. Miscelando aneddoti personali alla storia dei nomi fondamentali del clubbing, Sacchi ci porta al Loft di David Mancuso a New York, nelle periferie industriali di Chicago e Detroit, alla Summer of Love inglese del 1988, fino a Ibiza, a Berlino e ai paesi arabi. Dietro il beat incessante e le luci soffuse, quella che emerge è la storia culturale di uno dei fenomeni di massa più importanti degli ultimi cinquant'anni. Non a caso Barack Obama nel 2014 ha dedicato una via al dj Frankie Knuckles per il suo contributo allo sviluppo e alla diffusione del patrimonio intellettuale di Chicago. Perché se in Italia molti giornalisti continuano a osservare questo movimento sotto la lente di una non ben precisa morale, in tutto il mondo si continua a ballare, a ribellarsi, e soprattutto a creare cultura. Anche nel buio di un dancefloor.
PRESENTAZIONI:
Venerdì 2 novembre, ore 19.00, con Carlo Pastore e vari ospiti
@CLUB TO CLUB SYMPOSIUM AC HOTEL , VIA BISALTA 11 TORINO
Mercoledì 7 novembre, ore 18.30, con Albertino, Alioscia Bisceglie dei Casino Royale, Luca De Gennaro, Fabio De Luca
@FELTRINELLI DI PIAZZA PIEMONTE, MILANO
Venerdì 9 novembre, ore 18.30, con Claudio Coccoluto e Andrea Esu
@FELTRINELLI RED DI VIA TOMACELLI, ROMA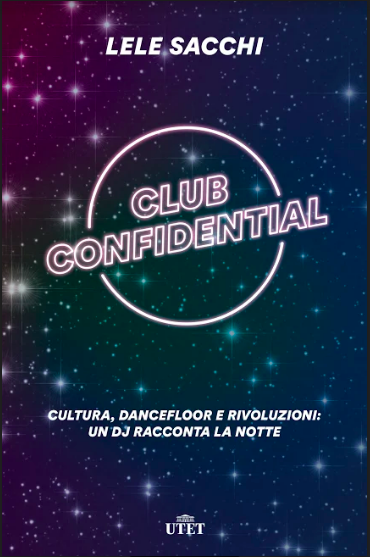 Lele SACCHI, milanese d'adozione, è un dj, produttore discografico e promoter. Ha suonato in molti dei club di musica elettronica più importanti del mondo e da più di vent'anni è un riferimento della scena club italiana e internazionale. Eclettico conduttore e autore di programmi in radio da tutta la vita, dal 2012 conduce Radio2 in the Mix. Insegna Storia delle sottoculture musicali all'Istituto Europeo di Design (IED).