DC Comics e Loma Vista Recordings annunciano "Dark Nights: Death Metal Soundtrack", in uscita in digitale il 18 giugno e in fisico il 16 luglio. Ascolta il brano dei Mastodon "Forged By Neron".
Il produttore esecutivo Tyler Bates ("Guardians of the Galaxy", "Watchmen", "John Wick") ha riunito in questa speciale colonna sonora che accompagna l'acclamatissima serie di fumetti DC "Dark Nights: Death Metal" moltissimi artisti provenienti da diverse scene musicali tra cui anche Mastodon, Denzel Curry, Manchester Orchestra, Chelsea Wolfe, IDLES e Soccer Mommy, trovi la tracklist qui sotto. L'incredibile raccolta viene anticipata da "Forged By Neron" dei Mastodon, che cita un Signore dell'Inferno che ritroveremo nella serie.

Nel comporre i loro brani, tutti gli artisti si sono lasciati coinvolgere dalla storia, quella di una Terra infernale in cui tutto è distorto, dove la Justice League è in balia del Multiverso Oscuro e del diabolico Batman Che Ride. La colonna sonora sarà disponibile in tutti gli store digitali, su CD e doppio LP, in varianti esclusive con le copertine di Superman, Wonder Woman e Batman, e altri formati. Pre-ordinala QUI.

La miniserie evento in 7 numeri "Batman: Death Metal" viene pubblicata in 13 paesi nel corso del 2021, a partire da marzo.

"Batman: Death Metal", firmata dal dream team composto dallo scrittore Scott Snyder e dal disegnatore Greg Capullo, è stata pubblicata negli Stati Uniti a partire da giugno 2020. "Batman: Death Metal" è il seguito della celebre serie del 2017 "Batman: Metal", che portò radicali cambiamenti all'Universo DC e fece conoscere ai lettori il Multiverso Oscuro e un nemico straordinariamente affascinante: il Batman che Ride.

In Italia "Batman: Death Metal" è disponibile ogni mese in edicola e fumetteria con la sua edizione regular. "Batman: Death Metal – Band Edition", invece, sarà acquistabile in fumetteria e online. Protagonisti della Band Edition sono: Megadeth, Ghost, Lacuna Coil, Opeth, Sepultura, Dream Theater e Ozzy Osbourne. Alla Band Edition si aggiunge un'ulteriore serie di copertine variant: un set metal che avrà come protagonista in ogni numero un personaggio del Multiverso DC immerso in un'ambientazione musicale. Anche questa "metal edition" sarà disponibile esclusivamente in fumetteria e online. Inoltre, Panini Comics ha in serbo ancora tante sorprese pensate per veri e propri fan hardcore.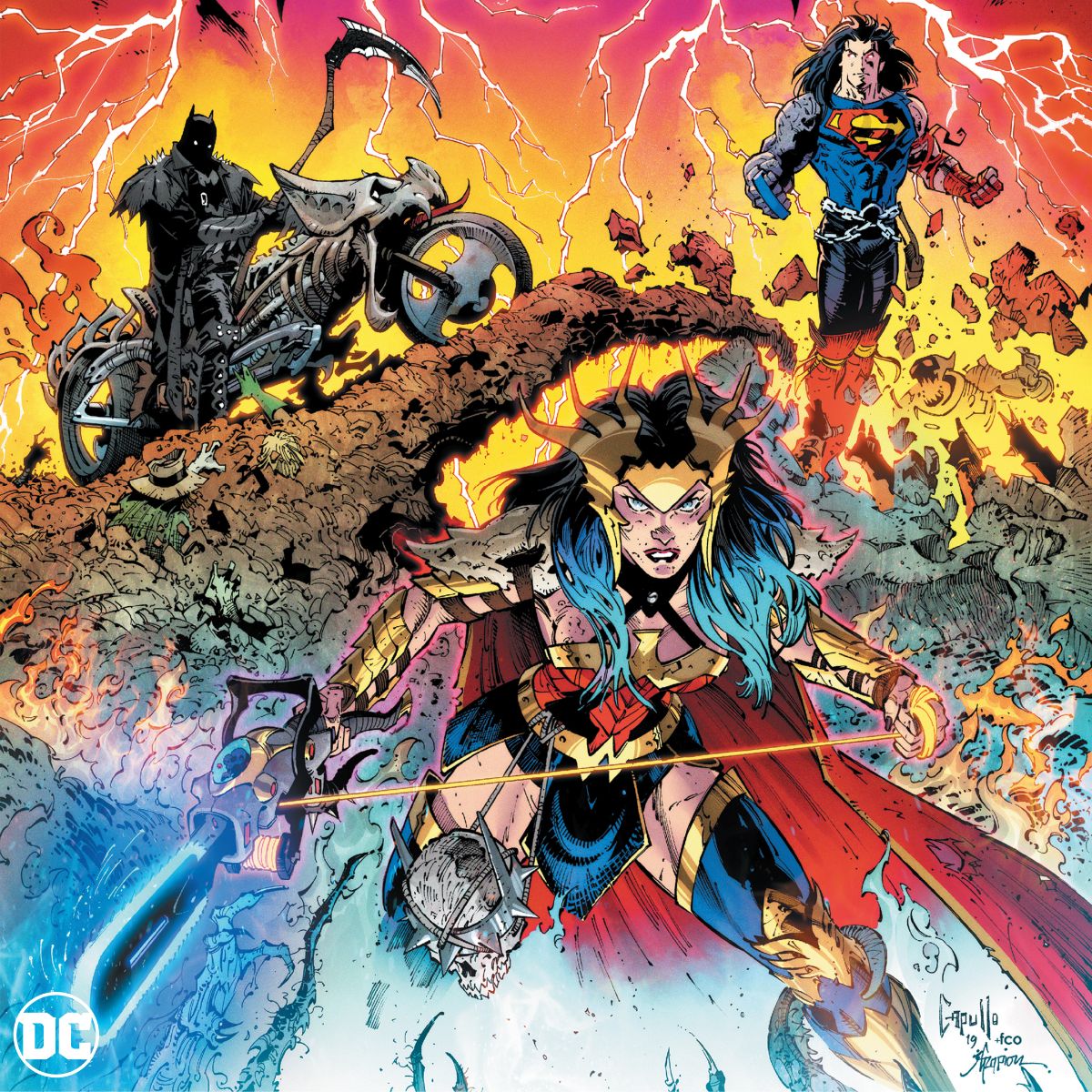 1. Mastodon - "Forged by Neron"
2. Chelsea Wolfe - "Diana"
3. HEALTH, Tyler Bates - "ANTI-LIFE (feat. Chino Moreno)"
4. Maria Brink, Tyler Bates - "Meet Me In Fire (feat. Andy Biersack)"
5. Grey Daze - "Anything, Anything"
6. Rise Against - "Broken Dreams, Inc."
7. Manchester Orchestra - "Never Ending"
8. Denzel Curry, PlayThatBoiZay - "Bad Luck"
9. Carach Angren - "Skull With a Forked Tongue"
10. Starcrawler - "Good Time Girl"
11. GUNSHIP, Tyler Bates - "Berserker (feat. Dave Lombardo)"
12. Greg Puciato, Tyler Bates, Gil Sharone - "Now You've Really Done It"
13. Show Me The Body - "Stone Cold Earth"
14. IDLES - "Sodium"
15. Soccer Mommy - "Kissing in the Rain"
TAGS: