I Def Leppard tornano con il nuovo album, "Diamond Star Halos" il 27 maggio 2022, con 15 nuovi brani e un'apparizione speciale in due brani del pluripremiato Alison Krauss.
Pronti a infiammare il 2022, i Def Leppard, icone e leggende della musica rock inserite nella Rock and Roll Hall of Fame®, tornano con il loro dodicesimo album completo, Diamond Star Halos, il 27 maggio 2022, che segna il primo nuovo lavoro della band dall'autoproduzione del 2015, Def Leppard. È disponibile per il pre-ordine ora in diverse configurazioni, tra cui una Deluxe Edition, 2-LP in vinile, formati digitali e altro ancora. Sono stati lanciati anche dei bundle esclusivi che includono un nuovo merch dell'album. Pre-ordinate sul negozio ufficiale della band - QUI.

Per annunciare l'arrivo di Diamond Star Halos, il quintetto inglese - Joe Elliott (voce), Rick Savage (basso), Rick Allen (batteria), Phil Collen (chitarra) e Vivian Campbell (chitarra) - ha appena condiviso un nuovo singolo rock potente e ruggente intitolato "Kick". La canzone si spinge in una frenesia anthemica pronta per gli stadi, iniziata con chitarre trainanti e batterie roboanti intessute nel suo tessuto musicale. Nel frattempo, il ritornello ha tutte le caratteristiche di un'altra iconica hit dei Leppard con le sue voci e melodie che sono diventate sinonimo della band. L'artwork per Diamond Star Halos è arte in sé. Il design segue il pedigree delle copertine dei loro album immediatamente riconoscibili dal loro celebre passato. Con le immagini del fotografo e regista di fama mondiale Anton Corbijn, i concetti di styling di Maryam Malakpour e la grafica degli inglesi Munden Brothers, il design segue veramente l'influenza della band attraverso i loro occhi di oggi.

Dopo l'uscita dell'album, i Def Leppard saranno co-headliner dell'imponente The Stadium Tour in 36 città con i Mötley Crüe, insieme agli ospiti speciali Poison e Joan Jett.

Negli ultimi due anni, i Def Leppard hanno registrato Diamond Star Halos simultaneamente in tre diversi paesi: con Joe in Irlanda, Savin in Inghilterra e Phil, Vivian e Rick negli Stati Uniti. Senza la pressione delle scadenze o di un programma fisso, hanno riversato tutta la loro energia nella creazione di 15 tracce significative con una miscela di spirito classico e fuoco moderno. Tematicamente, hanno fatto cenno alle loro prime influenze collettive come David Bowie, T. Rex e Mott The Hoople, tra gli altri. Il titolo stesso si riferisce in particolare a "Bang a Gong (Get It On)" dei T. Rex. Tuttavia, non hanno intrapreso questo viaggio da soli. La pluripremiata e leggendaria artista Alison Krausslentò la sua voce immediatamente riconoscibile e angelica in "This Guitar" e "Lifeless", mentre il pianista di David Bowie Mike Garson si esibisce in "Goodbye For Good This Time" e "Angels (Can't Help You Now)".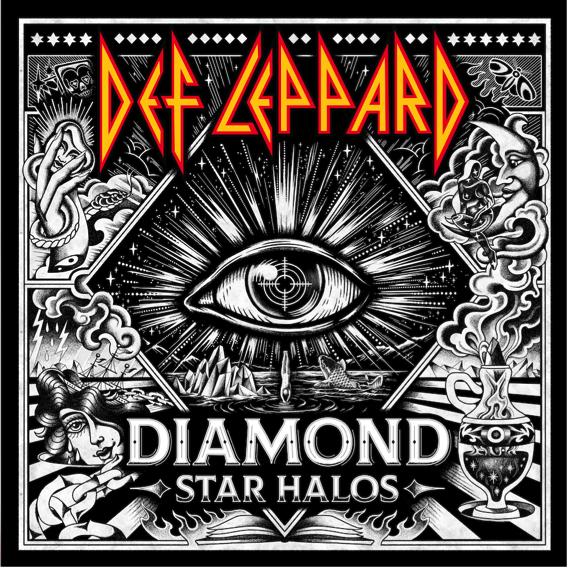 TRACKLIST
Take What You Want

Kick

Fire It Up

This Guitar [feat. Alison Krauss]

SOS Emergency

Liquid Dust

U Rok Mi

Goodbye For Good This Time

All We Need

Open Your Eyes

Gimme A Kiss

Angels (Can't Help You Now)

Lifeless [feat. Alison Krauss]

Unbreakable

From Here To Eternity