Spiritualized annunciano il nuovo album "Everything Was Beautiful", in uscita il 25 febbraio su Bella Union. Guarda il video del nuovo singolo "Always Together With You".
Dopo le ristampe dei loro primi quattro album, gli Spiritualized oggi annunciano il loro nuovo album in studio, Everything Was Beautiful, in uscita il 25 febbraio 2022 su Bella Union e disponibile per il pre-ordine QUI. Per celebrare l'annuncio, la band condivide il video del singolo di apertura dell'album "Always Together With You" - guarda il video QUI.
Mentre alcune persone sono implose durante i lockdown e l'isolamento imposto dalla pandemia, altri sono fioriti, "Mi sentivo come se mi fossi allenato tutta la vita per questo" dice J Spaceman.
Si riferisce alla sua passione per l'isolamento, e quando cominci a considerare la solitudine come "bella solitudine" allora non è poi così male. Ha camminato in una Londra vuota, dove "anche le sirene avevano smesso di cantare" e dove il mondo era "pieno di canti di uccelli e stranezze". Ha usato le passeggiate per ascoltare e cercare di dare un senso a tutta la musica che suonava nella sua testa. I mix del suo nuovo album, il nono in studio, non lo convincevano ancora.
Spaceman suona 16 strumenti in Everything Was Beautiful, album che è stato registrato in 11 studi diversi oltre che a casa sua. Ha anche impiegato più di 30 musicisti e cantanti tra cui sua figlia Poppy, il collaboratore di lunga data e amico John Coxon, una sezioni di archi e ottoni, cori e campanelli e campane della Whitechapel Bell Foundry.
Alla fine i mix sono arrivati ????e con loro Everything Was Beautiful. Il risultato sono alcune delle registrazioni dal suono più "live" che gli Spiritualized hanno pubblicato dai tempi di 'Live At The Albert Hall' del 1998, all'epoca di 'Ladies & Gentlemen, We Are Floating In Space'.
L'artwork è stato progettato ancora una volta da Mark Farrow. "Io e Farrow stavamo parlando di cosa avremmo dovuto fare e ci siamo detti:' Si chiama Everything Is Beautiful, come potrebbe non esserci una pillola per questo?'"
Tutti questi layer, tutti questi dettagli, i mix durati un anno, danno il senso di tutte le vite vissute da questi testi; per qualcuno così notoriamente insicuro delle proprie capacità, non è una cosa punitiva continuare a creare? "Mi piace quello che faccio. C'è una frase di Jonathan Meades che parla tutti gli attributi che servono per essere un artista." Paranoia, vanità, egoismo, egotismo, servilismo, risentimento, nullità morale e più idiota che idiota sapiente". "Ed è così che ci si sente in questo genere di cose. Sei il tuo peggior nemico e il tuo più grande sostenitore.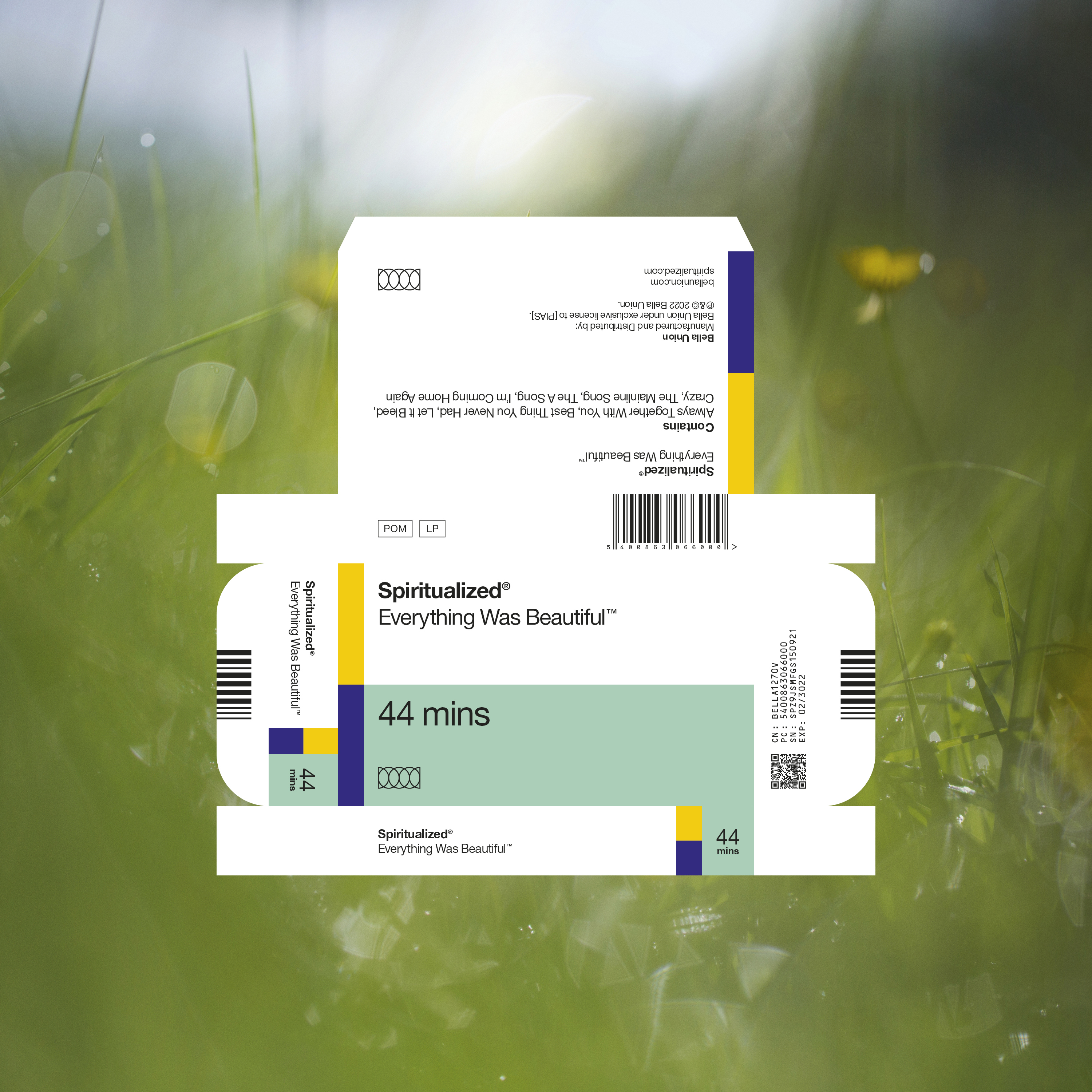 Always Together With You
Best Thing You Never Had
Let It Bleed (For Iggy)
Crazy
The Mainline Song
The A Song (Laid In Your Arms)
I'm Coming Home Again