PUSCIFER portano i fan nel cuore del deserto dell'Arizona con una esibizione live in streaming: "EXISTENTIAL RECKONING: LIVE AT ARCOSANTI". Segui la diretta il 30 ottobre alle 23,00.
Dopo aver annunciato la pubblicazione del quarto album Existential Reckoning (in uscita il 30 ottobre su Alchemy Recordings/Puscifer Entertainment/BMG), i Puscifer portano i loro fan nel deserto dell'Arizona con "Existential Reckoning: Live at Arcosanti," un'esibizione live in streaming.
Conosciuti per le loro esibizioni live immersive, le performance della band sono una via di mezzo tra un concerto e uno spettacolo teatrale, attraversando il polveroso sud ovest americano con Billy D e Hildy, o i ring sudati con i Luchadores. Cosa hanno in mente per la prima performance durante questo periodo di pandemia e per il debutto di Existential Reckoning? Solo Billy D. lo sa di per certo, ma una cosa è sicura, sarà qualcosa di completamente diverso da ciò che hanno fatto in passato.
"Se non conoscete Arcosanti, vi consiglio di andare a vederla," afferma Maynard James Keenan riguardo alla location. "Sono tanti gli architetti, gli artisti, gli attori, i musicisti, gli scrittori e i poeti non necessariamente dell'Arizona, ma che vengono qui e trovano l'ispirazione creativa che si insinua sotto la pelle, che ti fa reagire, un ambiente che considero allo stesso tempo ostile e stimolante. Non è facile sopravvivere qui. Tra tempeste di sabbia infernali, serpenti a sonagli, formiche rosse pazze fuori dalla mia stanza che hanno cercato di mangiare il mio cane, sembra di essere ai confini del mondo. Immaginate di essere un viaggiatore extraterrestre che atterra nel Southwest e vuole assumere un'identità per mimetizzarsi, questo potrebbe essere il posto giusto per farlo."
La location Arcosanti, è stata descritta da Architectural Digest come una "metropolis utopistica nel deserto dell'Arizona" che "sembra il set sublime di un film sci-fi di alto budget." Una location che è sia stimolante che seducente, come spesso lo è l'Arizona. Il 48esimo stato ha giocato un ruolo fondamentale per la troupe musicale, con i suoi panorami e i suoi deserti apparendo spesso nei video della band, sui fondali per i concerti e come tematiche di numerosi testi.
I biglietti per l'evento in streaming e una selezione di merch in edizione limitata per i partecipanti, sono disponibili via pusciferlive.com. L'evento si terrà il 30 ottobre alle ore 23 e sarà disponibile on-demand per 72 ore.
"Potevamo fare una diretta streaming ovunque – un palco, un teatro vuoto. Ma questa location, Arcosanti, nel cuore del bellissimo e allo stesso tempo spietato deserto dell'Arizona, offre un'altra dimensione alla musica dei Puscifer," afferma Danny Wimmer, fondatore di Danny Wimmer Presents, il più grande produttore di festival indipendenti negli Stati Uniti e co-produttore di "Existential Reckoning: Live at Arcosanti."
"Maynard è un artista in tutto ciò che fa, dalla sua musica al suo vino, al suo agriturismo. Il filo conduttore di tutte le sue attività è che non prende scorciatoie – e ha scelto un ambiente che non permette scorciatoie," continua. "Existential Reckoning: Live at Arcosanti" promette di non essere solo un'esperienza, ma anche uno sguardo a questo deserto che alimenta e ispira Maynard e i Puscifer. L'unica cosa migliore sarebbe quella di godersi lo spettacolo con un bicchiere di Caduceus, il vino di Maynard, in mano.
DWP è entrata recentemente nel mondo del digital content curation, promuovendo dirette streaming pay-per-view e creando la popolare serie digitale Offstage with DWP. DWP è conosciuta in tutto il mondo per il suo portfolio stellare di eventi musciali e di lifestyle che include Aftershock, Bourbon & Beyond, Epicenter, Hometown Rising, Louder Than Life, Sonic Temple Art + Music Festival, e Welcome To Rockville.
Clicca sulla foto per guardare il trailer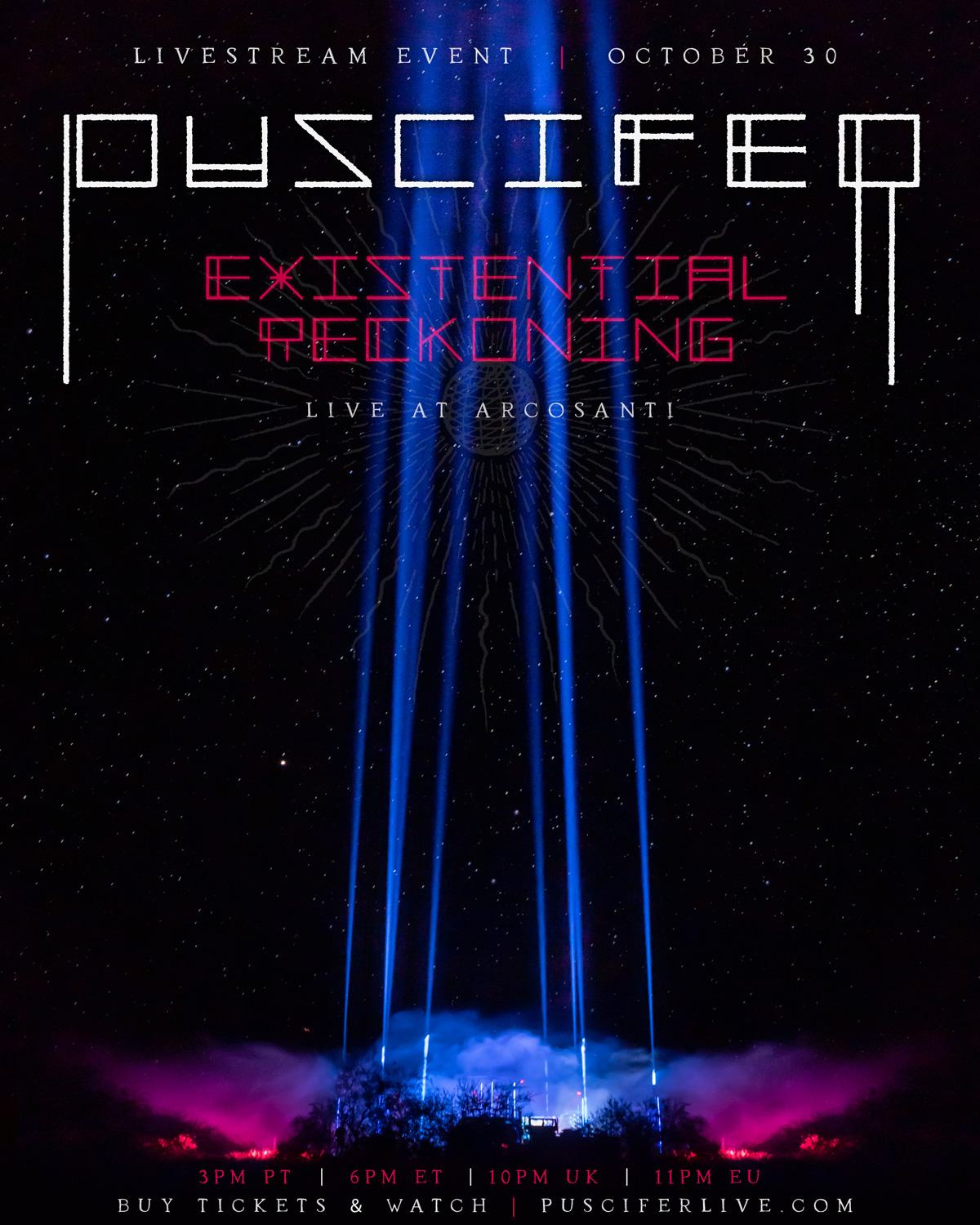 Pre-ordina Existential Reckoning: https://Puscifer.lnk.to/ExistentialReckoning
Il pre-ordine digitale include un download istantaneo di"Apocalyptical" (https://youtu.be/Hj_bTbfAEsc) e "The Underwhelming" (https://youtu.be/M_gHgTkbdyg).
TAGS: