"Ghosts" è il nuovo singolo dell'artista sloveno Løben, che anticipa la release dell'album firmato Mold Records e programmato per fine 2020.
"Ghosts" è stata scritta in una fredda serata di inizio quarantena: "[...] Rinchiuso nel mio piccolo mondo di suoni, colori e piccole paranoie quotidiane, un giorno iniziai a canticchiare una melodia. Non era né? qualcosa di giusto, ne? di sbagliato. Non aveva un senso compiuto, ne? avrebbe dovuto avercelo. Era una melodia che stava in piedi li?, da sola, senza l'appoggio dei miei pensieri".
L'influenza dark folk e post rock statunitense e? forte, nonche? quella dei sottogeneri piu? cupi del metal, ma Løben si distingue notevolmente grazie all'unicita? della sua voce, bassa e profonda, fuori dagli schemi, e dai sottotoni sincretistici, riuscendo a far immergere l'ascoltatore nei meandri piu? cupi della propria mente. La musica di Løben sarebbe perfetta come colonna sonora di un qualsiasi film di Tarantino o per un classico on the road East Coast-West Coast.
Il video di "Ghosts" e? stato realizzato dall'artista mettendo insieme un collage di filmati di dominio pubblico, per raccontarne una storia. "[...] Nel video si riesce ad intravedere la figura di un uomo che si ritrova ad essere perseguitato dai fantasmi che permeano la sua mente. Gli stessi fantasmi che hanno fatto ardere la sua anima. I fantasmi non sono fittizi, ma prendono sembianze umane" e dunque, nel video, vengono rappresentate dalle persone in fuga durante il noto terremoto di San Francisco del 1906.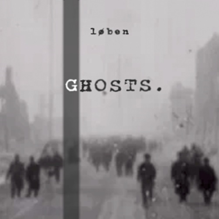 Il progetto Løben nasce nell'estate 2018 dalla mente di Rihard Lobenwein, pittore, cantautore e polistrumentista, con l'obiettivo di raccontare di un piccolo mondo fantastico, decadente e corrotto. Un mondo denutrito e crudo ma che, privo di abbellimenti, fa emergere i lati piu? oscuri che l'essere umano ha sempre nascosto in se?.
Nel 2019 vi e? l'incontro con l'etichetta triestina Mold Records, da cui nasce una collaborazione profonda e che dara? vita successivamente ai singoli "Funeral of Our Love" e "Devil in Disguise". L'artista ha poi voluto mettersi in gioco realizzando qualcosa di lontano dalla sua comfort zone, proponendo la cover della celebre "Bad Guy" di Billie Eilish. Con "Outcast" ritorna alle sue origini, con sonorita? piu? rock e progressive. "Ghosts" e? dunque l'ultimo lavoro, quello che ti lascia quel dolce-amaro in bocca di cui non puoi piu? farne a meno.
TAGS: