AIM hanno pubblicato ieri il nuovo album GRAVITY, quinto capitolo nella discografia della rock band simbolo e riferimento della scena underground della Brianza.
GRAVITY è il quinto album in studio dei brianzoli Aim, un disco dove le chitarre elettriche incontrano nuove influenze trap e acustiche, l'utilizzo della drum-machine, il pianoforte e l'effettistica psichedelica, l'ironia di arpeggi e dei cori sospirati, una combo drum & bass pestata e, definita dalla stessa band, ignorante. GRAVITY è una festa per celebrare quello che da ormai 20 anni è la musica, aggressiva e distorta, degli Aim, senza vincoli di genere ed influenze, senza regole. GRAVITY è un nuovo manifesto per una generazione di rockers di provincia. Nuovi e già collaudati orizzonti sonori, analogico e digitale, ambient e punk, sussurri e grida, sacro e profano, una bella shakerata all'essenza e al modo di fare musica degli Aim in chiave 2020 senza dimenticare quello che si è imparato in 20 anni di onorata carriera sulla strada.
Suoni ricercati e distorti, il loro bersaglio sono il cuore e la testa del loro pubblico, che dall'Italia alla Repubblica Ceca fino in Germania li ha amati e non smetterà di farlo. L'unica patria degli AIM è il palco, e chi li ha visti, una sera ve lo racconterà. Mani in fiamme sugli strumenti, e negli occhi di chi li guarda Due gemelli e un solo Fiore per farvi vivere sulla pelle la quiete dopo la tempesta.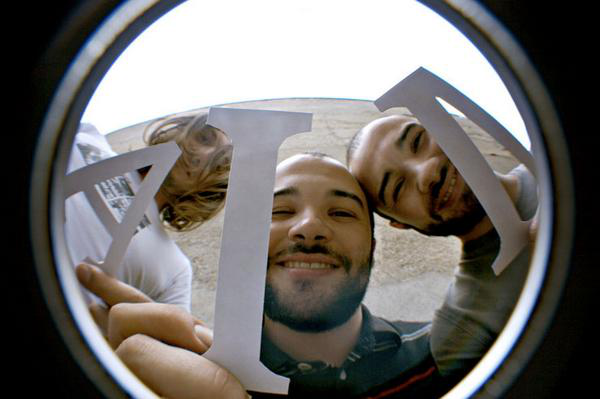 Gli Aim si formano nel 2003. La formazione originale vede Luca Camisasca alla voce, Marco Fiorello alla chitarra, Marco Camisasca al basso e Matteo Camisasca alla batteria. Nello stesso anno esce per la toscana Inconsapevole Records "Limit of Sight", il debutto discografico della band: nove brani forti e intensi che richiamano alla mente band come At The Drive-In, Brand-New, Thursday e Funeral For A Friend. Gli Aim si fanno subito conoscere per l'intensissima attività live, sia in Italia che all'estero, con un tour che tocca Germania, Svizzera ed Austria e che prosegue anche nel 2004 superando le cento date in un anno. Nel 2005 esce l'ep "As In Memory" (Inconsapevole Records), seguito da un nuovo tour in Germania a luglio che culmina con un'esibizione a uno dei maggiori festival tedeschi, il Freakstock di Erfuhrt. Nel 2006 Luca Camisasca lascia la band e viene sostituito alla voce da Marco Fiorello; si viene così a creare la attuale formazione degli Aim, e la band passa l'anno successivo in sala prove a lavorare su nuove canzoni. Dopo aver trascorso l'estate 2007 in studio di registrazione a novembre gli Aim interrompono l'astinenza da palco con un nuovo tour europeo che tocca Italia, Svizzera, Germania, Francia e Repubblica Ceca per un totale di ventiquattro date in un mese. Ad ottobre 2008 esce "Spirits of your tide", secondo album della band pubblicato dalla neonata Via Audio Records e distribuito da Venus. Il disco è seguito ancora una volta da un tour intensissimo, oltre 200 concerti in due anni in Italia e nel resto dell'Europa.
Nel 2009 il disco vede la luce anche sul mercato tedesco, distribuito dalla Zxy con ottimi risultati. Durante il tour gli Aim vengono notati inoltre da Federico Dragogna, chitarra e mente dei Ministri, con il quale nasce un'amicizia ed una collaborazione, che culmina nella partecipazione di quest'ultimo come produttore artistico del nuovo disco della band brianzola: "We are sailing", uscito in Italia il 3 maggio 2011. Dopo due anni di tour e oltre 150 date, il 10 febbraio 2015 esce "Finalmente a casa", il primo disco integralmente in italiano, registrato in presa diretta e sotto la direzione artistica di Fabrizio Pollio (io?drama). Finalmente a casa, lanciato in anteprima streaming da Rockerilla, viene licenziato da Tirreno Dischi e distribuito da Believe Digital Italia.
Il 24 Dicembre 2018 esce "Stop fighting", un EP di 3 pezzi prodotto dagli stessi AIM che preannuncia il nuovo LP dal titolo "Gravity" uscito il 16 Marzo 2020.
TAGS: