Dopo Milano, una nuova data italiana. La pop star simbolo del gender fluidity presenterà l'album Flamboyant (Deluxe). Esce il nuovo video Guyliner.
DORIAN ELECTRA lancia un nuovo video, Guyliner, un nuovo prodotto (un eye-liner, o guyliner, per l'appunto, già sold out qui, con il 20% dei profitti destinati al LA LGBT center) e aggiunge una seconda data italiana al suo tour. L'artista capace di abbattere i confini gender ci regalerà The Flamboyant Tour: Part II, in cui presentare dal vivo Flamboyant (Deluxe): appuntamento il 26 maggio al Circolo Ohibò di Milano e il 27 maggio al Cap10100 di Torino (RADAR Concerti, prevendite disponibili solo su Dice.fm).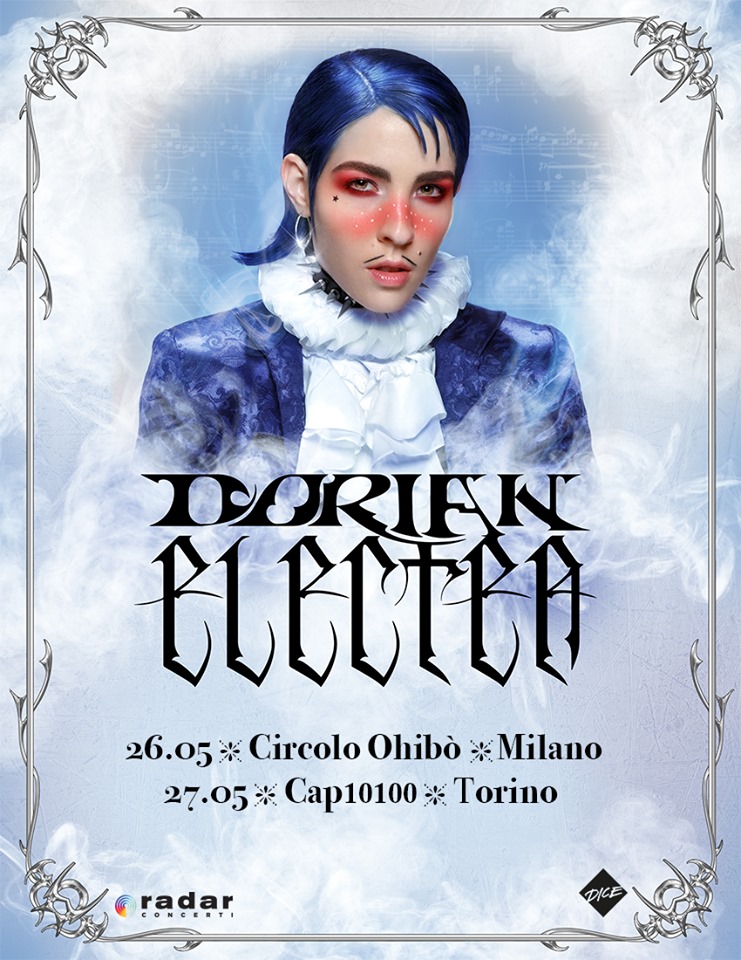 Negli ultimi anni, la musica di Dorian Electra è andata ben oltre il movimento queer, arrivando a conquistare la critica internazionale con il debut LP Flamboyant, uscito in versione deluxe il 17 gennaio, ottenendo i consensi di Pitchfork, Billboard, The Guardian e molti altri. Per comprendere del tutto l'universo di Dorian Electra non si può non passare dai suoi video, capaci di definire un immaginario unico e magnetico, mentre le collaborazioni con Charli XCX e la partecipazione ai maggiori pride festival statunitensi hanno segnato alcuni dei momenti più alti del progetto. Flamboyant orbita intorno a sperimentazioni pop esplosive e rimarca il messaggio dell'artista, che vuole abbattere i costrutti gender dettati dalla società e promuovere l'esplorazione della propria identità.

Il 2019 ha visto il sold out dello show al London's Village Underground, mentre i loro singoli Career Boy, Man To Man e Flamboyant hanno raggiunto un millione di stream su Spotify, con il video di Flamboyant che ha ottenuto un milione di visualizzazioni su Youtube.
Il debutto discografico, e una nuova versione del loro acclamato Flamboyant uscita il 17 gennaio, è un album di pop sperimentale scritto da Dorian Electra al fianco di Bonnie Mckee (Carly Rae Jepsen, Christina Aguilera) e prodotto da una varietà di collaboratori, tra cui Dylan Brady (100 Gecs). Il disco sfida gli ideali di mascolinità plasmando e rompendo gli stereotipi – come visto in Man To Man', in cui Dorian affronta la mascolinità tossica, mentre 'Career Boy' osserva la feticizzazione del lavoro nella nostra società capitalista moderna.
ll deluxe album include la nuova aggiunta 'Tool For You', un brano che vede Dorian unire vibrazioni da industrial boy band con canti dei monaci gregoriani, e la ballad di experimental country 'Your Kinda Guy', oltre a una coppia di altre tracce inedite e remix.
TAGS: