The Fireplaces celebrano l'amicizia con Glen Hansard portando sul palco del Cockney London Pub la sua "Her Mercy".
L'energia di Caterino (al secolo Andrea Scarso) venne intercettata dal songwriter irlandese (già nel film The Commitments di Alan Parker e premio Oscar 2008 per la colonna sonora del film Once) nell'ottobre del 2015 al Teatro Antoniano di Bologna. Da quel giorno la gioia e la washboard del Padovano furono il trait d'union di un rapporto sempre in crescendo.
Ogni volta che Glen veniva a conoscenza della sua presenza nella sala concerto non mancava di invitarlo sul palco a suonare con lui (normalmente la canzone scelta era "Way back in the way back when"), successe persino (e per tre volte) nel tempio sacro della musica dublinese conosciuto come Vicar Street. Il culmine (illuminato da tuoni e fulmini sul lago di Garda) avvenne il 26 luglio 2019 quando non solo Caterino ma una rappresentanza di The Fireplaces, la band formata da lui e Carlo Marchiori nel marzo 2009; vennero invitati ad aprire il concerto all'anfiteatro del Vittoriale al fianco dell'amico fraterno Mark Geary (fratello di Karl, proprietario del Sin, lo storico locale newyorkese dove venne registrato il famoso live di Jeff Buckley); non contento invitò i "caminetti" ad eseguire una versione unplugged di "Winning Streak" (canzone tratta dall'album Didn't He Ramble nominato
come best folk album nel 58esimo Grammy Awards).
Per questo The Fireplaces in formazione allargata hanno deciso di dichiarare a gran voce la loro gratitudine e il loro amore per Glen Hansard. Lo hanno fatto suonando in maniera unplugged (modalità tipica dei Buskers, molto amata da GH) questa sua canzone. Il taglio scelto è quello del gospel dove tutta l'assemblea è invitata a prendere parte alla celebrazione, infatti il palco del Cockney London Pub era gioiosamente sovraffollato. Ecco QUI il risultato.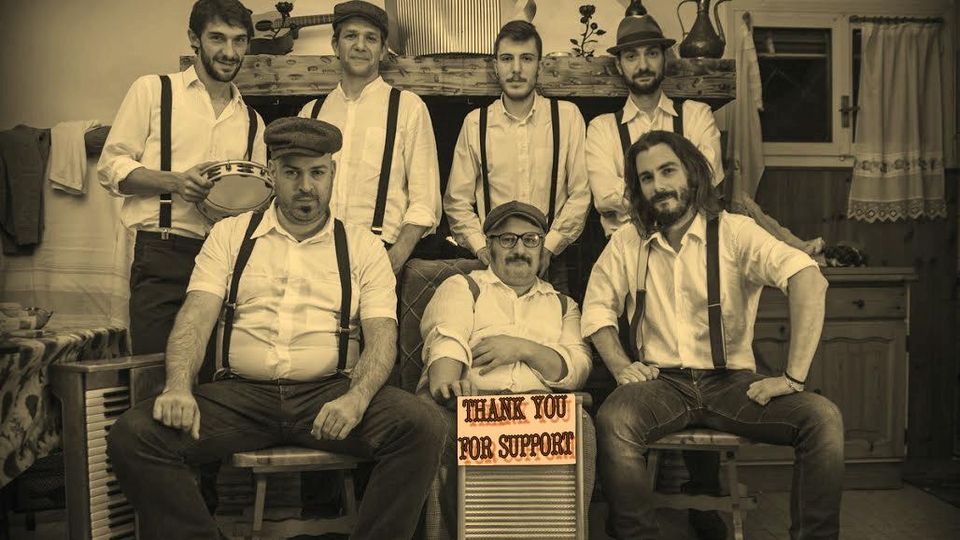 The Fireplaces sono un gruppo musicale italiano ma con un conclamato e dichiarato amore per la musica d'oltreoceano. Si formano nel marzo 2009 grazie all'incontro tra Andrea Scarso (alias Caterino Washboard) e Carlo Marchiori. I loro riferimenti musicali erano simili e allo stesso tempo complementari come complementari erano e sono i loro caratteri: Neil Young, Bob Dylan, Rolling Stones, Beatles, The Band, Bruce Springsteen, Grateful Dead, CCR, Elvis Presley, Tom Petty; ma anche pilastri della roots music americana come Mississippi Fred McDowel, Mississippi John Hurt, Sister Roseta Tharpe.
Nei Fireplaces tutti cantano: nonostante la loro pelle bianca, la lezione del gospel è chiaramente impressa nel loro cuore. Il loro show è energico e dinamico: infatti non si limitano a fare "il compitino" ma, definendosi "JOY PROVIDERS", sudano, cantano, suonano e ballano finché non sono certi che il pubblico sia pronto per tornare a casa col sorriso. In funzione di questa MISSIONE, se il locale lo permette, alla fine del concerto i Fireplaces staccano i cavi degli strumenti e si mischiano in mezzo all'audience, in puro stile busker. Secondo loro infatti, non c'è niente di meglio che sentire sulla propria pelle l'energia della gente venuta ad ascoltarti.
Nel 2015 hanno pubblicato il loro primo album "Shelter from the Storm", con dieci tracce da loro composte e nel 2018 "Soulfood", la loro seconda opera, dove oltre a nove brani originali, spunta una cover di un brano dell'irlandese Glen Hansard. Trovate ulteriori news su "Soul foood" qui.
Il 31 maggio 2013, durante il concerto allo stadio Euganeo di Padova di Bruce Springsteen, Caterino ha avuto l'opportunità di suonare la washboard con Bruce Springsteen in persona durante il brano traditional PAY ME MY MONEY DOWN, risultando così il musicista non professionista che vanta allo stato attuale la partecipazione sul palco più lunga con il Boss. La performance è stata così apprezzata dallo stesso Bruce, che ha deciso di riproporla qualche giorno dopo nella data francese del Wrecking Ball Tour allo Stade de France di Parigi, con Everett Bradley alla washboard.
L'energia di Caterino è stata notata e apprezzata anche da Glen Hansard (premio oscar 2008 per la canzone "Falling Slowly") amico e collaboratore di Eddie Vedder (Pearl Jam) e Bono Vox (U2), che da anni ormai lo invita regolarmente a suonare nei suoi concerti in giro per l'Europa. Tra tutte ricordiamo le per due serate consecutive presso il VICAR STREET, storica location a Dublino.
Nel corso degli anni i Fireplaces hanno avuto il privilegio di aprire i concerti di artisti internazionali quali Carolyne Mas, Willie Nile, Joe D'urso (coordinatore del festival benefico internazionale "Light of Day"), Bucephus King, Larry Campbell (collaboratore di Bob Dylan e Levon Helm) e Teresa Williams, Jono Manson e John Popper, James Maddock, Jake Clemons della E Street Band e del loro amico Mark Geary. E last but not the least: Glen Hansard.
Proprio con l'appoggio di Mark, a dicembre 2018 i Fireplaces sono volati in Irlanda dove si sono esibiti in diversi locali e come artisti di strada tra Dublino e Galway. Il 26 luglio 2019 lo stesso Glen Hansard ha voluto i Fireplaces sia in apertura (al fianco del valido Mark Geary) e sul palco per una intensa versione acustica di "Winning Streak".
La formazione attuale vede attivi i seguenti musicisti
CATERINO "WASHBOARD" RICCARDI: voce, chitarre, washboard e percussioni varie
CARLO MARCHIORI: voce, chitarra acustica e mandolino
OLIVIERO LUCATO: voce, tastiere, armoniche accordion
RICCARDO PINATO: chitarra elettrica, mandolino e ukulele
LUDOVICA SIGNORELLI: muscoli e contrabbasso
Con loro collaborano:
DAVIDE TADPOLE CECCHINATO: batteria
ANDREA STIVANELLO: violino
DONATELLA BADAN, CRISTINA BERTOCCO: cori
GIULIO AS GIACON SOUNDMAN
ELENA MARSILIO C DAMIANO XODO FOTO
TEPEE LAB VIDEO
TAGS: