I Sunday Morning inaugurano il nuovo anno con un nuovo video, ideato e montato da Marcella Carlotta Magalotti per la canzone "May Your Heart".
La band romagnola, composta da Andrea Cola, Luca Galassi, Jacopo Casadei e Federico Guardigni, racconta a proposito del brano: "May Your Heart è una lettera indirizzata a chi si vuole più bene. Ma nonostante sia qualcosa di intimo e personale, non è un messaggio privato. Con il suo incedere in tre quarti, il mandolino squillante e il 'La La La' del ritornello, la canzone sembra voler invitare i presenti a prendervi parte. È una sorta di brindisi alla vita e ai suoi imprevisti, in cui si alzano i bicchieri per ricordare a qualcuno di speciale l'importanza di affrontare il mondo con curiosità e schiettezza di cuore. Come quando si era bambini".
May Your Heart è il quinto singolo estratto da Four, il quarto album dei Sunday Morning uscito nel 2019 per Bronson Recordings.

Four è un disco fatto di immensi spazi aperti e mondi interiori, è lo specchio di un viaggio che ha cambiato radicalmente l'attitudine musicale dei Sunday Morning. I paesaggi dell'immaginazione corrispondono alle praterie libere e infinite del Southwest, mentre alle spalle risuona il sound del fiume Mississippi, là dove tutto ha avuto inizio. I dieci brani in scaletta – scritti per la maggior parte durante i mesi trascorsi da Cola come assistente agli Esplanade Studio di Daniel Lanois, a New Orleans – sono più rilassati e profondi rispetto al passato, le melodie guadagnano campo, le chitarre acustiche si moltiplicano fino ad avvolgere gli echi dell'elettricità, il pianoforte entra in azione e la voce diventa protagonista. Four spinge l'alt-rock del gruppo ancora più in là, con assoluta padronanza dei propri mezzi e credibilità internazionale. Tra influssi blues e indie folk, all'insegna di un songwriting tradizionale – o per meglio dire eterno – che rimanda a Bruce Springsteen, Neil Young e Ryan Adams, così come a formazioni quali Big Star, Black Crowes e Wilco, sino al presente dei The War On Drugs.

A seguire i tanti concerti del 2019, i Sunday Morning tornano on the road con il Four Tour 2020, organizzato sempre da BPM Concerti con date in continuo aggiornamento, che li vedrà suonare sia in Italia, anche all'interno della rassegna Italian Indie Rock Revenge, sia nel Regno Unito. "May your heart always beat loud and clear".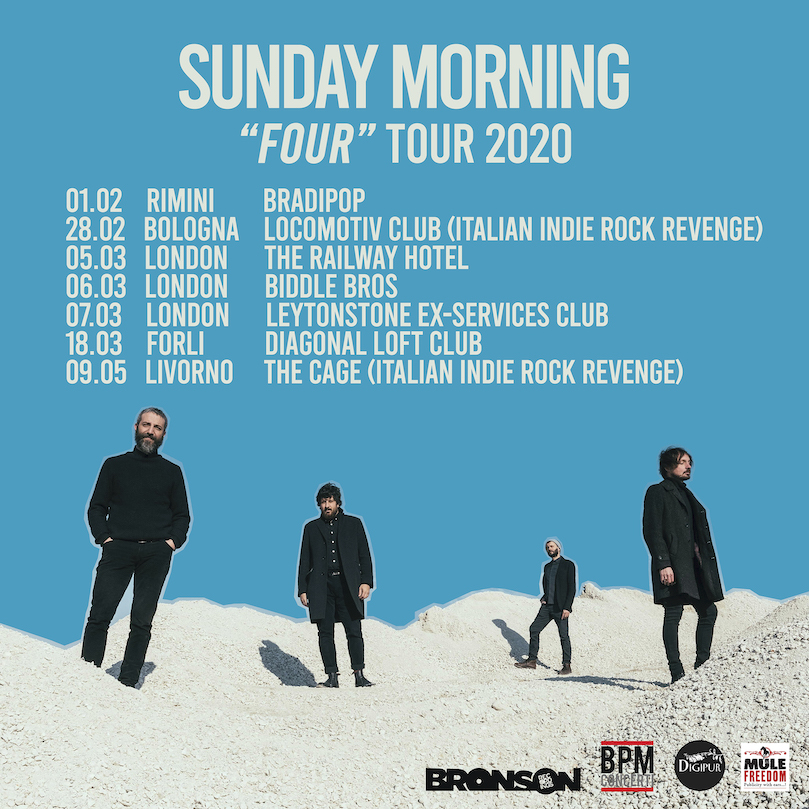 TAGS: