TRIVIUM annunciano il nuovo album IN THE COURT OF THE DRAGON, in uscita l'8 ottobre su Roadrunner Records. Guarda il video dei "Feast Of Fire".
I Trivium, band nominata ai Grammy, hanno annunciato la pubblicazione del loro decimo album in studio dal titolo In The Court of The Dragon l'8 ottobre su etichetta Roadrunner Records. L'album è stato prodotto e mixato da Josh Wilbur e registrato nell'autunno del 2020 alla Full Sail University ad Orlando
La band ha anche pubblicato un nuovo brano dal titolo "Feast of Fire" con il video ufficiale (guardalo qui)
Il video è stato girato nel quartier generale della band, l'Hangar di Orlando ed è stato girato dal regista John Deeb
"C'è sempre quel brano che non ti aspetti quando inizi a scrivere un nuovo album", dice Paolo Gregoletto parlando del processo di composizione della band. "Potrebbe essere un riff scritto sul posto in sala prove, un testo che si abbina perfettamente ad una melodia, o nel caso di 'Feast of Fire', seduto proprio di fronte a noi nel mezzo di un demo portato da Corey. Eravamo in pre-produzione alla Full Sail quando abbiamo deciso tutti insieme che qualcosa del demo che avevamo fatto era buono ma poteva essere ancora migliorato. Il nostro produttore Josh Wilbur aveva persino scritto nei suoi appunti: "Il demo è speciale, forse così speciale che ha bisogno che diventi una canzone.' L'abbiamo fatto a pezzi e abbiamo ricominciato subito".
Continua: "Abbiamo approcciato questo album sapendo che avevamo il tempo di considerare qualsiasi cosa e tutto ciò che è successo durante questo periodo e, se necessario, avremmo potuto ricominciare da capo se non ci fosse piaciuto dal momento che nessun tour era all'orizzonte."
Paolo continua: "Avevo le parole di 'Feast of Fire' scritte nella mia lista di note per le idee di testi che cerco di raccogliere prima di registrare. Qualcosa nella frase mi ha colpito. Come il pezzo mancante della storia che stavamo cercando di raccontare con questo album, un momento culminante e un vero fulcro della narrazione".
Conclude: "Dopo tutti questi anni sono ancora sbalordito da come una canzone possa davvero apparire dal nulla e portare l'album in un posto che non ti aspettavi. Questi sono i momenti che cerchiamo sempre quando facciamo un album".
La copertina dell'album è un dipinto originale ad olio dell'artista francese Mathieu Nozieres (@mathieunozieres on Instagram)
"Mentre la musica di In The Court Of The Dragon stava prendendo forma, sapevamo di aver bisogno di un artwork epico del tipo che potresti vedere sul muro di un importante museo di un maestro rinascimentale morto da tempo", dice Heafy. "Dopo approfondite ricerche, abbiamo trovato uno dei pochi artisti viventi in grado di creare opere d'arte come Caravaggio e Gentileschi, il pittore Mathieu Nozieres. Mathieu ha preso il titolo di un nostro brano e ha creato un dipinto ad olio originale su tela diverso da qualsiasi cosa avremmo mai potuto immaginare. È incredibilmente mozzafiato ed epico."
Il dipinto a olio, che è anche presente in entrambi i video dei brani già usciti, è stato esposto al Bloodstock Festival dall'11 al 15 agosto presso la RAM Art Gallery. Questa è stata la prima esposizione pubblica del dipinto.
Il mese scorso i Trivium hanno pubblicato la title track dell'album, "In The Court of The Dragon", che ha un'intro epica composta ed orchestrata da Ihsahn (Emperor) ed accompagnata da un cortometraggio ufficiale diretto da Ryan Mackfall. Loudwire ha definito il brano come "un'abile miscela di dinamiche. E i blast beats suonano davvero bene sotto il cantato di Matt Heafy" mentre Revolver l'ha definita "epica".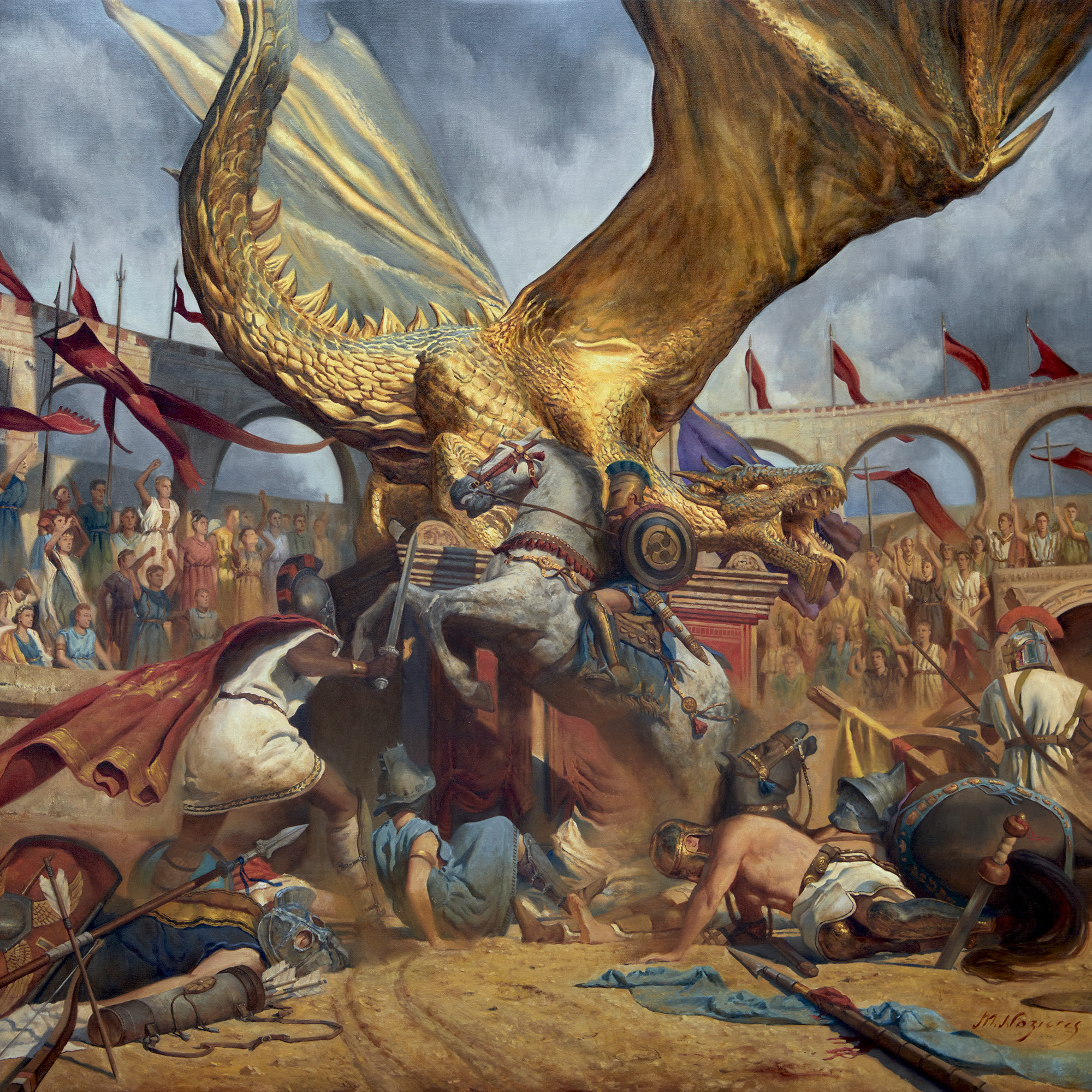 "X"
"In The Court Of The Dragon"
"Like A Sword Over Damocles"
"Feast Of Fire"
"A Crisis Of Revelation"
"The Shadow Of The Abattoir"
"No Way Back Just Through"
"Fall Into Your Hands"
"From Dawn To Decadence"
"The Phalanx"
TAGS: