Paolo Fosso, compositore e pianista, ha dato vita insieme al violinista Jacopo Bigi agli Armonite, un collettivo di musicisti nato nel 2015. Dai Beatles ai Dream Theater alla musica da film, i due musicisti suonano e ascoltano qualsiasi genere musicale, ma sono le composizioni di Paolo Fosso che identificano il sound del gruppo.
Quattro chiacchiere con Paolo Fosso che insieme a Jacopo Bigi formano gli Armonite, un interessante progetto musicale. Paolo, puoi presentarti brevemente per chi ancora non ti conosce?
Sono un compositore prestato al rock strumentale degli Armonite e mi sto via via applicando alla musica da film (e, magari, ai videogiochi). Gli Armonite hanno un organico piuttosto singolare, composto prevalentemente da violino elettrico, basso, batteria e tastiera. No voce, né chitarre. È il violino elettrico di Jacopo a caratterizzare le mie composizioni. Quando usiamo il distorsore, molti ci sentono una chitarra, ma non è così: ci piace trasformare le qualità del violino per ampliare le sue possibilità timbriche.
Armonite però non è solo Paolo e Jacopo, ma un collettivo di musicisti. Chi ne fa parte oltre a voi?
Sì, gli Armonite sono un collettivo musicale. Oltre a me in veste di compositore e tastierista e Jacopo al violino elettrico, sull'album sono intervenuti anche Colin Edwin (già Porcupine Tree) e Alberto Fiorani al basso; Corrado Bertonazzi, Emiliano Cava e Jasper Barendregt alla batteria. E, ancora, molti altri professionisti, tra cui il Quartetto Indaco.
Dopo il primo album del 2015 intitolato The Sun Is New Each Day, arriva And The Stars Above, uscito a Maggio 2018. In tre anni come è cambiato il suono degli Armonite?
"The Sun Is New Each Day" era piuttosto aggressivo, "And The Stars Above" è più vario, con atmosfere e generi diversi. C'è un sound vagamente indie, in questo nuovo lavoro, che non ci appartiene davvero, eppure ci entusiasma. Ascoltiamo tonnellate di musica tutti i giorni e non riusciamo a restare incollati a un genere solo. Semplificando, diciamo che suoniamo rock strumentale, ma ci sono rimandi di vario genere, soprattutto alla colonna sonora.
Parlaci di And the Stars above e dell'incontro con l'etichetta Cleopatra Entertainment.
Avevamo un demo di 5 pezzi che già marcava una certa differenza rispetto allo scorso album. Avevamo bisogno di varcare il recinto del genere e così abbiamo cercato etichette fuori dall'ambito del prog. La Cleopatra è tra le poche che ci ha risposto. Certo, siamo finiti sotto la divisione Purple Pyramid, specializzata in rock progressivo, ma la Cleopatra è un'etichetta che tratta generi diversi ed è capace di restare su un mercato più ampio.
Dall'album avete scelto il brano By Heart e ne avete realizzato un videoclip. Come è nata l'idea e perché proprio questa traccia?
'By Heart' è stata coreografata e interpretata dalla bravissima Cristina De Rosa. Nasce da un virelai medievale con una forte componente elettronica arrangiato per violino elettrico e ROLI Seaboard Rise, ma senza pattern per basso e batteria, che sono stati registrati da Alberto Fiorani ed Emiliano Cava. Cristina è stata un'ottima collaboratrice, siamo pienamente soddisfatti del risultato. Abbiamo scelto 'By Heart' perché ci sembrava la più immediata.
Gli Armonite hanno pubblicato anche alcune cover di colonne sonore. La vostra nuova etichetta, Cleopatra Entertainment, produce e distribuisce film. Nascerà qualcosa di particolare da questa "coincidenza"?
Speriamo di sì! Cleopatra Entertainment è produttrice e distributrice di film horror o con una forte componente musicale, ma sta diversificando il catalogo anche con film drammatici e commedie. Io seguo il cinema con attenzione da diversi anni, sono un grande appassionato e mi piace l'idea di poter scrivere colonne sonore.
Quando vi esibite live, com'è il set da concerto? Diverso da quello che si ascolta nei vostri dischi?
I nostri concerti sono un misto di brani originali tratti dai nostri album e cover di colonne sonore in chiave "violin rock": Il Trono di Spade, I Pirati dei Caraibi, Harry Potter, L'Esorcista, Suspiria, Skyrim, Final Fantasy, Halo, Metal Gear Solid, The Witcher, e molti altri.
Ringraziandoti per il tempo che ci hai dedicato, ti salutiamo chiedendoti se ci anticipi qualcosa a proposito dei vostri prossimi progetti artistici…
A settembre andremo in tour per promuovere l'album. E poi mi rimetterò a comporre per il prossimo lavoro degli Armonite. Intanto seguiteci su Facebook: avremo presto una bella novità che non vediamo l'ora di condividere!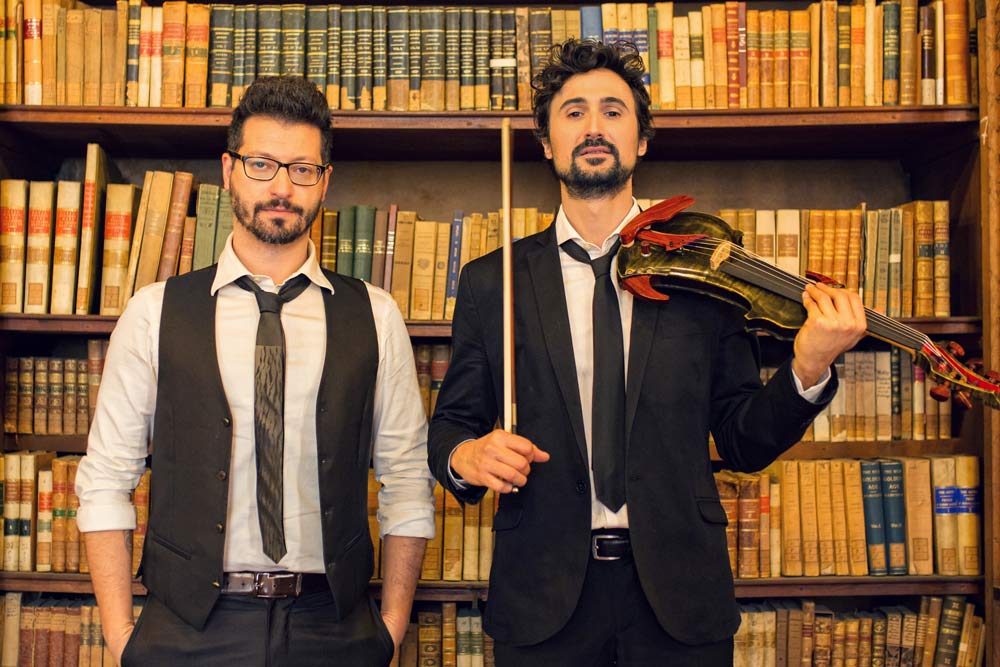 Website: http://www.armonite.com
Facebook: https://www.facebook.com/armonitemusic
Twitter: http://twitter.com/armonitemusic
Instagram: https://www.instagram.com/armonitemusic
Bandcamp: https://armonite.bandcamp.com
Soundcloud: https://soundcloud.com/armonite
YouTube: https://www.youtube.com/Armonite