I leziosi anni '10 del Duemila non erano per i Magik Markers. I Markers compaiono solo in periodi di coercizione. Hanno sentito che avevamo bisogno di loro e sono tornati: ecco "Isolated From Exterior Time 2020". Guarda il video di "Machine".
Questo nuovissimo EP digitale di quattro canzoni ci riporta Shaw, Pete ed Elisa carichi di nuovo vigore, assumendosi tutti i rischi nell'unico modo che conoscono: lo stile MARKER. Umori prog-doom così penetranti da essere crimsoniani. King-crimsoniani? O forse King-Chrome(soniani)? Le melodia circolano all'interno di cerchi carbonizzati e riecheggiano tre le sfumature oscure dei bei tempi in stile Ash Ra Tempel. Sono cresciuto e forse hanno imparato quanto segue individualmente:
- John Shaw: la sua recente incursione nell'apicultura è evidente in tutto il disco, il suo basso che ronza e pulsa è un impollinatore, un'ala al rallentatore che spolvera le sue vibrazioni ovunque;
- Pete Nolan: ha conseguito la sua laurea in "educazione speciale" e si nota, perché ci sta dando un'educazione speciale nel comando spazio-temporale, suonando ritmi così umani da avere sentimenti; questi ritmi hanno persino imparato ad amare;
- Elisa Ambrogio: ormai lontana dalle sue radici come un pezzo di gomma appiccicato a un porta bicchieri di un minivan, è un membro della nobiltà terriera e ha cominciato a coltivare la terra dell'ovest americano. In questo EP, la sua chitarra è grande come la vita e le parole sono più specifiche, come una guida sul campo che ti impedisce di mangiare le bacche avvelenate.
Dalle session ai Black Dirt Studio con Jason Meagher proviene quel sound parvenu, il senso di un intruso che non appartiene del tutto – il 2020 in un guscio di noce! Oh certo, potreste dire: api, la terra da coltivare e la laurea, tutto molto bello – ma come fanno a fare rock? Be', vedete, i Magik non hanno mai avuto grandi effetti e strumenti: sono animaleschi. E gli animali apprendono. Gli animali si adattano. Gli animali sviluppano un'economia di mezzi. Gli animali raramente mentono e qui, in questo "Isolated From Time 2020", i Magik Markers SONO animali. Si diceva che l'urlo di Tarzan di Johnny Weismueller fosse una creazione in studio, un finto riflesso di un urlo selvaggio generato dal mix di versi prodotti da una iena, una nota di violino, il ringhio di un cane e il belato di un cammello. Persino un richiamo che voleva essere il distillato della natura selvaggia era una manipolazione.
Qui i Markers esplorano quel divario ventoso tra il guaito animale e la sveglia digitale, il sentiero escursionistico sotto ronzanti linee elettriche. Lo potete sentire su "Machine", musica davvero umana – una melodia genuinamente ballabile per la persona con le cuffie nella stanza vuota. Oo oo! Qualcuno si è messo a fare riff dall'ultima volta! Finestre, specchi, stampanti 3D, oggetti e immagini che generano e intrappolano riflessi, facsimili infiniti si ripetono in queste canzoni. In "Arms to the Sky", la bassa valle del fiume Ohio intrappola gas di scarico e polline e il suono delle notizie via cavo a casa di tuo padre. Qui la sensazione di fuga è quella di Charlotte Perkins Gilman in The Yellow Wallpaper – fuggire allo schema diventando lo schema.
Se Lomax fosse ancora in giro per il paese alla ricerca di cantanti locali, questo EP potrebbe diventare un field recording – il nuovo blues. Il giardino di un bambino, attraversato da una chitarra e da una voce statica e piena di delay. Magia nell'aria, accanto a Magik. Una stupefacente e libera litania funebre fluttuante nella brillantezza full-fi, così come l'oscurità invadente, tra lo sfarfallio di torce, accendini e cellulari.
Se non vi siete ancora arresi alla fantasia dei Magik Markers, questo è il momento. Fatelo cliccando sulla foto qui sotto.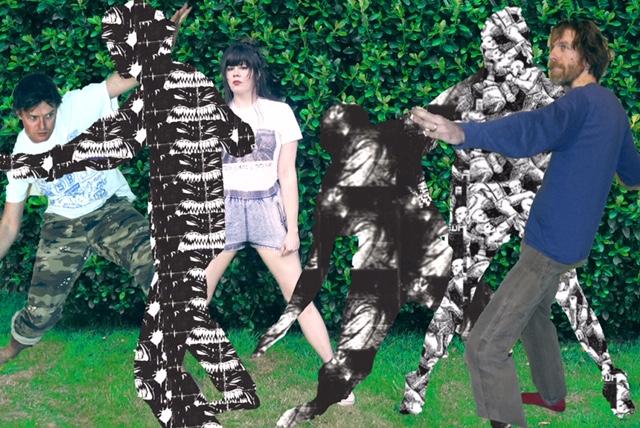 TAGS: