SONIKKU annuncia il nuovo album JOYFUL DEATH in uscita il 17 aprile su Bella Union [PIAS]. Guarda il video per "REMEMBER TO FORGET ME" (FEAT CHESTER LOCKHART).
"Remember To Forget Me è la canzone più personale del disco," spiega l'artista. "Douglas mi ha aiutato a comporla trattando la sessione di scrittura come una sessione di terapia. Ho quindi mostrato la canzone a Chester e l'abbiamo registrata a L.A. con l'aiuto di HANA, che ha progettato la sessione. La canzone è per quelli che diventano leggermente folli quando si innamorano. Il ritornello è un ossimoro che ricorda a qualcuno che dovrebbe dimenticarti – che di per se è qualcosa di assolutamente narcisistico che solo chi è sull'orlo del crepacuore potrebbe dire."
Il video che l'accompagna, che vede protagonista il collettivo di queer dance londinese Pierre & Baby, esplora le problematiche all'interno della comunità queer, l'iper-sessualizzazione del fisico maschile, la dipendenza, gli effetti che la tecnologia ha sul nostro benessere mentale e i giochi di potere della dipendenza e dell'intimità nei rapporti.
"Amo le canzoni che ti fanno venir voglia di piangere e ballare allo stesso tempo," dice Tony Donson, il musicista londinese che si cela dietro al moniker Sonikku. Quel senso di liberazione e di rilascio senza limiti guida il nuovo album, Joyful Death. Un ibrido fluido, fertile e pieno di colori di vibrante italo-house, liquido synth-pop e disco che mette in evidenza l'urgenza espressiva di Sonikku, un artista da dancefloor pienamente maturo. È anche una specie di addio, forse, ma con una rinascita empatica che proviene dal cuore. "Questo album assomiglia a una trasformazione, nel senso che sto creando la musica che ho sempre desiderato fare. Un disco pop pienamente realizzato e coerente che mette in mostra la mia arte come compositore e produttore."
Appassionato nella sua visione multimediale, l'estetica di Sonikku per Joyful Death suggerisce che le idee per i futuri concerti saranno tante: "Visivamente, il concept è una interpretazione futuristica dell'estetica anni '80. Mi è venuta questa idea quando ho visto un'immagine di Alien che falsificava un'iconica posa di Grace Jones. Questo tema è presente nella copertina dell'album: vengo presentato come un culturista in latex con muscoli non corretti sotto il profilo anatomico. Continuerà nel video di 'Sweat', dove LIZ muterà in un blob pulsante di sudore mentre esegue la canzone in uno stabilimento balneare distopico ispirato a Blade Runner."
Tra queste immagini vivide e le distintive varianti musicali di Sonikku sulle sue influenze, uno spirito ardente guida il suo nuovo essere. "Non ho mai avuto alcuna istruzione musicale. Non so neanche leggere la musica ma ho iniziato a produrre sul mio laptop quando avevo 14 anni, ricreando gli strumentali di Madonna. Voglio mostrare ai ragazzi che non provengono da un background ricco o che non possono permettersi lezioni di musica, che possono perseguire la strada della musica."
A riprova di ciò, che vogliate piangere o ballare, Joyful Death ha tutto ciò che vi serve.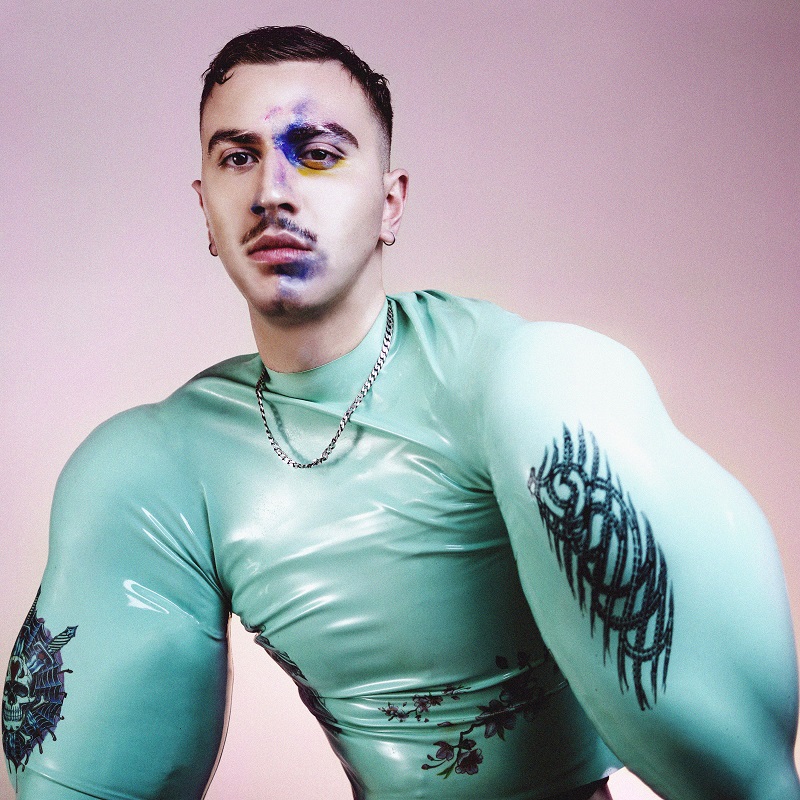 1. Let The Light In (feat. Douglas Dare)
2. WKND (feat LIZ)
3. Don't Wanna dance With You (feat Aisha Zoe)
4. Sweat (feat LIZ)
5. X Hopeless Romantic (Feat Little Boots)
6. Remember To Forget Me (feat Chester Lockhart)
7. Joyful Death (feat Tyler Mather Oyer)
8. Remember 2 Forget Me (Piano Version) (feat Douglas Dare)
TAGS: