ARCA annuncia ufficialmente il nuovo album "KiCk i", in uscita il 26 giugno su XL Recordings. All'album hanno collaborato BJÖRK, ROSALÍA, SHYGIRL e SOPHIE. Guarda il video per "TIME".
Arca annuncia ufficialmente il nuovo album KiCk i in uscita in digitale il 26 giugno e in fisico (vinile/CD) il 17 luglio su XL Recordings. Prodotto e registrato da Arca, KiCk i definisce una nuova era caratterizzata da molteplici melodie per l'artista, cantante, DJ, performer e compositrice venezuelana. Con la partecipazione di Björk, Rosalía, Shygirl e SOPHIE, è la prima volta che Arca invita collaboratori nel suo mondo, avendo precedentemente prestato il suo sound ad alcuni artisti avant-pop dell'ultimo decennio. Dopo la pubblicazione di "Nonbinary", oggi Arca condivide il video per il primo singolo tratto da KiCk i, "Time".
"Time" è stato presentato in anteprima nel settembre 2019 durante Mutant;Faith,una performance sperimentale in quattro parti tenutasi al The Shed, uno spazio per le arti performative a New York City. La performance "ha dimostrato perché il lavoro di Arca è molto più che innovativo, e perché la sua visione per il futuro del pop è così elettrizzante," ha dichiarato them., mentre Pitchfork ha ammirato la capacità di Arca di "continuare a creare un mondo unico." Immortalato durante il quarto giorno della performance, il video per "Time" è stato creato da Arca, Carlos Sáez e MANSON, che ha girato il video davanti al pubblico del The Shed e nelle strade di New York City.
KiCk i non è solo una celebrazione della gioia che Arca è riuscita a trovare nella sua vita, ma rappresenta anche il viaggio faticoso per trovarla. Le difficoltà nel riconciliarsi con il suo patrimonio venezuelano e la sua identità trans Latinx, emergono con il reggaetón e il pop en Español. Ma KiCk i non è solo un album pop, o un album sperimentale o ancora, semplicemente un mix tra i due, piuttosto è tutto in una volta – e molto di più. In base a dove ti fermi con l'ascolto, troverai bubblegum, noise rigido, psichedelia elettronica, ballate, inni, risate, lacrime, passione ed espressioni di fede – suoni e idee che non solo si fondono insieme, ma coesistono simultaneamente in sovrapposizioni quantistiche rese possibili nei mondi sonori che Arca costruisce nella sua musica.
"Non voglio essere legata ad un genere," afferma Arca. "Non voglio essere etichettata come una sola cosa." Il suo essere nonbinary non finisce con la sua identità di genere. Si tratta di una mentalità dove una cosa non deve essere solo una cosa, dove multipli significati, multiple realtà possono coesistere in un equilibrio sovrapposto. In questo spazio fatto di diversi stati, dove una cosa può essere un'altra, Arca ha scoperto un vasto campo di potere creativo intatto. KiCk i è il suono di Arca mentre si connette.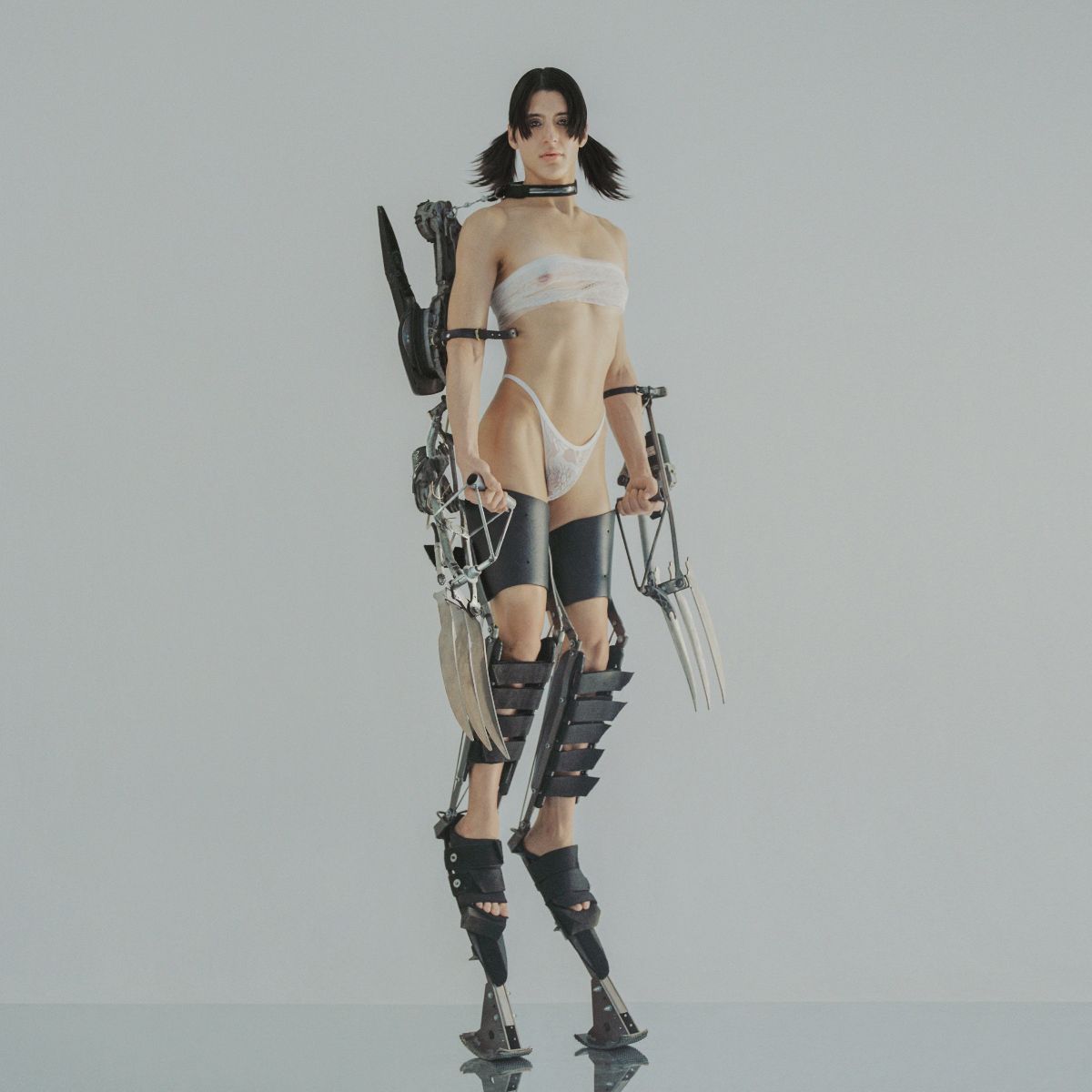 Nonbinary
Time
Mequetrefe
Riquiqui
Calor
Afterwards ft. Björk
Watch ft. Shygirl
KLK ft. Rosalía
Rip The Slit
La Chíqui ft. SOPHIE
Machote
No Queda Nada
Negli ultimi otto anni Arca si è creata il suo percorso attraverso lo spirito del tempo. Ogni volta che posiamo lo sguardo su di lei, la vediamo sotto nuove forme – scultrice del rumore, diva, filosofa, esperta di fashion, party girl, DJ, artista, pittrice. La sua mentalità non-binaria che le permette di avere infinite possibilità, si riflette nella sua incredibile serie di lavori che includono tre album (Xen, Mutant, Arca) e numerosi mixtape (Stretch 1, Stretch 2, &&&&&, Entrañas). Ha inoltre prodotto album per Björk, Kayne West, FKA twigs, ha composto musica per MoMA e Analogue's Mega SG, ha presentato il party PREP+ di Frank Ocean e si è esibita con Labèque sisters alla sfilata autunno/inverno 2020 di Riccardo Tisci per Burberry. Arca è anche pittrice (creando le sue copertine), modella (firmando con Elite) e innovatrice tecnologica (progettando alcuni dei suoi strumenti). A posteriori, tutte queste cose che sembrano così diverse fra loro, si aggiungono ad un lavoro sorprendente, olistico e in costante crescita. Ma è la trasformazione in sè, più che un particolare elemento, a rappresentare il suo lavoro più vero di sempre. Esempio di ciò è stata la sfaccettata performance tenutasi lo scorso settembre al The Shed di New York City, intitolata Mutant;Faith, che ha ispirato il direttore artistico Alex Poots a definirla "un assaggio del futuro in cui spero."
È sempre stato chiaro – almeno a coloro che hanno prestato attenzione – che questa metamorfosi si stava dirigendo verso qualcosa di nuovo e grandioso. Ora che anche l'ultimo velo è caduto, la crisalide si apre. Nasce così una nuova regina, mutante e splendida. Una donna trans latinx che sta ridefinendo il ruolo della diva per una nuova generazione.
Per maggiori informazioni su Arca:
Le trasmissioni avvengono regolarmente in streaming via DiVa ExPeRiMeNtAL FM sul canale Twitch di Arca; grazie al suo canale Discord #Mutants1000000 si stanno generando conversazioni e community; questa settimana l'Arca Patreon è aperto, dove puoi diventare collaboratore, produttore, sostenitore e un alleato del suo lavoro: un Mutante certificato.
TAGS: