THE WHITE BUFFALO annuncia un'esibizione esclusiva in streaming in occasione dell'uscita del nuovo album ON THE WIDOW'S WALK, previsto per il 17 aprile su Snakefarm.
The White Buffalo, aka Jake Smith offrirà ai fan un concerto live in streaming previsto per domenica 05 aprile alle ore 20 CET. Dopo la cancellazione e il rinvio di numerosi concerti in tutto il mondo a causa dell'emergenza Coronavirus, tra cui tre spettacoli di Smith in California, questa diretta streaming sarà la prima opportunità per i fan di The White Buffalo di ascoltare materiale dal suo imminente album On The Widow's Walk, prodotto da Shooter Jennings e in uscita il 17 aprile su Snakefarm Records.
"Come per tutti voi, le nostre vite, la mia, quella di Matt e quella di Christopher, sono state completamente ribaltate." afferma Smith. "Il nostro obiettivo con questa diretta streaming è quello di diffondere gioia e unire la comunità intorno a The White Buffalo dando a tutti l'opportunità di ascoltare brani tratti dal nuovo album. Accadrà una sola volta, in diretta quindi mi raccomando segnatelo sul calendario!"
The White Buffalo collaborerà con Http://Cadenza.tv per portare la musica nel cuore dei suoi fan. La compagnia con sede a Los Angeles CA, lavora con gli artisti per portare le loro esibizioni ai fan in tutto il mondo. La qualità di tutte le produzioni è eccellente, ma allo stesso tempo le esibizioni sono autentiche e senza tagli. L'unico modo per partecipare è attraverso la piattaforma interattiva online di Cadenza.tv.
Per accedere a The White Buffalo: On The Widow's Walk Exclusive Live Stream è necessario acquistare il biglietto al costo di $10 USD e connettersi il 05 aprile alle ore 20 CET sul sito http://cadenza.tv/set/the-white-buffalo. Per maggiori informazioni, contatta info@cadenza.tv
Il 27 aprile è prevista una data all'Alcatraz di Milano. In relazione all'emergenza coronavirus, controlla i continui aggiornamenti sul sito del promoter Bagana Agency: http://www.baganamusic.com/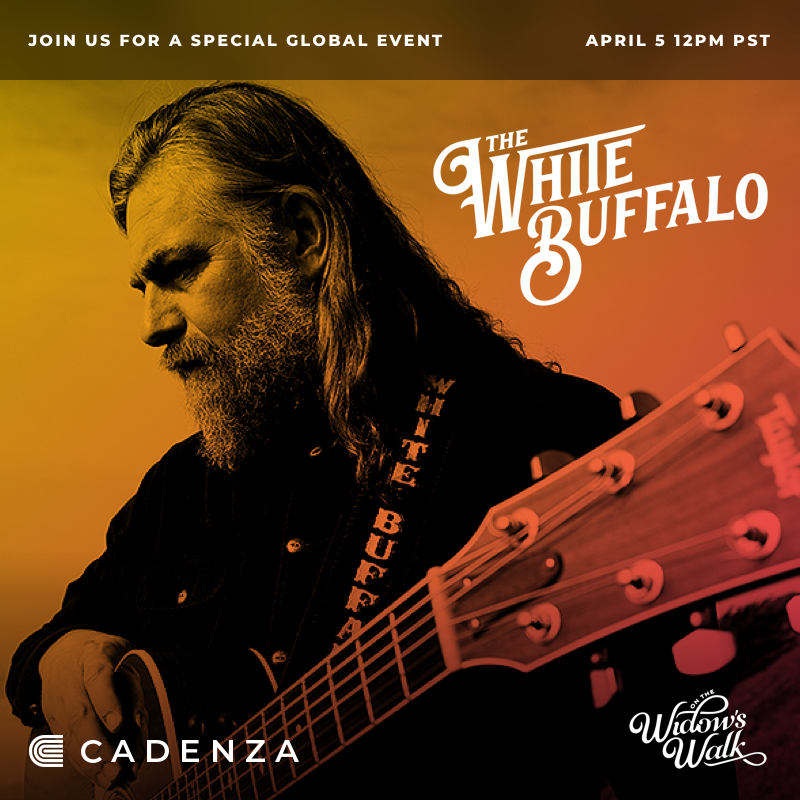 TAGS: