Tom Krell, questo è il nome dell'artista che si nasconde dietro alla sigla How To Dress Well, dopo qualche anno torna in Italia (in diverse occasioni aveva cancellato delle date all'ultimo momento). Visti i precedenti è una di quelle opportunità da non farsi scappare.
L'opening è affidato a Old Fashioned Lover Boy, artista Milanese che l'Ohibò accoglie con qualche decina di persone. Per una mezz'ora esegue alcuni brani dell'imminente nuovo disco e da un paio del precedente, l'ottimo "Our Life Will Be Made Of Simple Things". È sempre un piacere sentire la delicata voce di Alessandro Panzeri e vederlo trasformarsi da 'Bon Iver prima maniera' a qualcosa di più personale e profondo.
Lasciato il palco libero, dopo una mezz'ora, tocca al main act. L'allestimento è minimale: due microfoni affiancati, due console a lato e sullo sfondo uno schermo: sarà un one-man show.
Questo tour è a supporto dell'ultimo lavoro, The Anteroom un vero passo avanti nella (de)strutturazione dei brani, inserendo psichedelia, sperimentazione elettronica, R & B con al centro la sua voce, mai così evocativa.
Al suo ingresso Tom fa partire le basi e i campioni e iniziano i visuals alle sue spalle. Dopo l'intro rumorista di "Humans Disguised as Animals - Nonkilling 1" la sua voce taglia il silenzio che si è creato tra i (ora numerosi) presenti.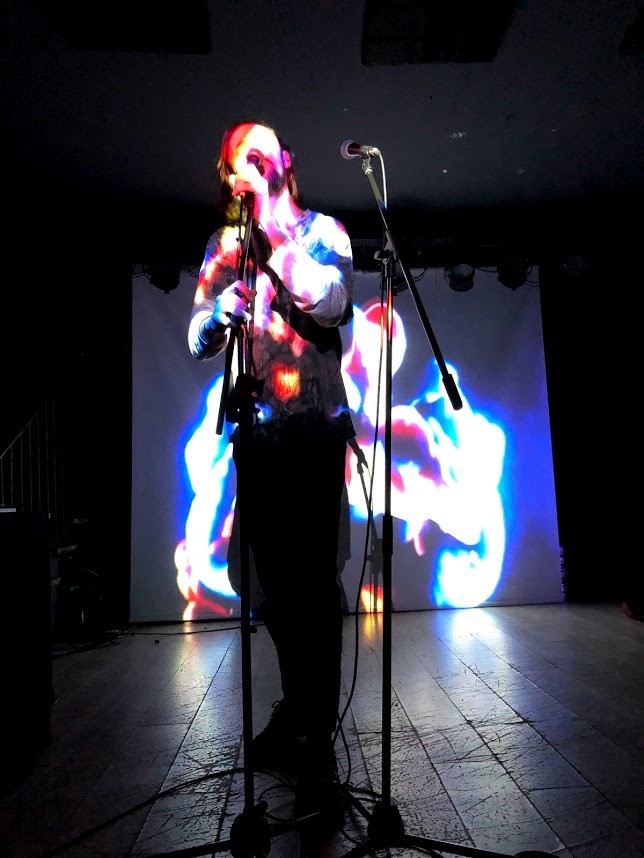 Lo show è diviso in tre parti di circa mezz'ora l'una: la prima più forte e più oscura dedicata all'ultimo lavoro, la seconda più romantica (a suo modo) e la terza molto "emozionale". Scorrono i brani dell'ultimo album e sprazzi dagli altri, per forza di cosa riarrangiati o sconvolti, e i video e immagini proiettati lo avvolgono, creando il perfetto accompagnamento sensoriale ai singoli pezzi legati uno all'altro.
Nell'intervallo tra le parti Tom racconta, sorprendentemente sorridente ed empatico, del viaggio da Bologna a Milano in treno assieme a una passeggera con un ermellino come animale domestico, di un amico di un cugino che lo vuole a suonare al suo matrimonio, ed una breve Q&R in cui ricorda la data in Olanda (a Ultrecht @Ekko) in un locale gestito solo da volontari, cosa fuori dal mondo per uno statunitense.
Alla fine, saranno una profonda "Words I Don't Remember" e il singolo "Hunger" a chiudere uno show in cui ogni frammento musicale è stato unico, differente da quello che ci si aspettava, come a volerci dire: la musica è emozione e le emozioni cambiano ogni secondo. Una performance di questo livello per un'artista come lui che ha messo a nudo ogni pezzo del suo cuore non può lasciare indifferenti.
HTDW è una creatura che scava nel profondo, farsi avvolgere dalle sensazioni è piacevole e sconvolgente nello stesso tempo; la speranza è di riuscire ad assistere ad uno show full band dove Krell potrebbe elaborare ancora di più quello visto questa sera.