I Dropkick Murphys continuano il loro viaggio nei testi di Woody Guthrie, interpretandoli per le nuove generazioni: "Okemah Rising" arriva il 12 maggio su Dummy Luck Music / [PIAS].
Il nuovo album (che sarà disponibile su CD, vinile e tutte le piattaforme digitali) segue le orme del precedente This Machine Still Kills Fascists, in cui i Dropkick Murphys avevano scritto la musica che accompagnava i testi inediti dell'ormai defunto Woodie Guthrie, dando vita a un lavoro unico che vedeva la band ritrovarsi nelle parole sempre attuali del "punk" per definizione.

Con la collaborazione del fidato produttore Ted Hutt, i Dropkick Murphys hanno riportato in vita gli ideali di Guthrie durante le sessioni di registrazione a Tulsa. Proprio come in This Machine Still Kills Fascists, la band si è avvalsa della collaborazione di band e artisti come le leggende del folk punk Violent Femmes, la cantautrice country Jaime Wyatt e l'amico e ribelle di Boston Jesse Ahern per veicolare il messaggio del cantautore.

Il fondatore e cantante dei Dropkick Murphys, Ken Casey, spiega: "Ogni sera, quando il pubblico canta insieme alle parole di Woody, la sua ferma difesa della classe operaia e la sua lotta contro l'ingiustizia sociale e l'abuso di potere politico arrivano forti e chiare. Quindi, finché i Dropkick Murphys saranno coinvolti, il messaggio di Woody sarà sempre ascoltato".
I punti salienti di Okemah Rising includono le collaborazioni con i progenitori del folk punk Violent Femmes in "Gotta Get To Peekskill", con il cantautore country Jaime Wyatt in "Bring It Home" e con l'emergente bostoniano Jesse Ahern (il cui prossimo album uscirà per l'etichetta Dummy Luck Music dei Dropkick Murphys) in "Rippin Up The Boundary Line". L'album si chiude in modo appropriato e trionfale con "I'm Shipping Up To Boston - Tulsa Version", in cui i Dropkick Murphys reinventano e rinvigoriscono la loro più famosa collaborazione con Guthrie in chiave acustica, senza sacrificarne la forza, la passione e la potenza.

Casey rivela: "Molte persone non si sono mai rese conto che il testo di 'I'm Shipping Up To Boston' è stato scritto da Woody Guthrie, quindi abbiamo ritenuto importante includere la canzone in questo progetto e darle una giusta collocazione tra le altre nostre collaborazioni con i suoi testi. Sapevamo di dover aggiungere qualche tocco di novità per rendere questa versione speciale e adatta a questa raccolta, e così le abbiamo riservato il trattamento Tulsa".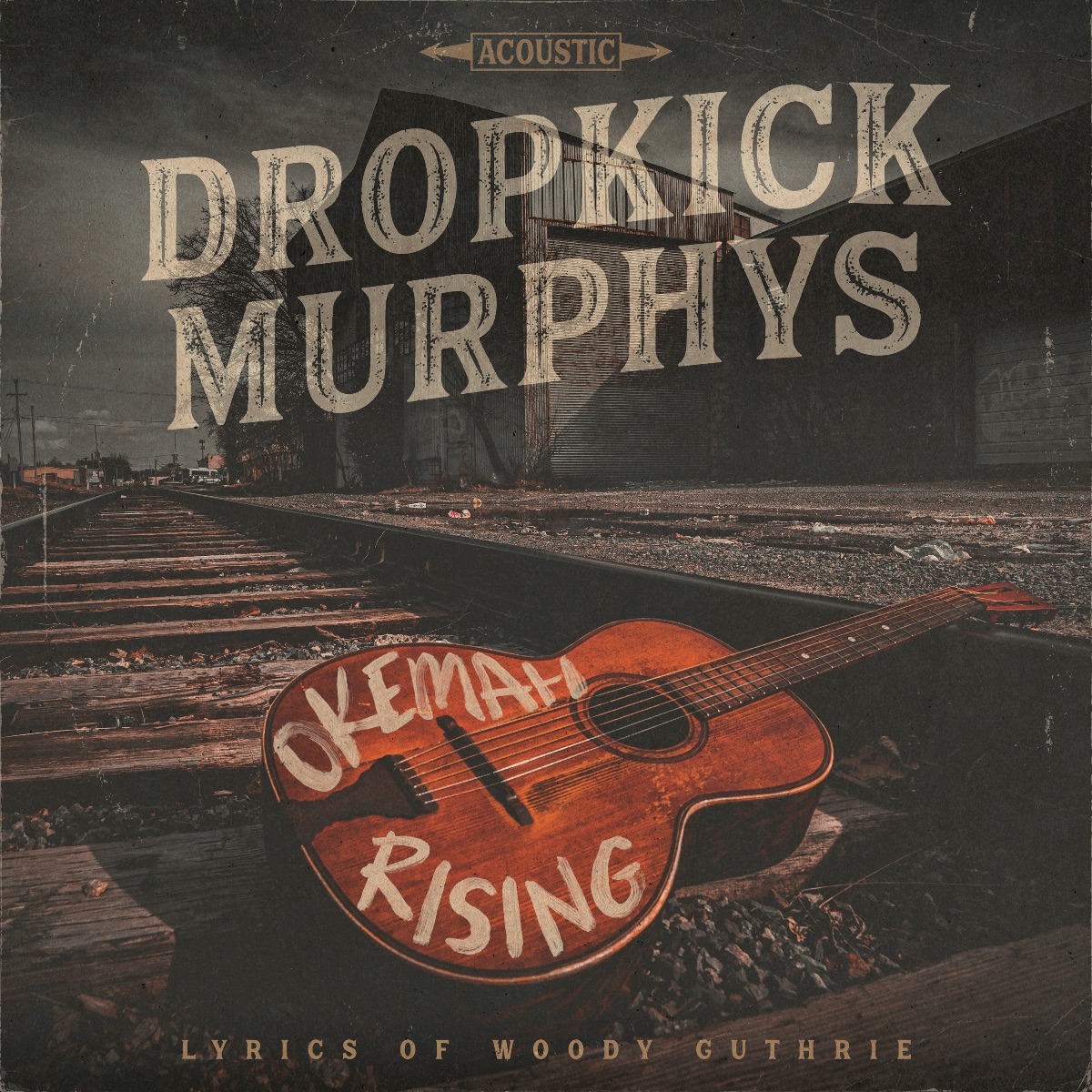 Nel 2023, Okemah Rising è la migliore colonna sonora che abbiamo della rivolta dei lavoratori nell'economia moderna, che Woody non avrebbe mai potuto sognare ai tempi del lavoro industriale. È sorprendente che le parole di Guthrie siano vere anche oggi, quando vediamo baristi, lavoratori dei magazzini di internet e studenti di medicina lottare contro i padroni miliardari delle aziende con i loro sforzi per sindacalizzarsi.

Dopo quasi tre decenni, i Dropkick Murphys sono al fianco del loro pubblico e della classe operaia, e si stringono attorno alle parole imperiture di Woody Guthrie, il loro eroe e punk originale.

Data l'universalità e l'atemporalità dei temi di Woody Guthrie e la popolarità dei Dropkick Murphys in tutto il mondo, le canzoni di questi due album hanno avuto una risonanza mondiale. A febbraio, in occasione del concerto della band che ha registrato il tutto esaurito alla Wembley Arena di Londra, il cantante Ken Casey ha adattato il coro dell'inno sindacale "All You Fonies" (da TMSKF) alla sala, sostituendo "Fonies" con "Tories". Questo cambio di testo tempestivo ha portato il testo di Guthrie, vecchio di decenni, nel malessere moderno di innumerevoli sindacati britannici (marittimi, ferroviari, dei trasporti, infermieri, vigili del fuoco, lavoratori postali, insegnanti, operatori sanitari e altri ancora) che lottano con l'élite aziendale della nazione e con i politici Tory. La band ha pubblicato un video per "All You Tories" con filmati di performance e animazioni: https://youtu.be/SLqb535hBi0 .

Negli Stati Uniti, l'AFL-CIO ha recentemente conferito ai Dropkick Murphys un premio alla carriera, sottolineando la "carriera della band nel dare forza ai lavoratori attraverso la loro musica".

BIOGRAFIA
I Dropkick Murphys sono orgogliosi di essere i campioni del rock 'n' roll di Boston. Dal 1996, i ragazzi hanno creato il tipo di musica che è destinata a essere cantata all'ultimo appello, in arene gremite e durante il quarto quarto, il terzo periodo o il nono inning di un rally di rimonta.
La loro celebre discografia comprende quattro debutti consecutivi nella top 10 di Billboard (Turn Up That Dial del 2021, 11 Short Stories Of Pain & Glory, Signed and Sealed in Blood, Going Out In Style) e il disco d'oro The Warrior's Code del 2005, con il classico quasi doppio platino "I'm Shipping Up To Boston".
Che abbiate assistito a un leggendario concerto al The Rathskeller (The Rat) a Kenmore Square, che abbiate scoperto la band prendendo la T fino a Newbury Comics per vedere Do Or Die nel 1998, che li abbiate scoperti in The Departed di Martin Scorsese, vincitore del premio Oscar, o che li abbiate visti esibirsi al Coachella (o in uno delle centinaia di altri festival), siete diventati parte della loro famiglia allargata.
La musica dei Dropkick Murphys ha generato mezzo miliardo di stream, ha venduto oltre 8 milioni di unità in tutto il mondo e la band ha fatto il tutto esaurito in diversi continenti. Nel 2020, la band è stata una delle prime ad abbracciare le esibizioni in streaming, a partire dalla performance virtuale Streaming Up From Boston per il giorno di San Patrizio. È stata seguita dal livestream di riferimento Streaming Outta Fenway dello scorso anno, che ha attirato più di 5,9 milioni di spettatori e si è piazzato al terzo posto della classifica "Top 2020 Livestreams" di Pollstar. Il livestream dei Dropkick Murphys per il giorno di San Patrizio del 2021...Still Locked Down è stato al primo posto nella classifica dei livestream di Pollstar per la settimana conclusasi il 22 marzo 2021, con oltre 1 milione di visualizzazioni.
I Dropkick Murphys sono tornati nel 2022 con il loro primo album interamente acustico, This Machine Still Kills Fascists (Dummy Luck Music / [PIAS]), e con un tour teatrale. This Machine Still Kills Fascists - e l'album successivo Okemah Rising - infondono vita musicale a testi per lo più inediti del leggendario Woody Guthrie, curati per la band da Nora Guthrie, figlia di Woody.