Ooh LA LA (feat. Greg Nice & DJ Premier) [Video]
RUN THE JEWELS condividono il video di "Ooh LA LA (feat. Greg Nice & DJ Premier)" come anticipazione di RTJ4.
I Run The Jewels condividono il video per il nuovo singolo "Ooh LA LA" (feat. Greg Nice & DJ Premier), il primo dal nuovo album RTJ4. Girato a inizio marzo, poco prima dell'impatto del Covid-19, il video era già un commento delle divisioni di classe e capitalismo, temi che si sono rivelati dolorosamente più urgenti e importanti che mai. Con i cameo delle leggende dell'hip hop Greg Nice, DJ Premier, e il frontman dei Rage Against the Machine Zack de la Rocha, una legione di ballerini, una flotta di mongolfiere, e una montagna di soldi in fiamme, il video è una celebrazione della resistenza che illumina l'abilità unica del duo di cavalcare i mondi del commento sociale e del puro divertimento.
"Abbiamo girato il video poche settimane prima dell'arrivo della pandemia senza la minima idea di cosa ci riservasse il futuro. il fatto di avere avuto la possibilità di girarlo, con il senno di poi, è quasi un miracolo" dice il duo "Con i nostri amici Brian e Vanessa Beletic ci siamo immaginati il mondo nel giorno in cui la vecchia lotta di classe era finalmente finita. Un giorno in cui l'umanità, l'empatia e la comunità vincessero sulle forze che ci separano sulla base di sistemi arbitrari creati dall'uomo. Questo video è il sogno di svegliarsi un giorno in cui non esiste un sistema monetario, nessuna linea di divisione, nessun falso costrutto che dice ai nostri simili che sono più o meno di qualsiasi altro. Non che le persone siano senza, ma che l'intero significato del denaro sia svanito. Che in qualche modo abbiamo risolto il nostro sistema di caste e che possiamo ricominciare daccapo con amore e speranza. E' un sogno di un V-DAY dell'umanità."
La canzone ha recentemente fatto il suo debutto a sorpresa nella stagione finale della serie Ozark di Netflix, che ha appena superato Tiger King come lo show numero#1 del network e ha contribuito a rendere "Ooh LA LA" la canzone numero #5 su Shazam in US. E adesso, proprio mentre questa traccia contagiosa comincia a far sentire la sua presenza nelle playlist di streaming & radio, mette il turbo con questo video epico. Il video è stato diretto da Brian & Vanessa Beletic, che avevano diretto in precedenza il video per "Legend Has It," da RTJ3, singolo certificato oro scelto per la pubblicità del Super Bowl LI e per il film della Marvel Black Panther.
A causa del Covid-19, il gruppo ha anche condiviso settimanalmente contenuti in free download e libri da colorare, e solo settimana scorsa ha lanciato un'esclusiva nuova linea di t-shirt come foundraising per la loro crew che è senza lavoro fino all'inizio del tour mondiale con i Rage Against the Machine che è stato posticipato.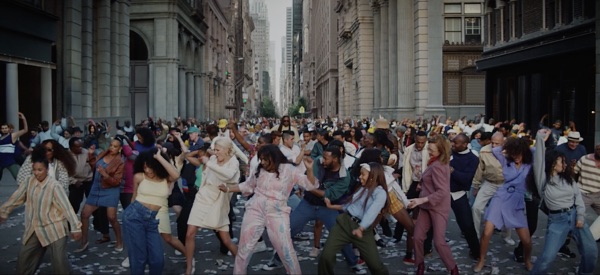 TAGS: