FLUME annuncia il nuovo album PALACES, in uscita il 20 maggio su Transgressive/Future Classic. Guarda il video del primo singolo "Say Nothing" (Feat. May-A).
"Questo brano parla del fare chiarezza sui sentimenti dopo una rottura", dice Flume. "Lo abbiamo scritto nel 2020, quando la pandemia era appena iniziata. Ero molto felice dell'idea iniziale ma è stato solo dopo il mio rientro in Australia nel 2021, quando ho iniziato a lavorare in studio con MAY-A, che ha davvero preso vita.

"Collaborare con Flume su 'Say Nothing' è stato incredibile", dice MAY-A. "Sono una grande fan di Harley ed è stato davvero meraviglioso poter creare della musica con un artista che ammiro e imparare da lui. Prendere parte al suo processo creativo è stato di grande ispirazione. Non vedo l'ora che ascoltiate il brano!"

Inoltre, quest'anno Flume ritornerà a calcare i palchi di festival come Coachella, Bonnaroo e Governors Ball. Presto in arrivo altre date, visita il sito flumemusic.com per ulteriori informazioni.

Palaces ha iniziato a prendere forma quando Flume è ritornato a casa in Australia, dopo un periodo di scarsa ispirazione trascorso a Los Angeles all'inizio della pandemia. Una volta stabilitosi in una città costiera nella regione di Northern Rivers del Nuovo Galles del Sud, Flume ha subito trovato l'ispirazione necessaria, anche grazie alla connessione con la natura che lo circondava: il paesaggio collinare, il camminare scalzo, il cielo che prima di una tempesta si colora di verde, il coltivare e mangiare i propri ortaggi, il profumo della pioggia. Lui e il suo vicino e collaboratore di lunga data, l'artista visual Jonathan Zawada, si sono lasciati affascinare dalla fauna locale, in particolare dagli uccelli, e hanno raccolto una serie di registrazioni che saranno parte dell'album. E mentre Flume stabiliva un legame sempre più forte con la natura intorno a lui, l'album che lui voleva creare prendeva forma, e alla fine gli ha attribuito un titolo che rappresentasse il lusso e la magia del mondo naturale. Palaces è il suo album più sicuro, maturo e intransigente finora, un vero manifesto che vuole ricordarci di coltivare le relazioni che ci riempiono e portano pace.

L'album vede la partecipazione di una lunga serie di artisti internazionali, tra cui la star americana emergente Caroline Polachek, l'eclettica icona britannica Damon Albarn, la spagnola Vergen Maria, la francese Oklou e l'amica australiana Ku?ka, che ritorna dopo il suo meraviglioso contributo su Skin.

Flume (il cui vero nome è Harley Streten) è salito alla ribalta quando era ancora adolescente grazie all'omonimo album d'esordio pubblicato nel 2012, da cui ha poi preso vita l'intera scena, che ha scalato le classifiche ARIA, conquistato ben due posti nella Hottest 100 di triple j e portato l'artista in giro per l'Australia per un tour sold out con un pubblico di 40.000 persone. Nei due anni successivi, Flume si è affermato come artista internazionale grazie ai suoi live travolgenti (debuttando a Coachella, Lollapalooza, Reading & Leeds e molti altri) e alla sua abilità nei remix di grandi artisti. Ha pubblicato nel 2016 il suo secondo album Skin, che ha raggiunto la Top 10 delle classifiche Billboard in US, la Top 20 in Europa e nel Regno Unito, si è piazzato in cima alla classifica ARIA e ha riconfermato lo status di Flume come produttore dalle grandi doti creative e in grado di ridefinire i confini, ampliandone la fanbase.

Quello stesso anno, Flume ha conquistato il suo primo Grammy Award per Best Dance/Electronic Album, certificazioni platino in moltissimi territori in tutto il mondo, è arrivato in cima alla Hottest 100 di triple j, ha vinto 7 ARIA, un APRA Award come Songwriter of the Year e venduto oltre 300.000 biglietti per il suo tour mondiale di ben 59 date, tutte sold out.

Nel 2019 è arrivata la seconda nomination ai Grammy per Best Dance/Electronic Album, per l'acclamato mixtape Hi This Is Flume, segnando un anno fondamentale per il produttore. Il 2019 ha anche visto la pubblicazione di Quits, un EP collaborativo con il rapper Reo Cragun, e dei singoli "Let You Know" con London Grammar e "Rushing Back" con Vera Blue.

Ha calcato i palchi di tutto il mondo, inclusi quelli di Lollapalooza, Osheaga, Outside Lands, Summersonic in Giappone, C2C in Italia e molti altri. L'ultima pubblicazione di Flume "The Difference", condivisa con Toro Y Moi, risale al 2020 ed è stata molto apprezzata.

Insieme all'annuncio del nuovo album, arriva una nuova linea di merch disponibile a questo link, dove puoi anche pre-ordinare le edizioni speciali di Palaces, tra cui vinile, CD deluxe in edizione limitata (i primi ordini arriveranno autografati dall'artista), CD e cassetta.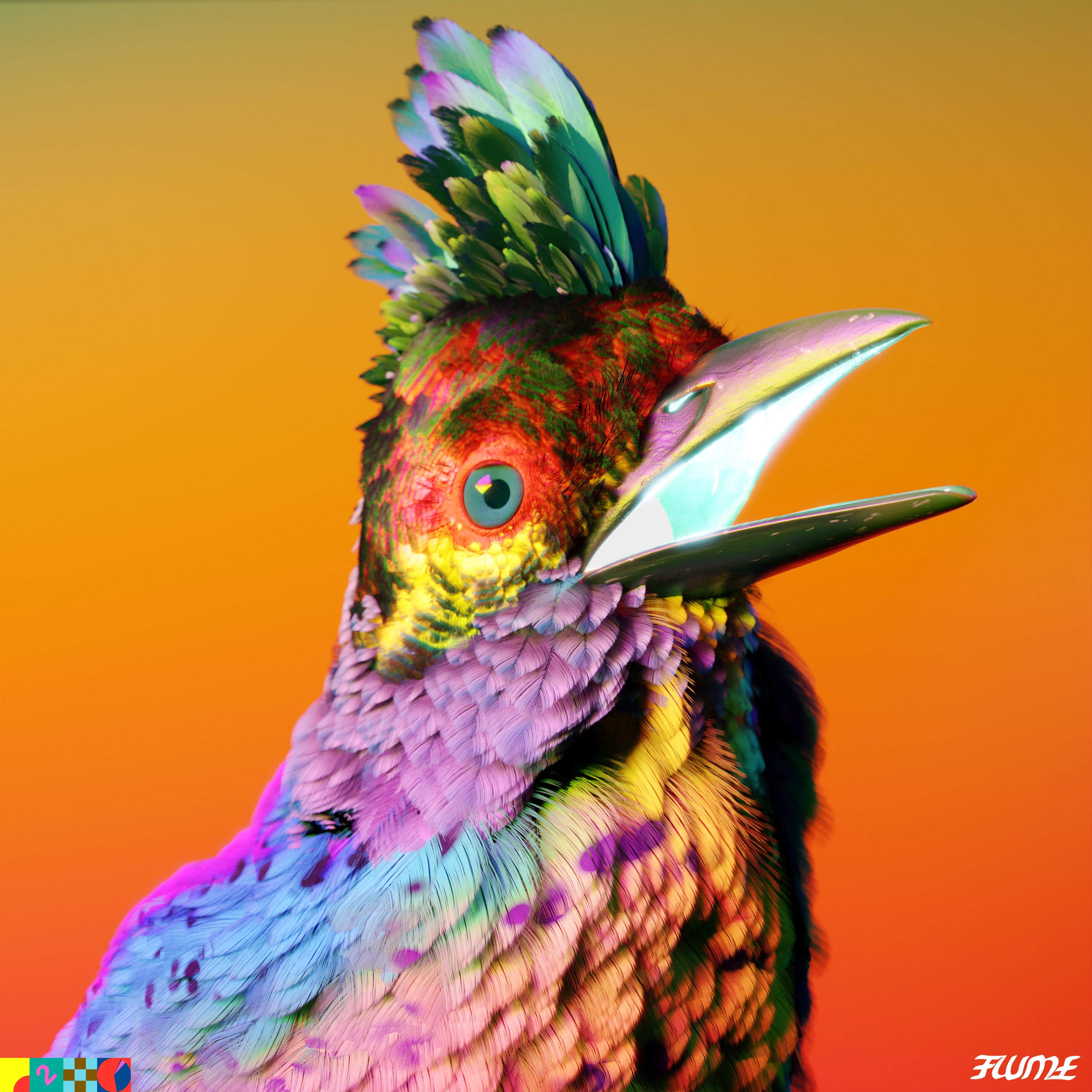 1. Highest Building (feat. Oklou)
2. Say Nothing (feat. MAY-A)
3. DHLC
4. ESCAPE (feat. Ku?ka) -- with Quiet Bison
5. I Can't Tell (feat. LAUREL)
6. Get U
7. Jasper's Song
8. Only Fans (feat. Virgen Maria)
9. Hollow (feat. Emma Louise)
10. Love Light
11. Sirens (feat. Caroline Polachek)
12. Go
13. Palaces (feat. Damon Albarn)