Già disponibile dal 9 ottobre in DVD, BLU-RAY™ e DIGITAL HD. Le Bellas sono tornate...
Ora che si sono laureate, le favolose Bellas della Barden University tornano per un'ultima esibizione in Pitch Perfect 3. Beca, Fat Amy e il resto delle Bellas partono alla volta di un campionato mondiale di canto a cappella in questo frizzante atto finale del franchise che ha dato vita ad un fenomeno mondiale. Pitch Perfect 3 è disponibile in DVD, Blu-ray™ e Digital HD dal 9 ottobre 2018 con Universal Pictures Home Entertainment. Colmo di nuovissime performance musicali, gag esilaranti, scene eliminate mai viste e molto di più, gli esclusivi materiali dietro le quinte rendono Pitch Perfect 3 un film imperdibile.
Ora laureate e inserite nel mondo reale dove cantare a cappella non basta, le Bellas tornano nel capitolo finale dell'amata saga. Dopo la vittoria al campionato mondiale, le Bellas si ritrovano divise e scoprono che non ci sono grandi prospettive lavorative per fare musica solo con la propria voce. Ma non appena hanno l'occasione di riunirsi per un tour oltre oceano, questo gruppo di meravigliose nerd si incontrerà nuovamente per fare nuova musica e prendere decisioni opinabili per un'ultima volta.
La nominata all'Oscar Anna Kendrick (la saga di Pitch Perfect, Tra le nuvole), Rebel Wilson (la saga di Pitch Perfect, Single ma non troppo), Hailee Steinfeld (Il grinto, Pitch Perfect 2), Brittany Snow (la saga di Pitch Perfect), Anna Camp (la saga di Pitch Perfect, The Help), Hana Mae Lee (la saga di Pitch Perfect, The Patriot), Ester Dean (la saga di Pitch Perfect), Alexis Knapp (la saga di Pitch Perfect), Chrissie Fit (la saga di Pitch Perfect), Kelley Jakle (la saga di Pitch Perfect, 42), Shelley Regner (la saga di Pitch Perfect), Elizabeth Banks (la saga di Pitch Perfect, la saga di Hunger Games) e John Michael Higgins (la saga di Pitch Perfect, Great News) tornano tutti in questo nuovo capitolo, a cui si aggiungono nuovi membri del cast, tra cui John Lithgow (The Crown), Ruby Rose (John Wick – Capitolo II, Orange is the new black) ed il premiato produttore e musicista DJ Khaled. Torna a produrre Pitch Perfect 3 Paul Brooks (la saga de Il mio grosso, grasso matrimonio greco, la saga di Pitch Perfect) della Gold Circle Entertainment e Max Handelman insieme ad Elizabeth Banks della Brownstone Productions, con Trish Sie (Step Up All In) alla regia di questa commedia musicale che scalda il cuore.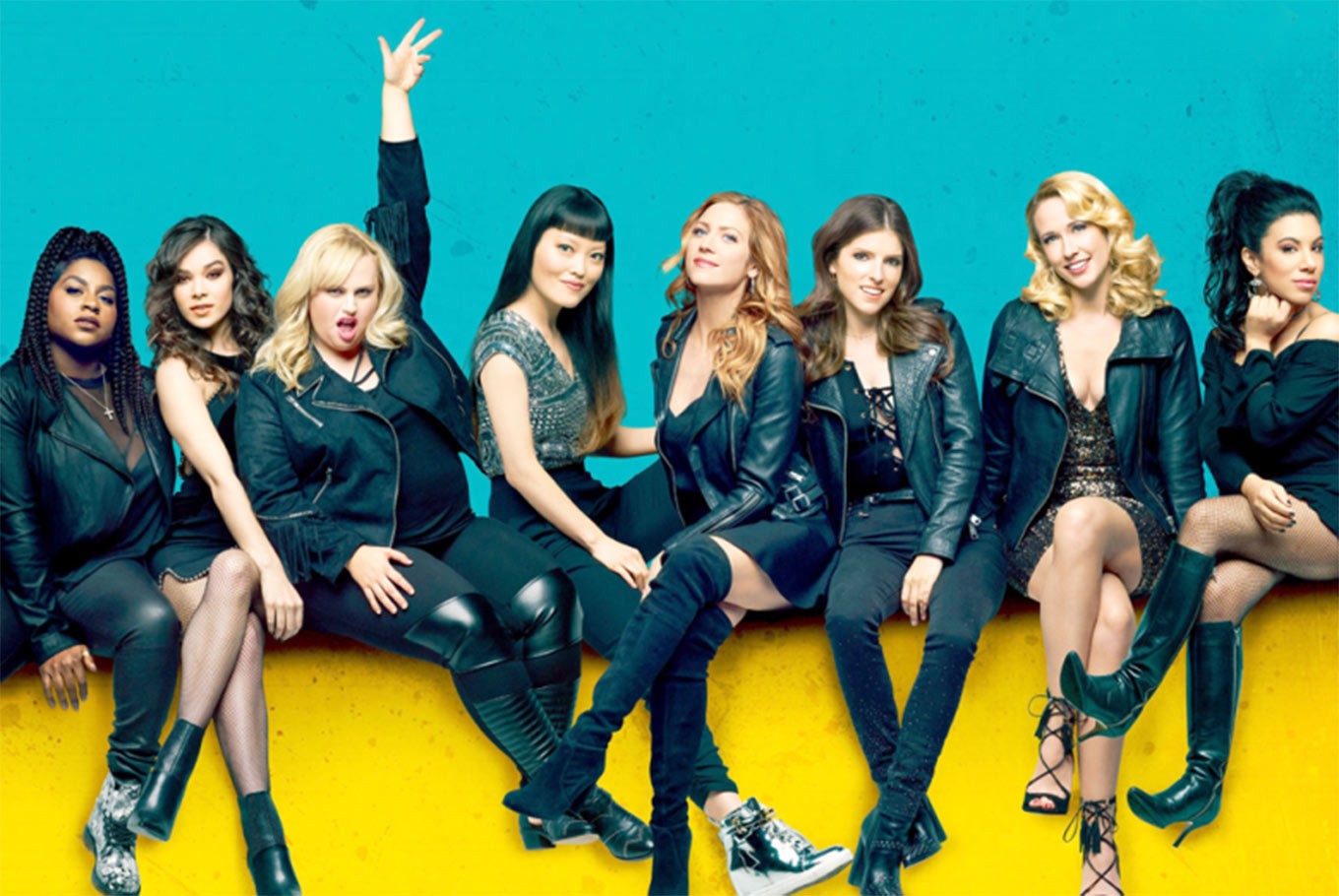 CONTENUTI BONUS NEI FORMATI DVD E BLU-RAYTM
Scena eliminata
Le gaffe
Nuove performance musicali

Fat Amy & Fergus: Duetto al casinò

Le Bellas: "See You Smile" Lullaby

A Cappella Action – In questa sezione, analizziamo una scena cominciando da Fergus che tradisce Fat Amy e rapisce le Bellas, attraverso la performance e finendo con Rebel Wilson che realizza lo stunt di cadere dal soffitto.
Le donne di Pitch Perfect 3 – Con Elizabeth Banks, Trish Sie ed un cast tutto al femminile, il franchise di Pitch Perfect ha distrutto gli stereotipi e le norme del business in ogni dove. In questa sezione, impariamo perché è così importante attraverso lo sviluppo e la produzione di Pitch Perfect 3.
La performance finale – In questa sezione, i fan assisteranno al genuino affetto che c'è tra le Bellas sia davanti che dietro la telecamera, in un'emozionante chiusura del film e della produzione nel dietro le quinte.
Hollywood del Sud – Hollywood potrebbe essere la "Capitale mondiale dell'intrattenimento", ma Atlanta è appena dietro l'angolo – trasformandosi in una metropoli per le produzioni di film e il cast e la troupe non potrebbero essere più felici. Sentiamo direttamente da loro le testimonianze dell'ospitalità, versitalità e benvenuto del sud avuti durante il loro soggiorno.
Performance musicali estese

Evermoist: "How a Heart Unbreaks"

Young Sparrow / DJ Dragon Nutz: "You Got It"

Saddle Up: "Ex's and Oh's"
FILMMAKER:
Cast: Anna Kendrick, Rebel Wilson, Hailee Steinfeld, Brittany Snow, Anna Camp, Hana Mae Lee, Alexis Knapp, John Michael Higgins, Elizabeth Banks
Diretto da By: Trish Sie
Sceneggiatura di: Kay Cannon, Mike White
Storia di: Kay Canon
Prodotto da: Paul Brooks p.g.a, Max Handelman p.g.a, Elizabeth Banks p.g.a
Produttori esecutivi: Jason Moore, Scott Niemeyer, David Nicksay
Musiche: Christopher Lennertz
Produttore esecutivo musicale: Julianne Jordan
Costume Designer: Salvador Perez
Montaggio: Craig Alpert ACE, Colin Patton
Production Designer: Toby Corbett
Direttore della fotografia: Matthew Clark
INFORMAZIONI TECNICHE BLU-RAY™:
Genere: Commedia
Dischi: 1
Durata: 1 ora e 33 minuti ca.
Video: 1080i/p High-Definition Widescreen 1.85:1
Audio: Inglese DTS:X; Italiano DTS-HD High Resolution 7.1
Sottotitoli: Italiano, Inglese n/u
Contenuti Speciali: • Scena eliminata • Le gaffe • Nuove performance musicali • A Cappella action • Le donne di Pitch Perfect 3 • La performance finale • Hollywood del sud • Performance musicali estese
INFORMAZIONI TECNICHE DVD:
Genere: Commedia
Dischi: 1
Durata: 1 ora e 29 minuti ca.
Video: Anamorphic Widescreen 1.85:1
Audio: Italiano, Inglese Dolby Digital 5.1
Sottotitoli: Italiano, Inglese n/u
Contenuti Speciali: • Scena eliminata • Le gaffe • Nuove performance musicali • A Cappella action • Le donne di Pitch Perfect 3 • La performance finale • Hollywood del sud • Performance musicali estese