RECLAB STUDIOS, l'8 maggio esce REC IT BE, l'omaggio a LET IT BE dei BEATLES con la partecipazione di settantatré artisti italiani che celebra gli undici anni di attività dei celebri studi di registrazione milanesi.
Da venerdì 8 maggio sarà disponibile in digital download e sulle piattaforme streaming "Rec It Be", disco progetto che omaggia la pietra miliare della musica "Let It Be" dei Beatles, che nella stessa data festeggia i cinquant'anni dalla pubblicazione. Il lavoro, che vuole celebrare gli undici anni di attività degli studi di registrazione milanesi RecLab Studios di Larsen Premoli, riproduce fedelmente il celebre album dei Fab Four, grazie alla partecipazione di settantatré artisti nazionali, tutti frequentatori dei celebri studi di registrazione milanesi, che per l'occasione hanno dato vita a un grande gruppo denominato "Sgt. Pepper's Only RecLab's Band". "Rec It Be" sarà presentato dal vivo sabato 9 maggio, dalle 20.30, sul palco del Legend Club di Milano (Viale Enrico Fermi 98, ingresso 14 euro su TicketOne), in uno show irripetibile, che vedrà coinvolti i settantatre artisti presenti sul disco accompagnati da alcuni special guest i cui nomi verranno svelati nelle prossime settimane, e durante il quale sarà possibile acquistare "Rec It Be" in CD Limited Edition.
Il progetto "Rec It Be" prende vita ufficialmente ai RecLab Studios il 12 settembre 2019 con l'inizio delle sessioni di registrazione, che si protraggono fino a ridosso di Natale. Seguirà una meticolosa post-produzione con ricercate apparecchiature vintage dell'epoca. Le tracce rispecchiano seguendo la perfetta linea temporale dei brani originali per mantenerne il feeling rispettando le parti musicali e gli strumenti utilizzati dai Beatles per produrlo nel 1969. Gli arrangiamenti si ispirano alla versione Naked pubblicata nel 2011, quindi senza le aggiunte orchestrali e corali volute da Phil Spector nella versione originale del 1970.
"Rec It Be" sarà presentato suoi social di RecLab Studio con un film documentario a puntate che racconta con interviste e videoriprese tutte le fasi di realizzazione del progetto attraverso le testimonianze degli artisti coinvolti. La premiere andrà in onda domenica 9 Febbraio, anniversario degli undici anni di attività degli studi, e poi, da martedì 11 Febbraio, in onda ogni martedì per le seguenti tredici settimane saranno pubblicati i tredici episodi singoli, per oltre 100 minuti di show entertainment.
L'intero costo del progetto è finanziato da RecLab Studios e ogni ricavo (biglietti del concerto, CD, merchandising, offerte…) sarà donato all'associazione no-profit Oscar's Angels Italia, che opera con volontari in tutte le principali strutture oncologico pediatriche per portare assistenza, aiuto e momenti di gioia ai bambini e ragazzi affetti da gravi patologie, nonché sostegno ai genitori e alle famiglie.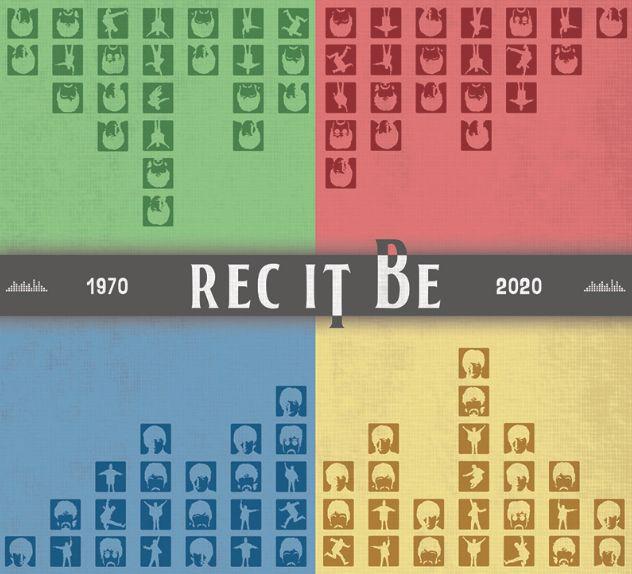 01 Get Back
02 Dig a Pony
03 For you Blue
04 The Long and Winding Road
05 Two of Us
06 Maggie Mae
07 I've got a Feeling
08 One After 909
09 Don't let me Down
10 I've got a Feeling
11 Across The Universe
12 Dig it
13 Let it Be
Gli artisti della "Sgt. Pepper's Only RecLab's Band": Deneb Bucella, Loris Bersan, Lorenzo Pasquini, Gianluca Bonelli, Vanni Antonicelli, Max Castellani, Lorenzo Mari, Davide Scopazzi, Mattia Dambrosio, Riccardo Mari, Gabriele Civitarese, Luca Stasi, Giovanni Mori, Antonio Magrini, Luca Cirio, Alessio Premoli, Tania Tiozzo, Davide Mancini, Leonardo Barbierato, Lorenzo Morra, Pier Panzeri, Paolo Longhini, Jody Brioschi, Andrea Dominoni, Marlon Bergamini, Massimo "Maffo" Vignali, Ruben Minuto, Carlo Ozzella, Alessio Maraschio, Domenico Vena, Riccardo Quagliotti, Federico Cavaliere, Maurizio "Dr. Feelgood" Faulisi, Simone Leoni, Federico Cataleta, Riccardo Grillo, Giulio Petrella, Roberto Binetti, Pacho, Alex Rossi, Sergio Cerina, Davide Taccagni, Federico Paulovich, Matteo Balani, Ralph Salati, Massimo Bontempi, Paolo Colavolpe Walter Calloni, Orazio Nicoletti, Davide Calloni, Marco Venturini, Michele Spadaro, Carlotta Baroni, Fracesco Saracino, Marco Battistella, Zimo Cristriani, Lorenzo Martelli, Giulia Osservati, Riccardo Berticelli, Mattia Frassinetti, Alessandro Passera, Simone Vaccaro, Jacopo Martignoni, Erica Spozio, Roberto Paladino, Marco Parenti, Roberto Ferrante, Riccardo Di Paola, Luca Pasqua, Salvo Vinci, Giuly Jackson, Maria Vittoria Boemi, Elisa Trovato, Larsen Premoli.
TAGS: