La band finlandese Von Hertzen Brothers ha annunciato l'uscita del nuovo album "Red Alert in the Blue Forest" il 18 marzo 2022 su Doing Being Music. Ecco il primo singolo "All Of A Sudden You Are Gone".
"Con la loro capacità di fondere arrangiamenti complessi e melodie edificanti hanno aperto una strada in tutta Europa" - Metro, Regno Unito
I leggendari finlandesi Von Hertzen Brothers tornano con un nuovo album Red Alert in the Blue Forest nel marzo 2022, la loro prima uscita dal 2017. Il primo singolo, "All of a Sudden, You're Gone", è un'opera di 7 minuti che passa dalla dolce ballata acustica al drammatico finale orchestrale. Stabilendo il tono per l'intero album, il singolo è vasto nella sua portata, sia musicalmente che liricamente, e presenta un video epico, mistico compendio di storia girato in Finlandia durante l'inverno.
Kie Von Hertzen racconta: "Abbiamo girato il video a Virkkala, un'ora di strada a ovest di Helsinki, in questa vecchia fabbrica di gesso, che è stata chiusa a metà degli anni '90. Abbiamo girato nel dicembre 2021 per cinque giorni con solo 5 ore di luce al giorno, temperature di -15°C e niente elettricità. Mi sono completamente innamorato del posto; il suo carattere deteriorato con innumerevoli spazi intriganti, il vento che ulula attraverso le sue lamiere ondulate arrugginite del tetto, le sue enormi proporzioni e questa strana tristezza che indugia sulla sua anima abbandonata. Comunicava immediatamente con la malinconia della canzone e dava anche un robusto contrasto alla morbida sensibilità della canzone".
Red Alert in the Blue Forest è un album straordinario. I suoni, i ritmi e le melodie dell'album riflettono l'educazione unica dei fratelli - sia musicalmente che personalmente. Intrecciando il misticismo del folklore finlandese e la campagna in cui sono cresciuti immersi, la traccia "Northern Lights" presenta suoni distinti e raramente ascoltati dell'Aurora Boreale catturati dal professor Unto K. Laine
Musicalmente difficile da classificare, attingendo a elementi di rock, folk, progressive e pop, Red Alert in the Blue Forest è un album che abbaglia nella sua portata.
Il pre-ordine dell'album è disponibile ora. Ci sono un certo numero di bundle e opzioni - tra cui un'edizione strettamente limitata, non ristampata, con doppio album in vinile stampato in rosso e blu con copertina apribile e un CD in digipack. Per i Pre-ordini: https://www.musicglue.com/von-hertzen-brothers/
La band si è esibita in 22 paesi. Gli artisti con cui hanno suonato - inclusi artisti del calibro di Foo Fighters, Neil Young e Biffy Clyro - suggeriscono l'ampiezza e la profondità della loro musica. La band ha appena annunciato un tour in Finlandia con date europee che saranno annunciate presto.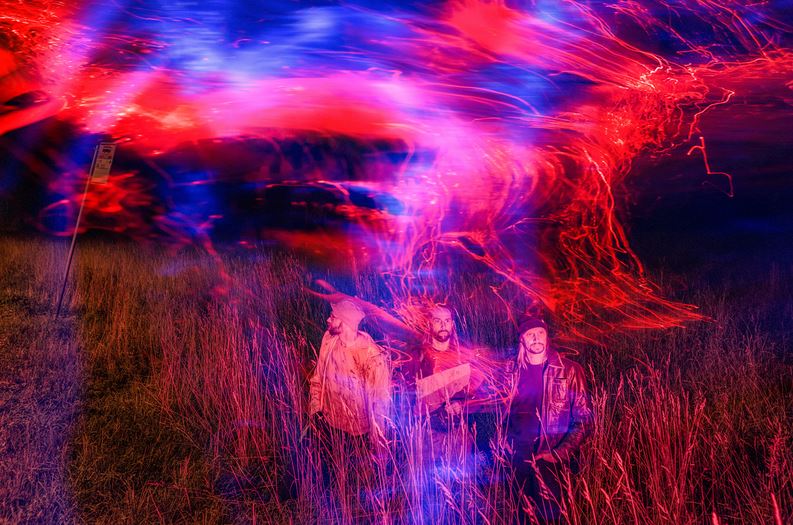 BIOGRAFIA.
I fratelli Von Hertzen sono Jonne, Kie e Mikko Von Hertzen.
Il padre dei fratelli, Hasse von Hertzen, ha suonato la chitarra in una band dei primi anni sessanta chiamata The Savages, e più tardi nei The Roosters. Il loro zio, Lasse von Hertzen, era membro di una nota band folk degli anni Settanta in Scandinavia, i Cumulus. Così, i fratelli sono cresciuti immersi nelle ricche tradizioni musicali della loro patria mescolate a un'educazione che li ha visti dentro e intorno alla natura (uno dei padrini di Kie era un pioniere ambientalista finlandese). Questo ha portato al loro meraviglioso, unico mondo e visione musicale.
Inizialmente suonando in band separate, i fratelli si sono riuniti nel 2000. Da quando hanno formato la band sono diventati uno dei gruppi rock più importanti e influenti nella loro patria, e uno dei pochi ad aver attraversato con successo altri mercati in Europa e oltre. Red Alert in the Blue Forest è il primo album della band dall'acclamato War Is Over del 2017 e l'ottavo in assoluto (inclusi tre album al numero 1 in Finlandia). La band ha pubblicato un Greatest Hits nel 2012. Red Alert in the Blue Forest è un album che li vedrà diffondere la loro visione musicale ad un pubblico più ampio.
Red Alert in the Blue Forest sarà pubblicato tramite Doing Being Music il 18 marzo 2022.
http://www.vonhertzenbrothers.com/
https://www.facebook.com/vonhertzenbrothersofficial
https://www.instagram.com/vonhertzenbrothers/
https://www.youtube.com/vonhertzenrbothers
https://twitter.com/vonhertzenbros