LORENZO SENNI annuncia il nuovo album SCACCO MATTO in uscita il 24 aprile su Warp Records. Ascolta "Discipline Of Enthusiasm".
Lorenzo Senni annuncia oggi il suo nuovo album Scacco Matto in uscita il 24 aprile. Scacco Matto è il suo album di debutto su Warp e il quinto della sua carriera. Sono passati quasi 4 anni dall'EP Persona, e in questi anni l'artista di base a Milano ha avuto modo di sviluppare ulteriormente il suo concetto di "Rave Voyeurism", costruendo idee in un mondo sfaccettato di teoria dell'arte e vernacolare che supporta la musica giocosa, e che per chi non lo conosce può inizialmente apparire come zuccherino.
Musicalmente Scacco Matto è una prosecuzione dello stile "puntinista" di Senni – dove suoni chiusi e tesi vengono arrangiati come ritmi senza batteria e melodia che questa volta hanno più la struttura di una canzone. Senni utilizza la manipolazione sintetica della trance, ma incoraggia intenzionalmente cortocircuiti creando percorsi, segnali e imprevisti che si muovono in diverse direzioni, e creano nuove forme.
Motivi e melodie che richiamano trance, rave, pop e musica classica appaiono qui digitalizzati, ridotti a semplici codici binari e arrangiati secondo la tecnica Ben Day Process. L'energia a medio raggio, la tecnica dello staccato e la cascata digitale di "Discipline of Enthusiasm" mostrano un'immediatezza diretta, continuando con "Xbreaking EdgeX" con i suoi spari da videogiochi, e finendo nel stroboscopico, euforico artificio di "Move In Silence (Only Speak When It's Time To Say Checkmate)".
Il più calmo "Canone Infinito", è il primo esempio delle associazioni stratificate e delle idee dietro alla musica di Senni. Il titolo richiama il termine italiano utilizzato per delle particolari composizioni musicali presenti nelle filastrocche per bambini o nella musica di Bach. Il nome inoltre rimanda ad un'istallazione di Senni che si trova nel reparto di terapia intensiva all'ospedale Papa Giovanni XXIII di Bergamo.
Sebbene sia caratterizzato da uno staccato prominente e persistente, "Dance Tonight Revolution Tomorrow" è il brano che più si avvicina a una riflessione più sommessa e lamentosa, che come tutto il disco, rivela profondità nascoste, utilizzando una pratica sofisticata, spesso basata sulla musica orchestrale.

In chiusura, Senni manipola l'audio in forme ancora più intransigenti e singolari, come in "Wasting Time Writing Lorenzo Senni Songs" e i sapori artificiali del cinguettio di "THINK BIG" che aumentano il diluvio postmoderno, trasformandolo in qualcosa di ordinato, eccitante e dal forte valore intellettuale.
"Il titolo del disco è Sacco Matto, e c'è un costante "avversario" all'interno delle tracce - come se stessi giocando una partita a scacchi con me stesso. Stavo davvero cercando di portare la musica in un determinato posto per poi passare ad un altro approccio. Volevo vedere fino a che punto avrei potuto spingere le idee che ho sviluppato da "Quantum Jelly", e per farlo, dovevo forzare i limiti e le regole autoimposte ", spiega Senni.
Durante la registrazione, tali regole lo hanno visto controbattere la sua ultima mossa, come un avversario che ad ogni turno provoca un'azione che richiede una reazione - muovendosi avanti e indietro anziché direttamente in avanti. Gli ostacoli ci costringono a tentativi che si muovono in modi inaspettati e interessanti.
Ciò si riflette nella copertina dell'album - un'opera del fotografo americano John Divola, che mostra una vista pittoresca californiana, scattata dalla cornice di una finestra fatiscente costellata di puntini di vernice nera. "Per me, il tramonto ricco e vibrante incorniciato dal muro vandalizzato nella fotografia Zuma # 30 di Divola, limita l'epicità della vista e ti riporta alla realtà. Si allinea perfettamente con le mie intenzioni di creare musica emotivamente carica ma limitata da un contesto più concettuale, e la necessità che questi due elementi coesistano nello stesso pezzo", afferma Lorenzo.
Senni vede le proprie idee riflesse nell'opera di Divola; non sta distruggendo la musica dance, la sta vandalizzando. La sta facendo a pezzi e sta giocando a scacchi con i frammenti - creando tensione e, solo alla fine, trovando una soluzione. Scatto Matto è il culmine del lavoro, della strategia e del processo mentale e creativo.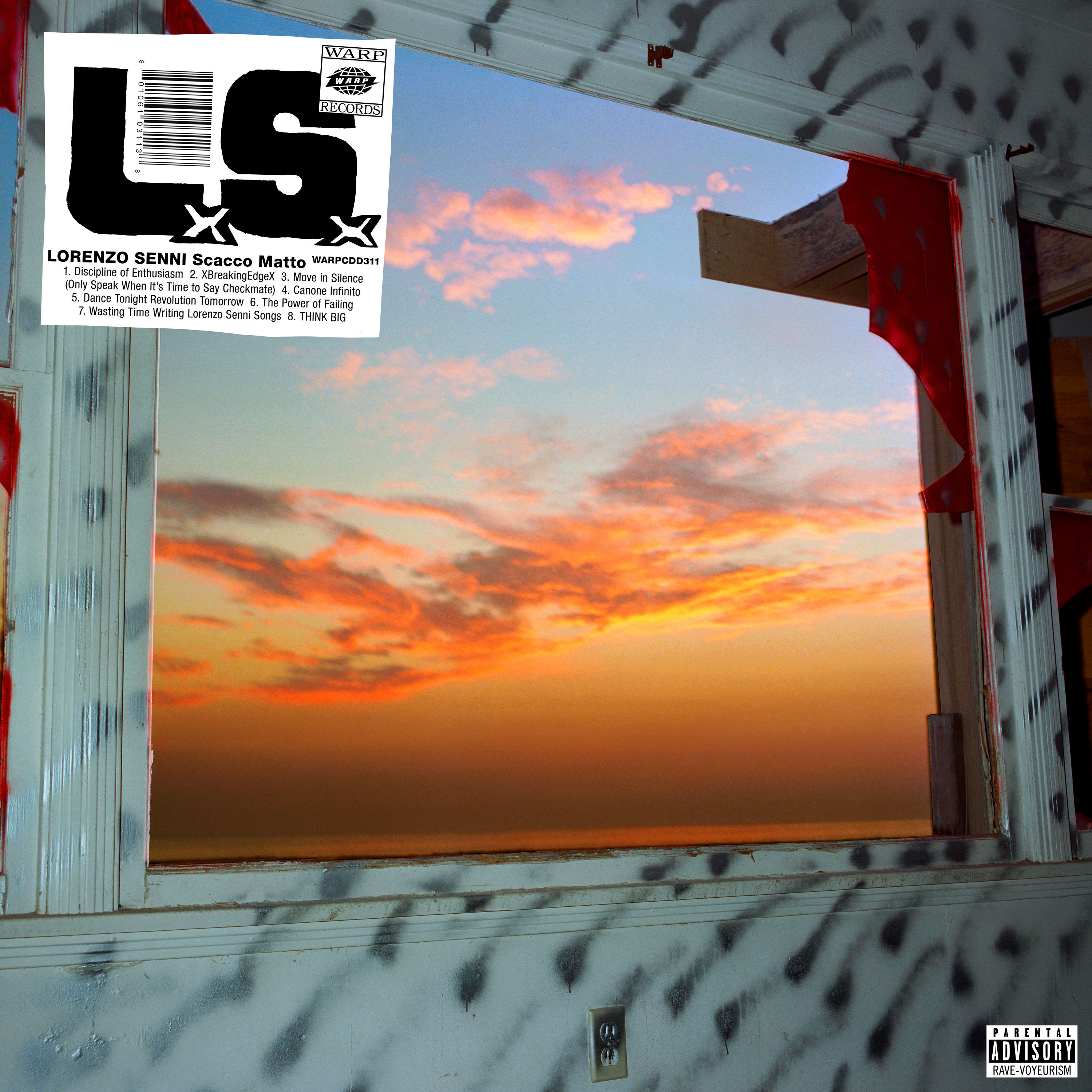 Discipline of Enthusiasm
XBreakingEdgeX
Move in Silence (Only Speak When It's Time to Say Checkmate)
Canone Infinito
Dance Tonight Revolution Tomorrow
The Power of Failing
Wasting Time Writing Lorenzo Senni Songs
THINK BIG
TAGS: