APPARAT annuncia SOUNTRACKS, box set di quattro vinili in edizione limitata in uscita il 16 aprile 2021 su Mute.
APPARAT, alias di Sascha Ring, annuncia i dettagli del Boxset in vinile in edizione limitata, che riunisce quattro colonne sonore realizzate recentemente dall'artista. L'uscita è prevista il 16 Aprile su Mute e per la prima volta le colonne sonore saranno disponibili in vinile, il boxset include un booklet di 16 pagine.

Ascolta 'Joel', tratto dalla colonna sonora di Dämonen

Soundtracks include la colonna sonora di Capri-Revolution (2018, dir: Mario Martone), vincitore di vari premi, realizzata con la collaborazione Philipp Thimm. Capri-Revolution è stata premiata come Migliore Colonna Sonora al 75° Festival di Venezia (2018), Migliore Colonna Sonora dall'Accademia del Cinema Italiano al premio David di Donatello (2019) e il Premio Migliori Musiche al Bari International Film Festival (2019). Ring e Thimm appaiono nel film in piccolo ruoli.

Dämonen è la colonna sonora della seconda collaborazione di Apparat con il tedesco Sebastian Hartmann, famoso direttore di teatro (la prima collaborazione Krieg und Frieden (Music for Theatre) è stata pubblicata su Mute nel 2013). La musica è stata scritta insieme a Thimm e Christoph Hamann, per la produzione teatrale di Hartmann dell'opera Demoni di Dostoevsky ed è stata ri-registrata e arrangiata per poter essere pubblicata e vivere di vita propria.

Equals Sessions raccoglie musica dal film Equals (2015, dir: Drake Doremus), vincitore del Premio Soundtrack Stars al Festival del Cinema di Venezia (2015). Questa nuova presentazione vede parti della colonna sonora (l'intera colonna sonora è stata scritta da Ring, Nackt and Dustin O'Halloran) ri-arrangiate, ri-registrate e aggiornate da Ring e Philipp Thimm nel 2020.

Stay Still - un'altra collaborazione con Philipp Thimm – è la colonna sonora del film di debutto di Elisa Mishto, Stay Still (2019). Nella colonna è presente una versione di 'Bad Kingdom' registrata originariamente dai Moderat (Ring con Sebastian Szary e Gernot Bronsert di Modeselektor). Ascolta 'Bad Kingdom (Lulu's Version)' qui


Il più recente album di Apparat, LP5 (2019) è stato nominato ai Grammy e la produzione di Krieg und Frieden (Music for Theatre) l'ha portato a lavorare come compositore per teatri, film e televisione. Recentemente, la sua musica è stata utilizzata dalla Serie Tv Dark ('Goodbye', da The Devil's Walk), oltre a Breaking Bad, Nikita e molte altre produzioni.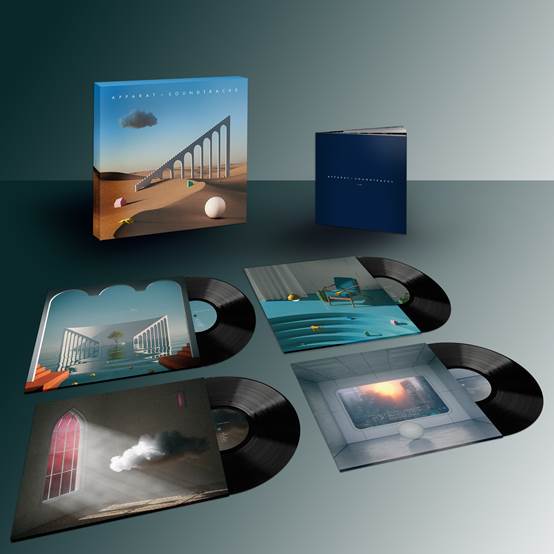 Capri-Revolution tracklisting
1. Silia
2. Pildoh
3. Neruvola
4. Licidana
5. Silia Reprise
6. La Gravidanza
7. Harper Caprira
8. Electricity
9. EC Blip
10. Paestum Neruvola
11. Reconciliation
12. Goldkind
13. Arcneae

Dämonen tracklisting
1. Tolga
2. Maleachi
3. Joel
4. Habakuk
5. Hosea
6. Micha
7. Sacharja
8. Hosea, Next Level (feat. Komma)
9. Jona
10. Fiebertraum
11. Amos

Equals Sessions tracklisting
1. Glass
2. Love Theme (Live in Paris)
3. Slice Jam (Live in Paris)
4. Sad Mug
5. Infected
6. Big Romance
7. Dark Anthem (Live in Paris)
8. Knowing
9. Escape From Den
10. A Nightmare
11. The Past

Stay Still tracklisting
1. The Lake
2. Suicide
3. Fire
4. Bad Kingdom (Lulu's Version)
5. Scissors
6. Marlene's Birthday
7. Ant To End
TAGS: