SLEAFORD MODS annunciano il nuovo album SPARE RIBS, in uscita il 15 gennaio su Rough Trade Records. Guarda il video per il nuovo singolo "MORK n MINDY" Featuring BILLY NOMATES.
Pronti a togliere le ragnatele dalla vita liberando umorismo e fascino su tutti noi, gli Sleaford Mods annunciano oggi il sesto album in studio Spare Ribs in uscita il 15 gennaio su Rough Trade Records.
Il nuovo singolo "Mork n Mindy" featuring Billy Nomates è disponibile oggi. Il video diretto da Ben Wheatley (il cui ultimo lavoro Rebecca è disponibile su Netflix e vede il cameo del frontman Jason Williamson) è stato girato a Nottingham, in una replica della casa in cui Jason è cresciuto. Ieri sera la band si è esibita con il brano al Seth Meyers negli Stati Uniti e il presentatore Seth ha trasmesso il singolo, registrato al 100 Club a Londra nel mese di settembre.
Riguardo al brano Jason afferma, "Mork n Mindy è il suono del riscaldamento centralizzato e l'odore terribile della cena della domenica in una casa nel 1982. Cemento, garage ammaccati, nicotina. Dove la bellezza esiste principalmente nelle piccole crepe sul guscio della tua immaginazione. Catturata perfettamente nel video di Ben Wheatley per il brano."
Il polemico Jason Williamson e l'abile produttore Andrew Fearn scalciano e mordono inveendo contro l'ipocrisia, la disuguaglianza e l'apatia con il loro senso dell'umorismo inimitabile e scabroso. E Spare Ribs, il loro sesto album che vede la partecipazione di Amy Taylor dei punk australiani Amyl and the Sniffers e la nuova recluta inglese Billy Nomates, trova il duo carico di collera nei confronti dell'atteggiamento presuntuoso del governo britannico con il suo approccio menefreghista alla crisi causata dal coronavirus.
Registrato a luglio in isolamento in un furioso blitz in studio di tre settimane al JT Soar, l'album inizia con il loro primo brano 'intro', lo sperimentale "A New Brick" che vede Jason impersonificare, secondo la sua descrizione, un "direttore di circo" riconoscendo con ironica allegria "We're all so Tory tired / And beaten by minds small." Lui insiste che non c'è alcun motivo di fingere ottimismo sui 10 anni dei Tory: "L'unico modo per fargli guerra, spiegandolo in modo intelligente, e non sentirsi intimiditi dall'idea di essere negativi".
Riguardo al nuovo album Jason afferma, "Le nostre vite sono sacrificabili per la maggior parte dei governi, secondarie sotto un sistema di governo monetario. Siamo scorte se volete, pezzi su uno scaffale a scopo di lucro, scartati in qualsiasi momento se una crisi costruita oppure no minaccia la produttività. È una costante, ovviamente, e in particolare nell'attuale pandemia. Le masse non possono essere presenti nelle menti di leader inadatti, no? Altrimenti la consapevolezza della gestione catastrofica paralizzerebbe le loro menti. Proprio come il corpo umano che può ancora sopravvivere senza un set completo di costole, siamo tutti 'costine di scorta', preservazione per il capitalismo e disponibili come parti di ricambio."
Spare Ribs è il suono di una band così sicura del proprio terreno sonico, che può ora esplorare le regioni circostanti. Riguardo al titolo dell'album, Jason afferma che deriva "dall'idea del grande numero di persone che sono morte a causa della prima ondata di coronavirus; le vite umane sono sempre sacrificabili per l'elite… siamo perennemente delle costine di scorta." Eppure gli Sleaford Mods sono una parte essenziale dell'anatomia musicale britannica.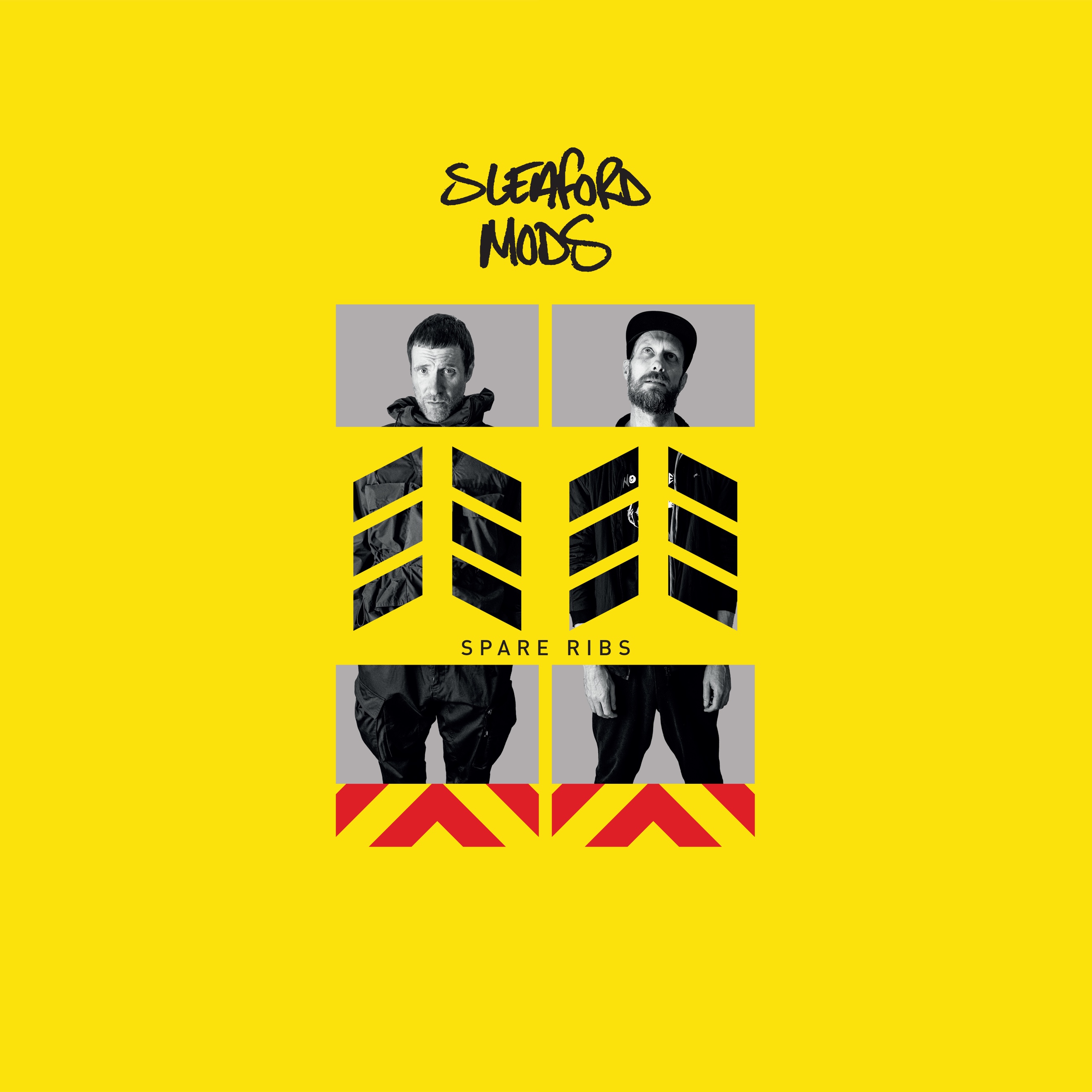 The New Brick
Shortcummings
Nudge It (Features Amy Taylor Amyl and the Sniffers)
Elocution
Out There
Glimpses
Top Room
Mork n Mindy (Features Billy Nomates)
Spare Ribs
All Day Ticket
Thick Ear
I Don't Rate You
Fishcakes
TAGS: