THAO & THE GET DOWN STAY DOWN annunciano il nuovo album TEMPLE, in uscita il 15 maggio su Ribbon Music/Domino. Guarda il video per "Temple".
Thao & The Get Down Stay Down, la band di San Francisco capeggiata da Thao Nguyen, pubblicherà il quinto album di studio il 15 maggio via Ribbon Music e in occasione dell'annuncio svela il video della title-track diretto da Jonny Look con la coreografia di Erin S. Murray.
L'album è uno dei lavori più aperti e onesti di Thao, che la vede uscire allo scoperto nella vita pubblica dopo una lunga carriera in cui ha taciuto la sua identità queer nel tentativo di evitare problemi con la propria cultura e una famiglia che lei ama profondamente. "Ma quella merda ti ucciderà," dice Thao.
"Mi sono divisa in così tanti 'io'… Sono nervosa, ma speranzosa che appartenendo a me stessa io possa ancora appartenere alla mia famiglia e alla comunità vietnamita." E continua: "Credo che la vergogna abbia reso il mio lavoro più generale, quando ho sempre voluto essere specifica. Questo disco parla del fatto che finalmente sono diventata specifica. Se ascolti la mia musica, voglio che tu sappia con chi hai a che fare."
Thao aveva quasi deciso di non fare più dischi, sentendo che la musica rock non era più un mezzo espressivo adeguato a ciò che voleva dire. Ma fare dischi era necessario; la costrinse a creare uno spazio all'interno del quale potesse finalmente esistere come "se stessa".
Temple è un album che ha come motore l'amore e il bisogno urgente di vivere una vita piena e completa. Thao e la sua compagna si sono sposate di recente: "Ho il mio partner e abbiamo la nostra casa che mi radica in questa vita, nella mia unica vita. E tutto ciò faccio ora, ovunque vada, ogni volta che mi presento alla gente, sono finalmente me stessa."
Temple è il primo disco autoprodotto dei Get Down Stay Down. Thao ha collaborato con il vecchio compagno di band Adam Thompson per la produzione, il quale condivide anche i crediti per cinque canzoni, mentre Mikaelin "Blue" Bluespruce (Solange, Carly Rae Jepsen, Mariah Carey) ha mixato il tutto.
"BLUE è un esperto di missaggi hip-hop e pop ed è quello che volevamo," dice Thao. "Più fedeltà, più beat in primo piano, groove pesanti e coinvolgenti… toni lussureggianti."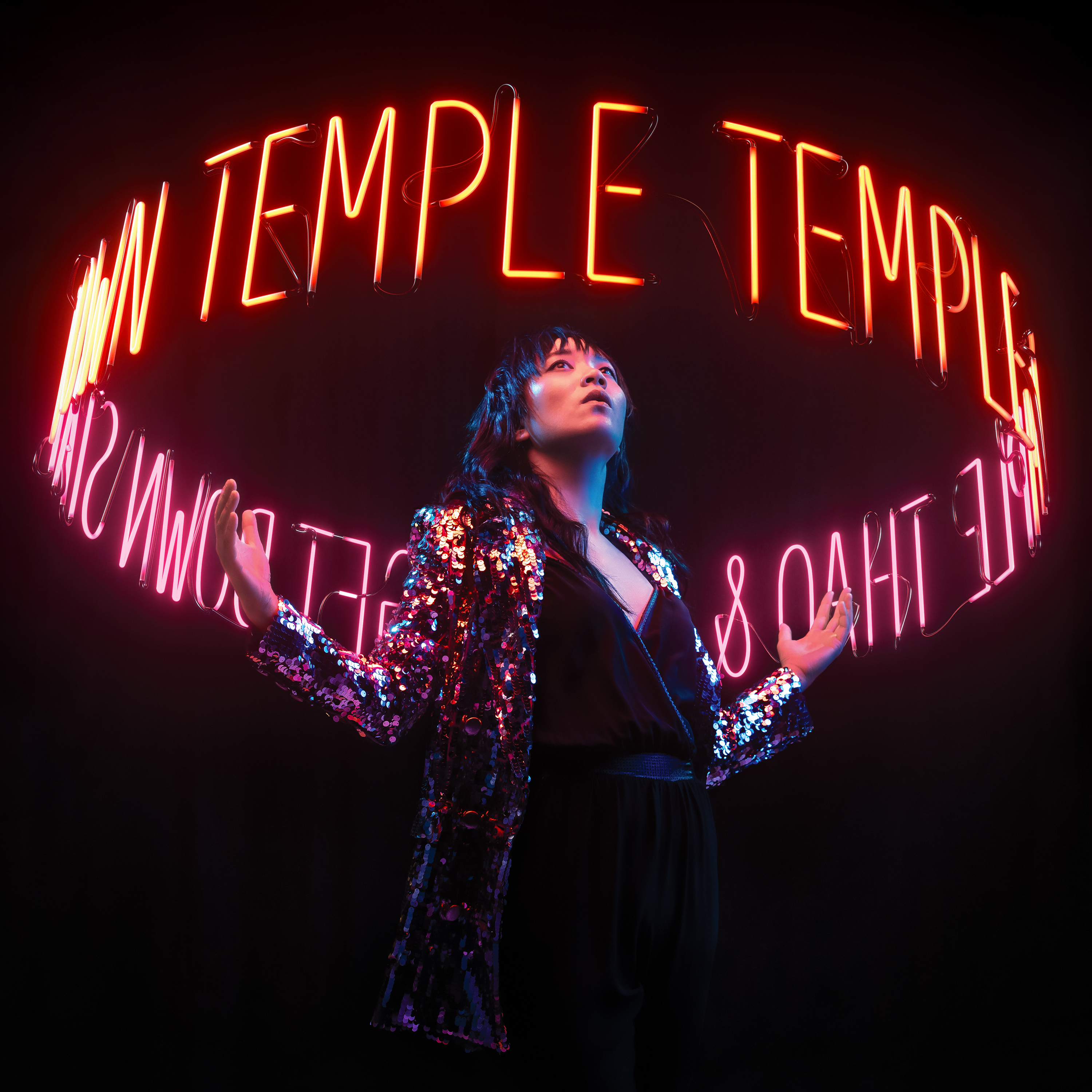 Temple
Phenom
Lion on the Hunt
Pure Cinema
Marauders
How Could I
Disclaim
Rational Animal
I've Got Something
Marrow
TAGS: