PIERCE THE VEIL annunciano "The Jaws of Life", il nuovo album uscirà il 10 febbraio via Fearless Records. Guarda il nuovo singolo "Emergency Contact". 
I Pierce The Veil (il chitarrista/vocalista Vic Fuentes, il chitarrista Tony Perry e il bassista Jaime Preciado) hanno annunciato il loro nuovo album The Jaws of Life. Il disco arriverà il 10 febbraio 2023 tramite l'etichetta di lunga data Fearless Records. La band ha condiviso il video dell'ultimo singolo "Emergency Contact".

"C'è tanta disperazione alla base del testo di questa canzone", dice Fuentes. "Parla di una relazione in cui una persona è pronta a passare al livello successivo, mentre l'altra è ancora incerta. Una persona implora l'altra di andare avanti o di lasciarla andare, perché rimanere bloccati nel mezzo è una tortura". Prosegue: "Ho scritto questa canzone a Seattle nello studio di Mike Herrera degli MXPX. Mi ha permesso di vivere lì per un paio di mesi mentre lavoravo al disco. Mi piace scrivere a Seattle perché mi dà tutte le vibrazioni del grunge rock degli anni '90. In più, piove sempre. Inoltre, piove sempre, e io amo la pioggia".

Per quanto riguarda The Jaws of Life nel suo complesso, Fuentes dice: "Questo album ci ha veramente avvicinati come non mai. È stato estremamente difficile per noi stare lontani dalla strada per così tanto tempo. Non ci è mai mancato nulla di più che suonare insieme e non abbiamo mai avuto un così forte apprezzamento per la registrazione, il tour e il semplice stare insieme nella stessa stanza come ora. The Jaws of Life parla di come la vita possa affondare i suoi denti e cercare di divorarti. La negatività nel mondo e nella tua mente può essere una cosa feroce. Siamo estremamente grati per questo disco, per i nostri fan e per l'opportunità di suonare di nuovo dal vivo".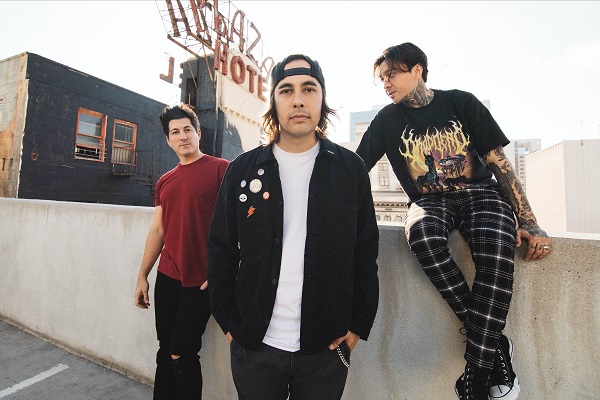 I Pierce The Veil sono diventati un'icona del loro genere, e a ragione. Il loro ritorno è stato accolto ferocemente, ricevendo gli elogi della stampa da Paper, Gawker, MTV, Ones to Watch, Yahoo e altri ancora. Nel frattempo, il primo singolo "Pass the Nirvana" ha accumulato oltre 13 milioni di stream dal suo lancio a settembre.

Hanno anche debuttato due volte in cima alle classifiche Top Rock Albums, Alternative Albums e Hard Rock Albums di Billboard, prima con Collide With the Sky (2012) e il suo seguito, Misadventures (2016). A dieci anni dalla sua uscita, il già platino "King for a Day" è salito al n. 1 della classifica Hard Rock Streaming di Billboard, spinto dall'hashtag virale #KingForADay su TikTok. Anche con due singoli e un album d'oro, l'anno prossimo potrebbe essere il più importante. Perché questo è l'anno di The Jaws of Life.

La band che Rolling Stone ha definito "post-hardcore iperattivo e progressivo", torna con l'album numero cinque, pieno di chitarre fuzzy, ganci melodici massicci e lo spiccato cuore emotivo dei PTV. The Jaws of Life è l'album più crudo dei Pierce The Veil, che scricchiola per l'urgenza e l'immediatezza. Mai prevedibili, sempre coinvolgenti, i Pierce The Veil continuano a volare sulla forza di un'energia potentissima, di una musicalità ricca e di un senso di autentica ambizione esuberante che francamente non ha eguali. Fuentes, Perry e Preciado mettono nella musica emozioni volatili, angosciose e confessionali, ed è per questo che le loro canzoni risuonano con tanti. "Non importa dove la band si esibisca, i fan si presenteranno", ha scritto Loudwire. "Quando vedrete i Pierce The Veil dal vivo, capirete perché".

L'evoluzione dei PTV da un album all'altro è a dir poco stupefacente. L'entusiasmo suscitato da A Flair for the Dramatic (2007) ha reso il suo seguito uno degli album più attesi del 2010. Selfish Machines ha raggiunto il numero 1 della classifica Heatseekers di Billboard. Il Chicago Tribune ha salutato Collide with the Sky per il suo "punk post-hardcore con più di qualche cenno ai Queen". Con Misadventures sono diventati un vero e proprio gruppo da arena, che ha fatto il tutto esaurito in locali enormi senza perdere il legame intimo con i propri fan.

The Jaws of Life è stato prodotto da Paul Meany (Twenty One Pilots, Mutemath, The Blue Stones) e mixato da Adam Hawkins (Machine Gun Kelly, Turnstile, Twenty One Pilots). L'argomento mortalmente serio abbonda, ma i Pierce The Veil lo affrontano con grazia. I testi continuano la tradizione di Fuentes, fatta di onestà scrupolosa e di intelligenti giri di parole. I Pierce The Veil si esibiscono nei più grandi festival e sono annoverati tra i più grandi e brillanti gruppi della nuova generazione. Ma tutto inizia con le canzoni. The Jaws of Life è pieno di canzoni che mantengono il fuoco dei PTV acceso per sempre.
"THE JAWS OF LIFE"
Death of an Executioner
Pass the Nirvana
Even When I'm Not With You
Emergency Contact
Flawless Execution
The Jaws of Life
Damn The Man, Save the Empire
Resilience
Irrational Fears (Interlude)
Shared Trauma
So Far So Fake
Fractures