THE PINEAPPLE THIEF presentano THE SOORD SESSIONS: VOLUMES 1-4, la raccolta completa delle session acustiche dal vivo del frontman della band Bruce Soord trasmesse in streaming durante il lockdown. L'edizione Deluxe con 4 dischi e libro cartonato uscirà per Kscope il 16 aprile 2021.
Negli ultimi anni The Pineapple Thief, guidati da Bruce Soord e sostenuti alle pelli dal maestro batterista Gavin Harrison, sono rapidamente saliti ai vertici della scena Alternative Rock europea.
Con il plauso dei media e dei fan di tutto il mondo, nel settembre 2020 è uscito Versions Of The Truth, l'ultimo capitolo della discografia della band. Questo doveva essere seguito, quasi immediatamente, da un vasto tour live che purtroppo, a causa della situazione COVID-19 in corso, è stata rimandato al 2021.
Bruce Soord, non volendo deludere i fan, ha annunciato che si sarebbe esibito in una performance acustica streaming in solo, suonando canzoni dal repertorio di The Pineapple Thief. Grazie al successo della prima performance, le session sono state quattro durante l'estate.
Bruce Soord spiega: "Nella primavera del 2020 ho deciso di fare uno spettacolo acustico dal vivo dal mio studio casalingo in soffitta. Ho pensato di allestire qualcosa di un po' più prodotto rispetto a quello che vedevo in giro. Ho creato un piccolo paradiso di chitarre, pedali, looper, microfoni e webcam e li ho mixati tutti insieme pronti per essere inviati al mondo".

Bruce Soord non aveva mai trasmesso uno spettacolo dal vivo e non aveva suonato in solo la maggior parte di quel repertorio, anzi, alcuni di quei brani non erano mai stati eseguiti in concerto.
"Ho suonato il mio primo spettacolo, tuffandomi a capofitto nell'ignoto e quando ho saputo quante persone l'avevano apprezzato, ho deciso di fare altre 3 sessioni nelle settimane successive, suonando brani dai 20 anni con i Pineapple Thief e più recentemente dal mio repertorio solista".
The Soord Sessions Volumes 1-4 sarà pubblicato in un'edizione deluxe con 4 CD con copertina rigida. I 4 CD contengono 36 tracce dalla discografia di The Pineapple Thief e dagli album solisti di Bruce Soord. Il libro di 48 pagine contiene un'estesa introduzione e note su ogni session scritte da Bruce Soord più foto inedite dallo studio casalingo in soffitta e immagini dai live stream insieme a informazioni tecniche e personali sull'attrezzatura usata.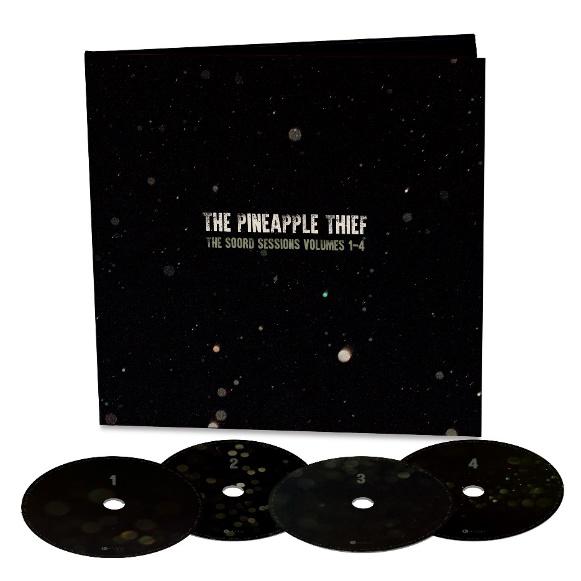 DISCO 1 (Soord session 1 - acoustic)
1. Intro [00:47]
2. Shoot First [05:03]
3. Willow Tree [05:59]
4. Part Zero [08:30]
5. No Man`s Land [06:44]
6. Snowdrops [07:22]
7. The Final Thing On My Mind [14:26]
DISCO 2 (Soord session 2 - acoustic)
1. Intro [00:46]
2. Magnolia [05:04]
3. My Debt To You [06:21]
4. Alone At Sea [08:25]
5. Clapham [06:19]
6. Cut The Flowers [08:06]
7. Shed A Light ([08:23]
8. White Mist [13:03]
Bonus Track
9. White Mist [13:11](Soord session 5 - acoustic)
DISCO 3 (Soord session 3 - acoustic)
1. Intro [00:41]
2. All The Wars [04:48]
3. Threatening War [07:37]
4. Fend For Yourself [05:23]
5. The One You Left To Die [06:14]
6. Someone Here Is Missing [04:14]
7. Reaching Out [10:06]
8. A Loneliness [03:32]
9. Remember Us [12:32]
Bonus Track
10. A Loneliness [03:20](Soord session 5 - acoustic)
DISCO 4 -(Soord session 4 - acoustic)
1. Intro [00:25]
2. In Exile [05:04]
3. Someone Pull Me Out [04:33]
4. Demons [07:51] GUARDA IL VIDEO
5. All This Will Be Yours [06:11]
6. Last Man Standing [05:39]
7. The Solitary Path Of A Convicted Man [03:51]
8. Versions Of The Truth[06:17]
9. Bond [07:58]
Bonus Track
10. Barely Breathing [04:21]
TAGS: