In questo periodo di reclusione forzata gli Oblomov hanno deciso di rendere disponibili in download gratuito tutti gli album della loro discografia. Non perdeteveli!
Gli Oblomov sono un duo di origine italo/russa inizialmente stabilitosi nel 2015 in Italia (Bologna) per una collaborazione con il pittore Adriano Fida, un sodalizio artistico nato dall'idea di mettere in musica i quadri del pittore vincitore del premio Expo Arte 2015.
Nasce così un progetto sui generis che vede l'esordio dal vivo a fine 2015 a Berlino, per poi continuare per tutto il 2016 con un tour di oltre 40 date in promozione del primo album Sound of the Soul. Ad impreziosire le performance dal vivo degli Oblomov sono le ambientazioni surreali, ricreate anche grazie a proiezioni e ad una vecchia televisione degli anni '50 che fa da vero portavoce del gruppo, proiezioni su tela ed una performance unica in pieno stile oblomovista. Un'attitudine che frutta alle esibizioni degli Oblomov la definizione di anti-concerto.

"...vanno assolutamente visti dal vivo, nei loro "anticoncerti rock" in cui il fluxus musicale electro (solo il basso è suonato dal vivo) scorre su una raffinata regia, che manda su due schermi video uno psichedelico "blob" di frammenti di film cult, da Meliès al Gabinetto del Dottor Caligari al Kubrick nello spazio, da Blade Runner a ripugnanti b-movie horror. Se siete fortunati potrebbero offrirvi anche un caffè, fatto al momento nel salottino con tavolo e candele che è il loro set."
assante.blogautore.repubblica.it
Dopo la pubblicazione dell'EP Multiexit, diffuso gratuitamente sul web e che vede tra i brani anche due rarissime cover (una versione di Russians di Sting con un testo adattato ai giorni nostri, e L'immensità di Don Backy con lo stesso Don Backy alla voce), gli Oblomov tornano sulla strada per un altro tour che li porta un po' ovunque in Italia, isole comprese. Dopo avere collaborato per i primi due album con il maestro Adriano Fida, tra i massimi esponenti della corrente neo-figurativa, gli Oblomov allargano il raggio delle proprie collaborazioni aggiungendo Alessandro Sicioldr al lungo elenco delle partnership artistiche in essere.

L'artwork onirico riflette i tratti dipinti dalla musica degli Oblomov, tra tinte dark e sprazzi electro-rock, con una vena psichedelica e sognante a permeare le atmosfere. Emotional Garbage è stato interamente registrato, mixato e masterizzato da Ilja Ilic e Zachar, polistrumentisti e produttori che si sono avvalsi della collaborazione dell'amico e maestro Maxim Ilizarov per la batteria. Il disco è disponibile in edizione limitata in sole 500 copie in un formato unico e atipico: il cd è infatti incastonato in una cornice da appendere al muro come un vero quadro, con l'artwork e il booklet firmati da Alessandro Sicioldr.
Per scaricare gratuitamente musica e artwork, curati dai pittori Adriano Fida e Sicioldr, è sufficiente cliccare sulla foto.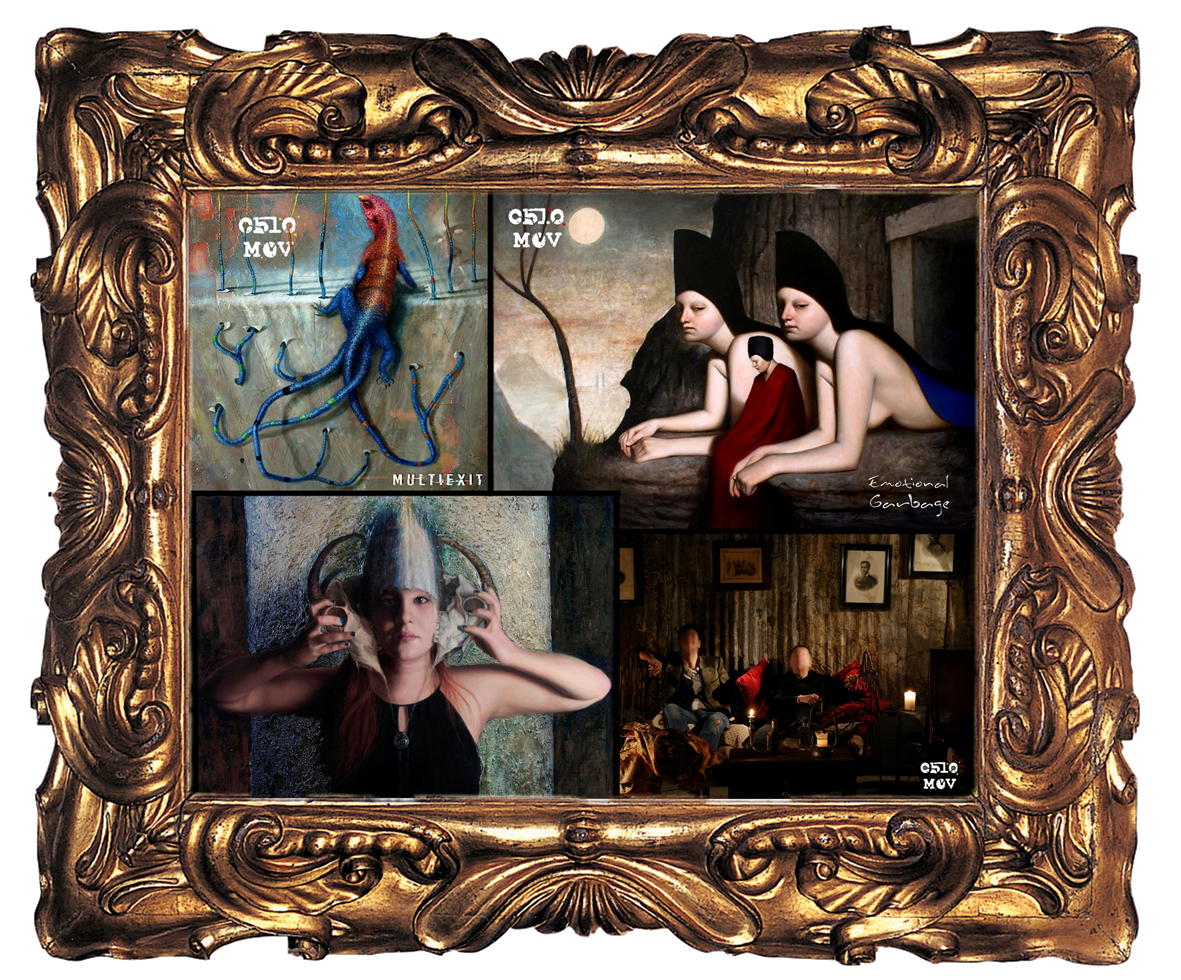 TAGS: