Mira Calix pubblicherà il 25 gennaio l'EP "Utopia" su Warp Records.
Si tratta della prima pubblicazione di Calix su Warp da un decennio a questa parte. Un decennio in cui l'installazione di vari media e il lavoro espositivo, con particolare attenzione alla strumentazione classica, sono stati l'obiettivo principale. Il suo progetto più recente è un'installazione sonora che prevedeva un'ambiziosa opera corale, artisti performativi e un sistema di diffusori audio unico. Before the Deepening Shadow presso la Tower of London si è svolta dal 4 all'11 novembre ha visto oltre 30.000 visitatori, creando una tempesta mediatica internazionale.
La base per il titolo del nuovo EP e anche brano principale – "rightclick" – è stato Utopia, un film scritto e diretto dal romanziere di fama internazionale Adam Thirlwell (pubblicato il 6 dicembre 2018). Nel cortometraggio interpretato da Lily Cole e Lily McMenamy, una ragazza cerca di creare una comune in un piccolo appartamento e trova i suoi ideali di vita utopica testati ed espansi come la versione alternativa della traccia frammentata della Calix che funge da fondamenta.
"Negli ultimi anni ho realizzato per lo più installazioni, cosa che trovo elettrizzante, ma la natura della mia pratica mi permette di lavorare con molte mani, molti oratori, molti materiali, molti musicisti per lunghi periodi. È stato davvero rinfrescante fare questo EP, darmi un limite di tempo, un rigido set di regole, una tavolozza sonora stretta, ed essere completamente autonoma come scrittrice, produttrice e musicista. In un certo senso, è come tornare alle mie radici, la mia prima pubblicazione in assoluto su Warp fu un 10', ma è stato anche piacevole e giocoso costruire alcune tracce attorno a una scena cinematografica."
Il ritorno alla strumentazione elettronica e ritmi dance rilassati si instrada nel paesaggio fisico. Nella creazione di questi quadretti l'artista ha usato suoni trovati, ritagli di materiali sonoro esistente dalla sua library personale, portando nella musica una sorta di approccio collage. Esplorando ulteriormente questo approccio frammentato, dispiega la propria voce come uno strumento, un cut-up che rifrange e ricontestualizza il materiale per arrivare a concepire un suono direttamente influenzato dalla vista.
"rightclick" è stata creata appositamente per il film, le tre tracce successive sono nate dopo e sono state concepite come un EP in forma grafica, un découpé sonico, se volete. I concept dietro ai riff dei singoli brani derivano dal ruolo della musa, lo sguardo maschile, la nostalgia contro la modernità e la distribuzione e categorizzazione dell'arte e dell'idillio utopico: "upper ups" rimanda alle muse di alcuni degli artisti più famosi del mondo, "bite me", un discorso sull'arte, mentre "just go along" esplora la fuga e l'ossessione.
Anche l'artwork di copertina, un fotomontaggio, ha lo stesso approccio. Un insieme di autoritratti scultorei che prendono spunto dall'anatomia astratta, offrendo una combinazione di annessi collage che riflettono il colore e la forma della musica. Calix ha sempre creato disegni e materiale grafico come parte del processo di composizione – visibile sul suo portale – dove ha distribuito materiali vecchi e nuovi provenienti dalle installazioni degli ultimi 18 mesi.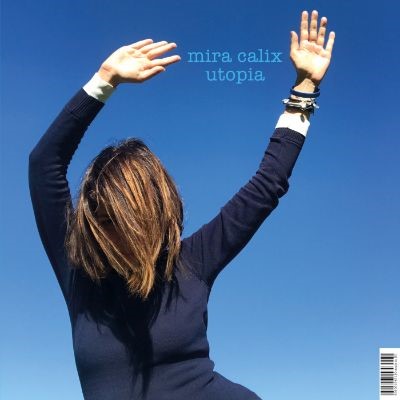 A1. rightclick
A2. just go along
B1. upper ups
B2. bite me