La reunion dei Live Skull dopo 30 anni: il nuovo album Saturday Night Massacre è una colata noise rock che vi farà ribollire il sangue!
In una nota recensione per "The New York Times" il giornalista Robert Palmer sosteneva che "La musica dei Live Skull - suonata ad altezze elevate, senza reti di protezione - è tanto stimolante quanto spiritualmente corrosiva e in ultima analisi trascendente come il free jazz della metà degli anni 60 di Albert Ayler o l'implacabile danza drone dei primi Velvet Underground. Rappresenta una delle sonorità essenziali della nostra epoca".
Icone della New York degli anni 80, i Live Skull si sono riformati e hanno portato a termine il loro primo album da trent'anni a questa parte. Intitolato Saturday Night Massacre, il nuovo album uscirà l'8 novembre 2019 su Bronson Recordings con distribuzione Audioglobe, in vinile (standard o solid blue a tiratura limitata), CD e digitale.
Assieme ai Sonic Youth e agli Swans, negli Ottanta i Live Skull hanno definito il termine "noise rock", guidando la scena musicale underground post-no-wave di NYC con una serie di leggendarie performance live e otto dischi rivoluzionari pubblicati nel corso di quel decennio (e registrati in prevalenza da Martin Bisi).
Il sound dei Live Skull è stato influenzato dal post-punk britannico - da Joy Division e Public Image Limited, in particolare - ma per la precisione era localizzato nelle profondità di Downtown Manhattan. Le registrazioni effettuate dalla band negli '80 riecheggiano il pericolo, la depravazione e la libertà creativa che hanno definito New York in quegli anni.
In brani storici come Mr. Evil, The Corpse Also Rises e I'll Break You i Live Skull hanno scolpito il loro stile e la loro visione del mondo. Ovvero doppie chitarre aggressive e taglienti, linee di basso dominanti, batteria marziale e ipnotica, voci maschili e femminili a intrecciarsi per evocare un immaginario da serial killer in abbinamento all'intensità della vita reale nella Gotham degli anni 80.
I Live Skull hanno lasciato il segno sulla scena di NYC, suonando in posti come CBGB e Danceteria, ma anche girando il Paese in tour con artisti del calibro dei Jane's Addiction. Positraction del 1989 è stato il loro ultimo album prima della reunion del 2019 e l'arrivo di Saturday Night Massacre.
Saturday Night Massacre, dunque, è un ritorno sorprendente. Nel frattempo sono trascorsi tre decenni, ma qui c'è una band che suona più fresca e vera che mai. La tensione e il senso di terrore emanati dalla produzione degli '80 sono intatti, bilanciati da qualcosa di stranamente seducente. L'inconfondibile voce del fondatore e frontman Mark C è sempre urgente, ma con l'età si è riscaldata – gentile e inquietante, in un colpo solo. La title track, Up Against The Wall, Details Of The Madness e Identical Skies sono canzoni rock appassionate, tra le più memorabili che i Live Skull abbiano mai realizzato.
La formazione all'opera su Saturday Night Massacre è allora costituita da Mark C, dal batterista Rich Hutchins (nel gruppo dal 1987 al 1989) e dal nuovo bassista Kent Heine (sodale di Mark C nel progetto elettronico o13). L'album conta anche sulla partecipazione dei componenti originari Thalia Zedek e Marnie Greenholz.
Saturday Night Massacre è stato registrato e mixato da Mark C e i Live Skull al Deepsea di Hoboken, NJ, e masterizzato da Fred Kevorkian (Iggy Pop, Debbie Harry, Peter Murphy).
L'artwork di copertina è stato invece creato dall'acclamato artista e fumettista Gary Panter (vincitore di un Emmy Award come scenografo per Pee Wee's Playhouse).

Saturday Night Massacre è anche un disco politico. Mark C ha dichiarato in proposito al ritorno della band: "I Live Skull sono nati durante l'amministrazione Reagan, la cui agenda anti-progressista, di destra, introdusse quelli che Mark E. Smith definì 'i nuovi secoli bui'. È quindi appropriato che ci riuniamo trenta anni dopo, nel bel mezzo di una nuova era di forze anti-illuministe in ascesa, più che mai motivati ad amplificare le nostre preoccupazioni per la difesa della libertà sociale e artistica. Ai tempi, i Live Skull hanno utilizzato le immagini dei film gore per esprimere la disillusione nei confronti della svolta della società verso l'oscurità. Adesso i fatti sono abbastanza gore, ovvero cruenti, di per sé. Non stiamo continuando semplicemente da dove eravamo rimasti, perché il mondo è cambiato e siamo cambiati anche noi. Ma i nostri valori fondamentali e l'interesse per le possibilità illuminanti della pura espressione individuale sono rimasti intatti. I Live Skull sono ancora impegnati a rompere le barriere sonore e sociali, a cercare liberazione e beatitudine artistica negli angoli più in ombra della musica sotterranea".
La cripta rianimata dei Live Skull genera una nuova covata di brillanti accordi e corrosivi assalti sonori che vi faranno sicuramente ribollire il sangue! Saturday Night Massacre è il nuovo capitolo dell'eterna saga di perversione e redenzione portata avanti dai Live Skull.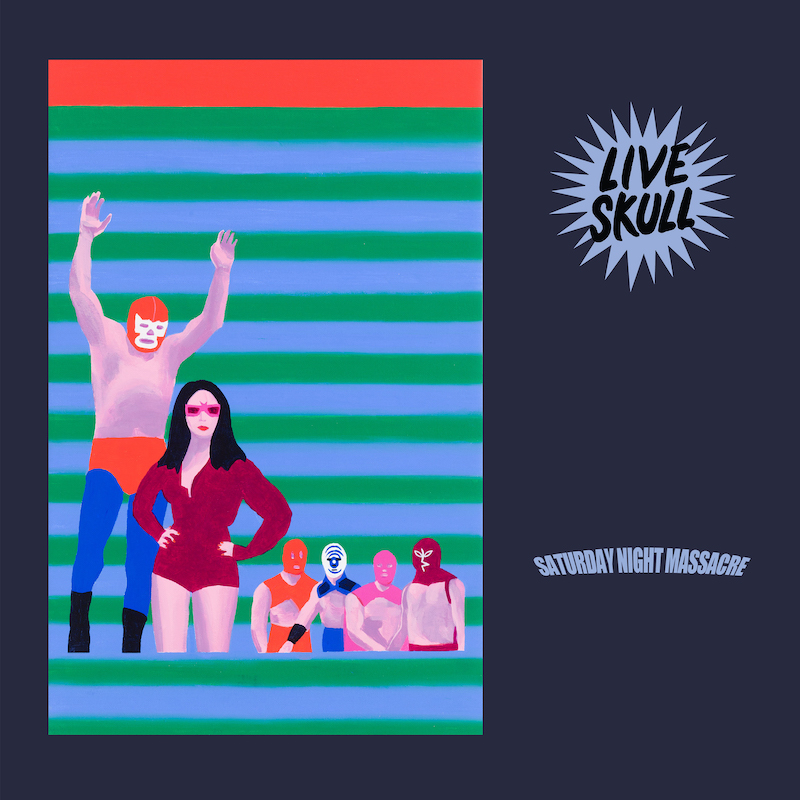 TAGS: