Gli YONAKA annunciano la pubblicazione del loro atteso album di debutto "Don't Wait 'Til Tomorrow", in uscita il 31 maggio su etichetta Asylum Records. La band di Brighton, inoltre, ha presentato il nuovo brano "Bad Company".
Don't Wait 'Til Tomorrow è il risultato di un anno di duro lavoro, anno che ha visto gli YONAKA crescere fino a diventare una delle più interessanti e seguite band del panorama rock inglese. Il nuovo album è caratterizzato dalla sfrenata energia che da sempre contraddistingue gli YONAKA. Si tratta di un album di debutto estremamente personale e traboccante di vita e caos. "Don't Wait 'Til Tomorrow" vede la formidabile frontwoman e compositrice Theresa Jarvis scavare nel profondo del proprio io, documentando le forti esperienze personali legate al delicato tema della salute mentale e l'affetto di chi le è sempre stato vicino. Alla durezza degli argomenti trattati si contrappongono perfette armonie che abbracciano la complessità emozionale dell'amore. L'album è stato interamente prodotto dalla band, decisione che rappresenta l'ennesima testimonianza della forte natura degli YONAKA.
"Scrivere 'Don't Wait 'Til Tomorrow' è stata un'esperienza catartica per me", spiega Theresa Jarvis. "Abbiamo prodotto da soli l'intero album, che comprede 9 brani inediti più 3 canzoni già pubblicate in precedenza, tra le quali il secondo brano scritto insieme: 'Awake'. Il titolo 'Don't Wait 'Til Tomorrow' è un invito a non aspettare, a fare quella telefonata, a sentire quella persona, ad assicurarsi che sia tutto ok... La title track è uno dei miei brani preferiti. Non vediamo l'ora di pubblicare l'album e speriamo che i nostri fan lo ameranno tanto quanto lo amiamo noi".
Lo scorso agosto gli YONAKA hanno pubblicato "Teach Me To Fight" (secondo EP dopo "Heavy" del 2017) e il singolo "Fired Up" ha immediatamente catturato l'attenzione delle radio inglesi scalando velocemente le classifiche fino a raggiungerne la vetta. Alla fine del 2018 è arrivato il terzo EP "CREATURE" e la title track ha portato la band ancora una volta in cima alle classifiche.
Descritti dal The Times come "una band che si prepara a riempire le più grandi arene del mondo", gli YONAKA hanno trascorso gran parte del 2018 on the road, concludendo l'anno in tour con Bring Me The Horizon e FEVER 333. Ora gli YONAKA si prerano a pubblicare quello che sarà uno dei più importanti album rock del 2019.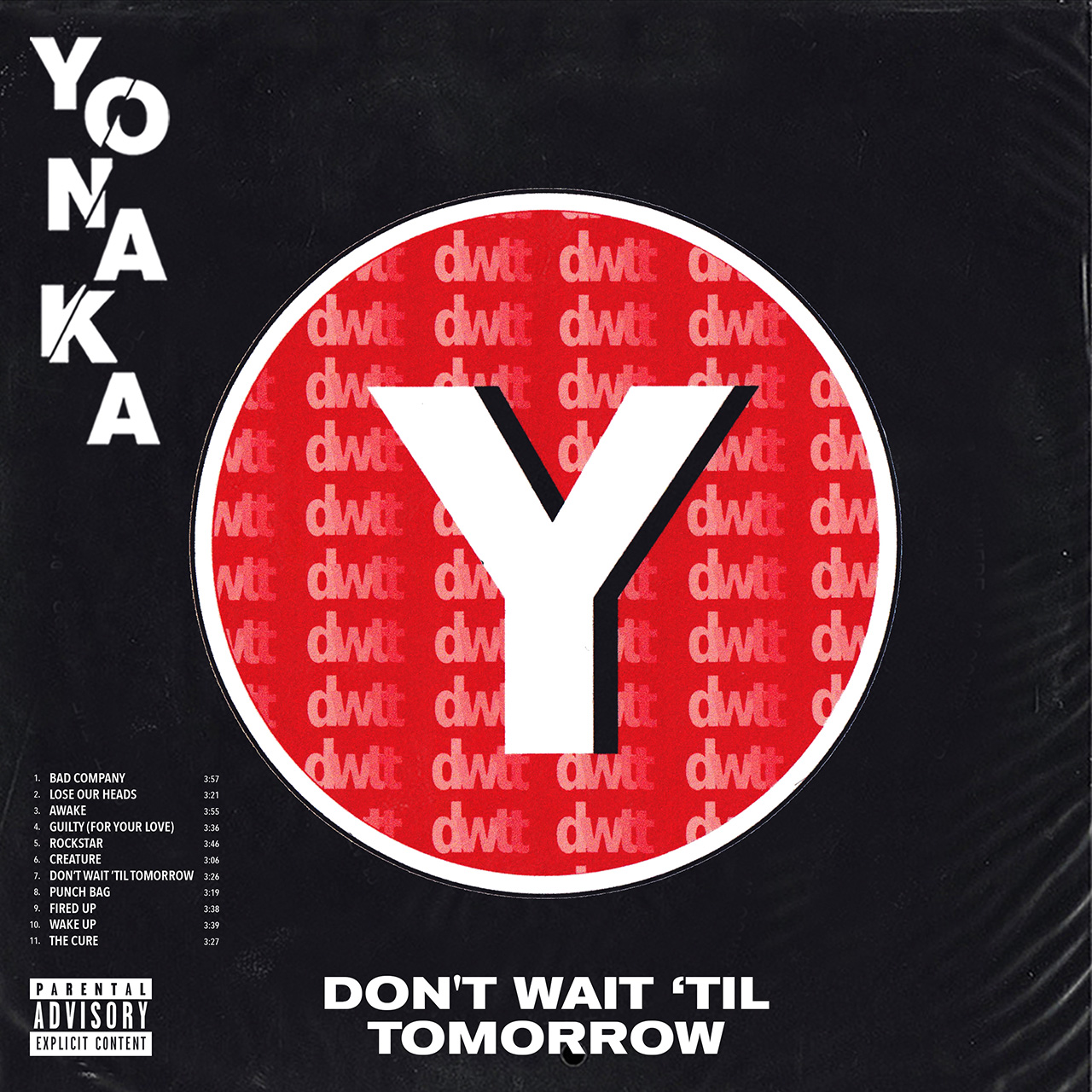 Bad Company
Lose Our Heads
Awake
Guilty (For Your Love)
Rockstar
Creature
Don't Wait 'Til Tomorrow
Punch Bag
Fired Up
Wake Up
The Cure