Henryk Górecki: Symphony No. 3 (Symphony of Sorrowful Songs)
HENRYK GÓRECKI: SYMPHONY NO. 3 (SYMPHONY OF SORROWFUL SONGS) eseguita da BETH GIBBONS con la POLISH NATIONAL RADIO SYMPHONY ORCHESTRA diretta da KRZYSZTOF PENDERECKI. Album e film in uscita il 29 marzo su Domino.
L'incredibile performance si è tenuta il 29 novembre 2014 al National Opera Grand Theatre di Varsavia, come parte di un evento che ha visto anche Jonny Greenwood (dei Radiohead) esibirsi con 48 Responses To Polymorphia e Bryce Dessner (dei The National) presentare al pubblico Réponse Lutos?awski.
Dopo l'invito a prendere parte al concerto, per Beth Gibbons è iniziata un'intensa fase di preparativi che includeva la sfida di imparare il testo originale della composizione (con il peso emotivo che ne derivava) senza neanche conoscerne la lingua. Non c'è da sorprendersi se Beth, sfuggente ma iconica frontwoman di una delle band britanniche più importanti degli ultimi vent'anni, è riuscita a superarla brillantemente. La sua esibizione insieme al maestro Penderecki è stata magnifica, come avrete modo di vedere e sentire in questo nuovo lavoro.
Il film è stato prodotto dal National Audiovisual Institute in Polonia e diretto da Micha? Merczy?ski.
Beth Gibbons è la cantante, cantautrice, produttrice e cofondatrice (insieme a Geoff Barrow e Adrian Utley) della band Portishead e anche un'artista solista. Questo album segna il suo ritorno sulla scena musicale, dalla quale era assente dal lontano 2008.
Henryk Górecki (1933 – 2010) è stato un compositore polacco di musica classica contemporanea, pare addirittura il compositore classico di maggior successo degli ultimi tempi, avendo venduto oltre un milione di copie della precedente versione di Third Symphony, Symphony Of Sorrowful Songs.
Krzysztof Penderecki viene considerato il più grande compositore e direttore d'orchestra polacco ancora in vita. La sua musica è riuscita a raggiungere un pubblico più ampio grazie all'utilizzo di suoi brani nelle colonne sonore di film come Shining e L'Esorcista.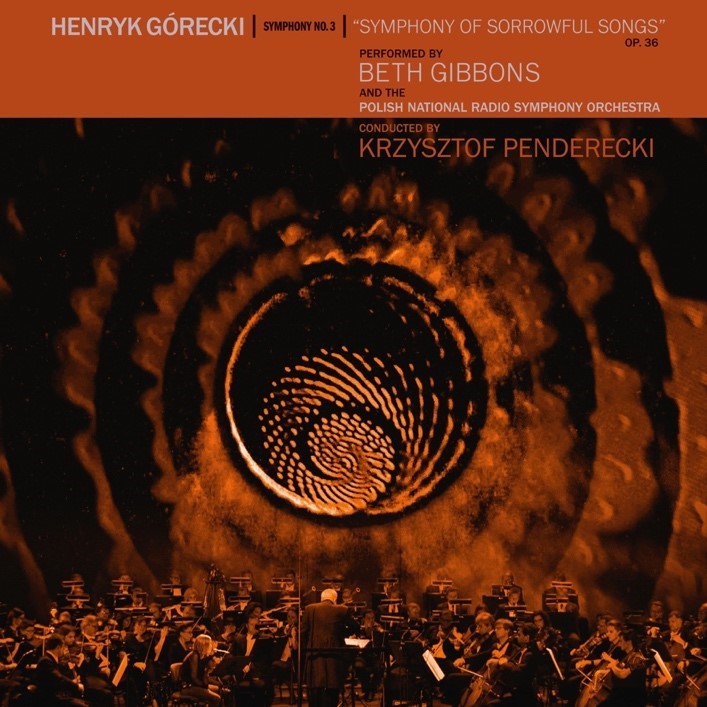 Tracklist:
I. Lento — Sostenuto tranquillo ma cantabile
II. Lento e largo — Tranquillissimo
III. Lento — Cantabile-semplice