Arriva la 1° edizione delle MILANO BLUES SESSIONS. Il 3 e 4 maggio 2019 il Blues Internazionale al Teatro San Babila.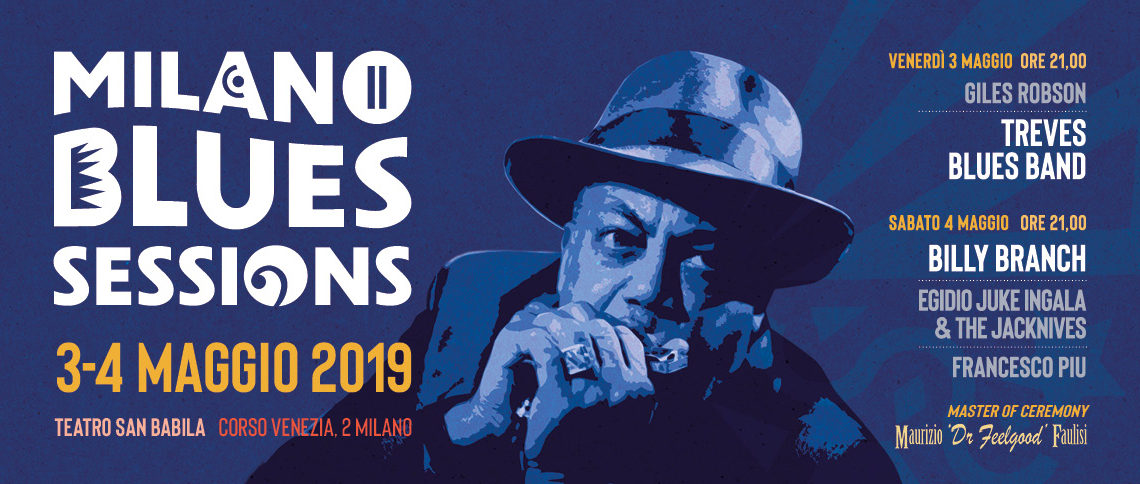 Le "MILANO BLUES SESSIONS" nascono da un'idea di The Blues Place, società nata nel 2018 da un gruppo di appassionati con l'obiettivo di far conoscere il genere ad un più vasto pubblico possibile organizzando eventi di qualità in locations di rilievo dell'area milanese. La mission è quella di portare concerti di Blues all'interno di spazi teatrali delle più importanti città italiane e non solo. L'intento è quello di valorizzare il più possibile questo genere, e di ampliare l'offerta sul territorio proponendo combinazioni di sonorità e origini differenti, in uno spazio, quello teatrale, che favorisca un ascolto attento senza inibire la partecipazione del pubblico. La prima edizione, intitolata "MILANO BLUES SESSIONS", strutturata su due serate, porterà grandi nomi della scena Blues italiana ed internazionale nel capoluogo lombardo.
Venerdi 3 maggio:
GILES ROBSON, definito da Blues Matters (UK) "un armonicista di livello mondiale, che ha l'autorita?, il credito e l'esperienza proprie soltanto delle leggende". Giles Robson e? uno dei piu? importanti esponenti della nuova generazione di armonicisti Blues. Classe '78, ha inciso diversi dischi e suonato in alcuni dei piu? prestigiosi Festival europei. Endorser della Hohner ha di recente registrato l'ultimo album collaborando con Bruce Katz e Joe Louis Walker, per la Alligator Records.

TREVES BLUES BAND, del grande e storico bluesman milanese FABIO TREVES, il "Puma di Lambrate", simbolo e padre del Blues italiano, dal 1974 sui palchi d'Italia e di tutto il mondo tiene alta la bandiera di questa musica. I suoi concerti sono un viaggio nella storia della musica Blues, dai primi canti di lavoro a quello arcaico e campagnolo, dal Blues elettrico di Chicago a quello piu? moderno . La missione del Puma nella divulgazione dei valori del Blues continua con il nuovo tour 2019 "70 IN BLUES". Missione che gli e? valso il conferimento dell'Ambrogino d'Oro del Comune di Milano.
Sabato 4 maggio:
BILLY BRANCH, citando La Repubblica "la leggenda vivente del Blues di Chicago" con i suoi Son of the Blues, una tra le migliori band americane che nel 2017 ha festeggiato il quarantennale di attività. Billy e? uno dei piu? affermati ed influenti armonicisti degli ultimi decenni. Scoperto da Willie Dixon ha suonato in oltre 250 dischi di cui piu? di 10 a suo nome. Ha avuto l'opportunita? di esibirsi con i grandi padri del blues di Chicago tra cui Willie Dixon, Keb Mo, Eddy Clearwater, Lurrie Bell e Taj Mahal, diventando poi uno dei maggiori esponenti della "seconda generazione" di artisti blues di Chicago. Ha perfezionato la tecnica grazie a maestri del calibro di Big Walter Horton, James Cotton, Junior Wells e Carey Bell, che Branch sostitui? nella Willie Dixon's Chicago Blues All-Stars. E? stato nominato 3 volte ai Grammy Awards ed ha vinto un Emmy Award ed un Addy Award.

FRANCESCO PIU, polistrumentista sardo ormai famoso anche all'estero, propone una irresistibile miscela esplosiva di blues, funky e rock. Alterna con maestria diversi strumenti, tra cui chitarra acustica, dobro, weissenborn, banjo, lap steel e armonica, oltre a cantare. Ha partecipato a numerosi festival a livello mondiale e aperto concerti per artisti come: John Mayall, Johnny Winter e Jimmie Vaughan. Con diversi importanti album all'attivo si presenta in duo con Silvio Centamore alle percussioni.

EGIDIO JUKE INGALA & THE JACKNIVES, grande performer ed elegante armonicista, frontman di una delle piu? rinomate band di rockin' blues d'Europa, che ha suonato nei piu? importanti festival e club di tutta Europa. Egido "Juke" Ingala e, unisce uno stile tradizionale a performance stupefacenti. Il suo modo di suonare e? stato definito come il punto d'incontro tra Little Walter e George "Harmonica" Smith, con un tocco di Walter Horton. Ha all'attivo diversi dischi e negli anni ha collaborato con giganti del blues a livello mondiale tra cui: Alex Schultz, Linwood Slim, Gary Primich.
Le "MILANO BLUES SESSIONS" saranno presentate da Maurizio "Dr Feelgood" Faulisi e si terranno al Teatro San Babila, nella centralissima piazza San Babila di Milano. Prestigioso, elegante e storico spazio teatrale ideale per accogliere una manifestazione di livello internazionale che ben si colloca nella ricca e interessante vita culturale della Citta? di Milano.
Il suo palcoscenico, dove hanno recitato i piu? grandi attori italiani, ospita un ricco cartellone di eventi di prosa e musica, e la direzione artistica, affidata a Marco Vaccari, coniuga tradizione e innovazione con un'attenta selezione gradita all'esigente pubblico milanese.