NILÜFER YANYA annuncia il suo album di debutto MISS UNIVERSE in uscita il 22 marzo su ATO Records [PIAS].
Nilüfer Yanya, ventitreenne di Londra, considerata da The Fader "affascinante nuova star del soul" annuncia oggi il suo anticipato album di debutto intitolato Miss Universe, in uscita il 22 marzo su ATO Records [PIAS].
L'incredibile video per "In Your Head" è stato girato nel deserto di Las Vegas dal collettivo ENERGYFORCE e rispecchia i ritornelli elettrizzanti e l'energia frenetica dell'album. Riguardo a "In Your Head", Nilüfer afferma, "A volte la mia mente mi fa degli scherzi e mi trovo intrappolata. Ci sono cose mascherate da cose che penso di volere, cose che penso di scegliere volontariamente e non per necessità. Spesso questo processo diventa chiaro solo a posteriori, o magari non lo diventa mai. Alcune persone la considerano paranoia. Penso di aver scritto una canzone proprio su questo concetto, ma ciò che mi interessa e ciò che penso di voler esprimere, è l'illusione della libertà."
Miss Universe è stato registrato a Penzance, lo stesso studio dove jammava con lo zio Joe – un ex musicista – sotto la supervisione del suo ex insegnante di chitarra Dave Okumu dei The Invisible e i suoi colleghi di band Jazzi Bobbi e Luke Bower e dei produttori John Congleton, Oli Barton-Wood, Will Archer e M.T. Hadley.
Il 2019 è iniziato alla grande per Nilüfer con un tour statunitense in compagnia di Sharon Van Etten. Ad aprile visiterà Europa, Turchia e Regno Unito come headliner. La seconda parte del tour inizierà proprio a Instanbul, la città di origine di suo padre, per poi spostarsi a Londra presso l' Evolutionary Arts Hackney. Il chitarrista e compositore londinese Westerman la seguirà come supporto. Per maggiori informazioni sul tour, visita: http://niluferyanya.com/.

Recentemente inclusa nel sondaggio del 2018 della BBC Sound Of, Nilüfer è l'ultima cover star per Loud and Quiet ed è stata nominata come artista da tenere d'occhio nel 2019 da The Guardian, The Independent, i, Q, Dork e The 405.
Nonostante abbia iniziato a sei anni a scrivere canzoni nella sua testa, e a 12 con la chitarra, Nilüfer Yanya impiegò molto tempo prima di avere il coraggio di condividere la sua musica con tutti. "Sapevo di voler cantare, ma l'idea di doverlo fare veramente era spaventosa," afferma la ventitreenne. Quando finalmente un maestro di musica a West London la convinse , disse: "è stato orribile. Ma allo stesso tempo, mi è piaciuto molto."
A 18 anni, Nilüfer – di origini turche, irlandesi e Bajan – caricò qualche demo su Soundcloud. Nonostante sia straordinariamente timida, la sua musica – che unisce elementi di soul e jazz in un pop intimo, con richiami elettronici e l'utilizzo di una chitarra dal sound grunge – non lo è. E non ci ha messo molto a catturare l'attenzione delle persone. Firmò con l'etichetta indipendente newyorkese ATO dopo aver pubblicato tre EP sull'etichetta indie londinese Blue Flowers, guadagnandosi un posto nella lista BBC Sound 2018. Nilüfer ha supportato in tour artisti del calibro di The xx, Interpol, Broken Social Scene e Mitski.
Ora Nilüfer è pronta a pubblicare il suo album di debutto Miss Universe. Nonostante lo abbia registrato nello stesso studio in Cornovaglia dove jammava quando era molto più giovane, è un album ambizioso, come non mai. "Angeles" con i suoi riff armonici rappresenta l'idea di "pensieri paranoici e ansia" – un tema che ricorre in tutto l'album, anche negli intermezzi concettuali di spoken word di una società fittizia di salute e benessere WWAY HEALTH TM. ""You sign up, and you pay a fee," spiega Nilüfer nei messaggi automatici cosparsi per tutto l'album e narrati da Miss Universe . "They sort out all of your dietary requirements, and then they move onto medication, and then maybe you can get a better organ or something… and then suddenly it starts to get a bit weird. You're giving them more of you and to what end?"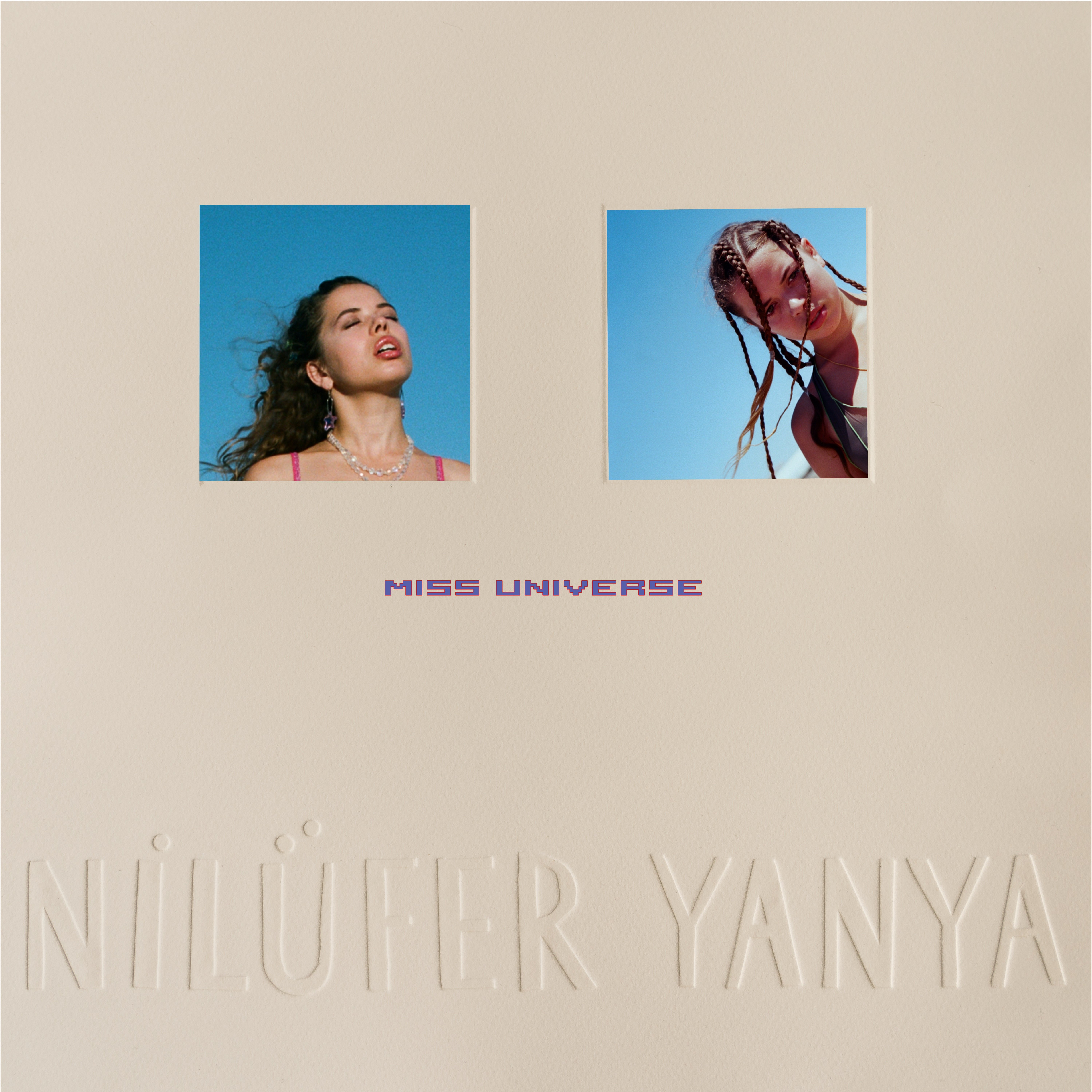 1. WWAY HEALTH ™
2. In Your Head
3. Paralysed
4. Angels
5. Experience?
6. Paradise
7. Baby Blu
8. Warning
9. Heat Rises
10. Melt
11. "Sparkle" GOD HELP ME
12. Safety Net
13. Tears
14. Monsters Under The Bed
15. The Unordained
16. Give Up Function
17. Heavyweight Champion of the Year